Mueller: "We would have said" if confident Trump did not commit a crime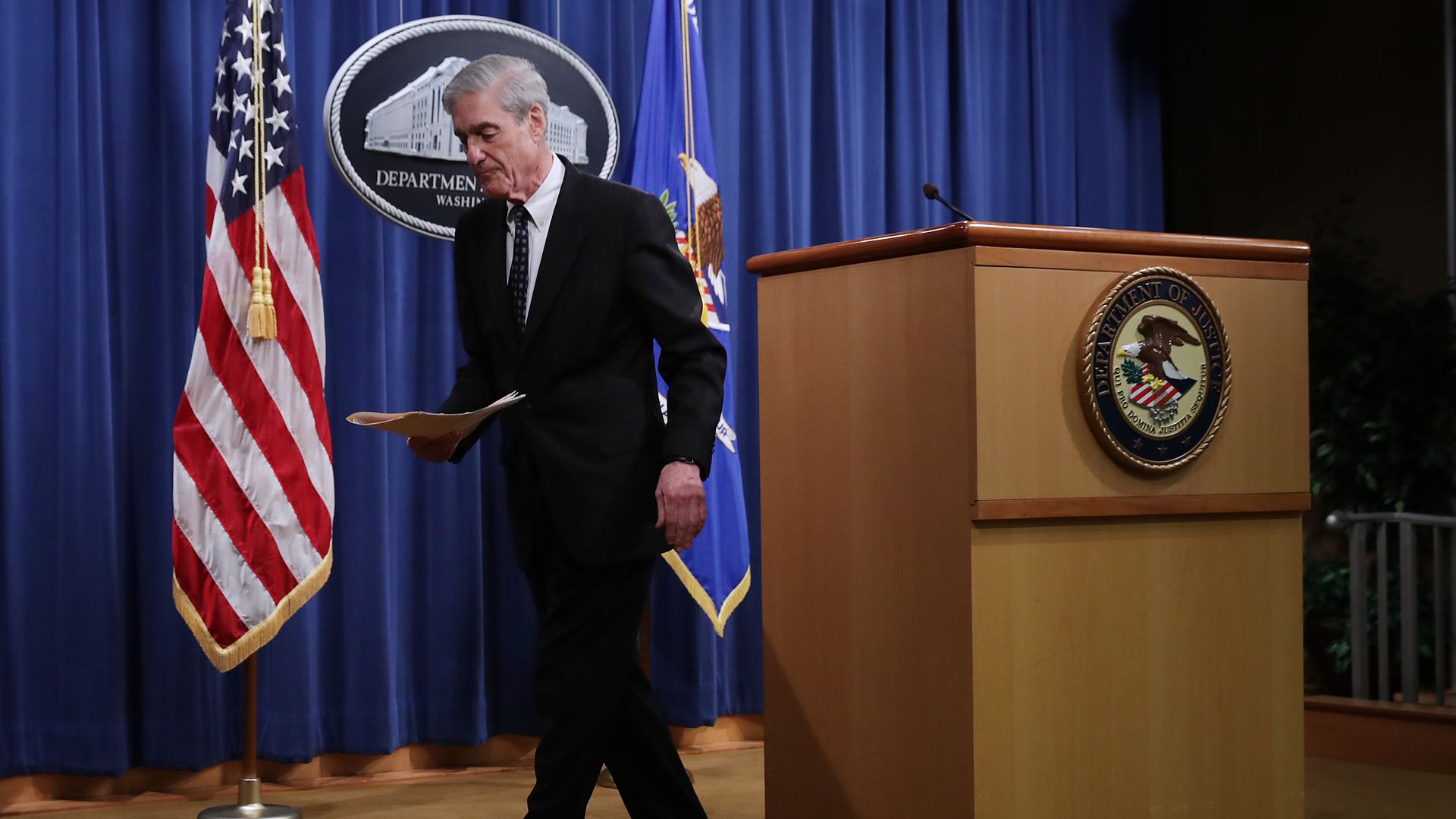 In his first on-camera public statement since he was appointed two years ago, special counsel Robert Mueller told the country: "If we had had confidence that the president clearly did not commit a crime, we would have said so."
Why it matters: Mueller addressed the question of why his investigation did not charge President Trump with a crime for obstructing justice by essentially reiterating what was in his report: "[U]nder long-standing department policy, a president cannot be charged with a federal crime while he is in office. That is unconstitutional. Even if the charge is kept under seal and hidden from public view, that too is prohibited."
"The Special Counsel's Office is part of the Department of Justice and, by regulation, it was bound by that Department policy. Charging the President with a crime was therefore not an option we could consider."
Between the lines: Mueller stated that the DOJ's Office of Legal Counsel opinion says that "the Constitution requires a process other than the criminal justice system to formally accuse a sitting president of wrongdoing." That process is Congress' power to impeach.
Other highlights:
Mueller announced that now that the investigation has ended, the Special Counsel's Office will close and he will resign from the Justice Department to return to private life.
He also addressed the question of whether he will testify before Congress. "No one has told me whether I can or should testify or speak further. ... The report is my testimony. ... I do not believe it is appropriate for me to speak further about the investigation."
Mueller also made clear the seriousness of an obstruction offense: "When a subject of an investigation obstructs that investigation or lies to investigators, it strikes at the core of the government's effort to strike at the truth and hold wrong doers accountable."
The bottom line, from Mueller, as he ended the press conference: "There were multiple, systematic efforts to interfere in our election, and that allegation deserves the attention of every American."
Our thought bubble: Mueller started and ended his statement with a reminder of Russia's systematic and fundamental assault on American democracy — a conclusion that the president has largely ignored or disputed.
Go deeper