Trump needles Toyota's top executive at Japanese state event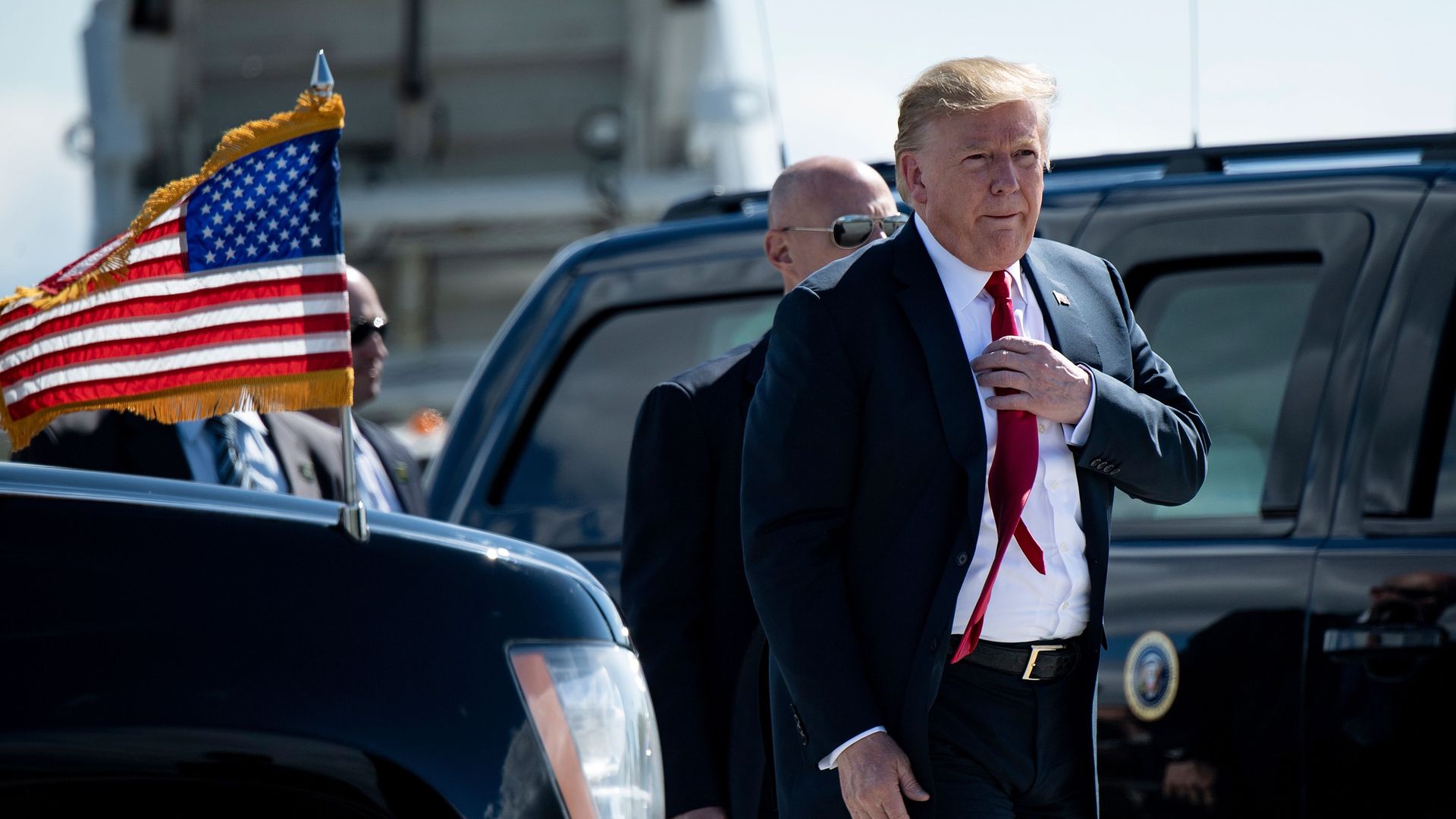 During President Trump's weekend trip to Japan, he was quick to single out Akio Toyoda, president of the Toyota Motor Corp., saying: "There's nothing like the boss," at a formal dinner with auto industry leaders, reports Bloomberg.
Why it matters: After Trump threatened to levy auto tariffs against Japan and the European Union, Toyota released a statement countering Trump's claims that foreign automakers pose problems for American national security, saying: it "sends a message to Toyota that our investments are not welcomed, and the contributions from each of our employees across America are not valued."
The context: Trump declared that imported cars pose a threat to national security on May 17. He will delay the decision to impose tariffs on foreign cars for up to 6 months, Reuters reports.
"As you know, the United States and Japan are hard at work negotiating a bilateral trade agreement which will benefit both of our countries. I would say that Japan has had a substantial edge for many, many years. But that's OK. Maybe that's why you like us so much."
— President Trump
The U.S. and Japan have been negotiating a bilateral trade agreement. Trump's said he hopes it benefits both countries since, "Japan has had a substantial edge for many, many years," per Bloomberg.
The talks started in 2018.
The White House has hinted that it would seek voluntary export quotas on cars from its trading partners. "This sparked anger from automakers, dealers and foreign governments" per Reuters.
Toyota said it would invest $13 billion in the U.S., but changes to the status quo would be a "major set-back for American consumers, workers and the auto industry," per Reuters.
European Trade Commissioner Cecilia Malmstroem tweeted: "We note that US postpones decision on car tariffs for 180 days. But we completely reject the notion that our car exports are a national security threat. The EU is prepared to negotiate a limited trade agreement incl cars, but not WTO-illegal managed trade."
Go deeper: Trump wants to keep car tariffs in his back pocket
Go deeper