Dems react to the confirmation of Trump's judicial nominee Wendy Vitter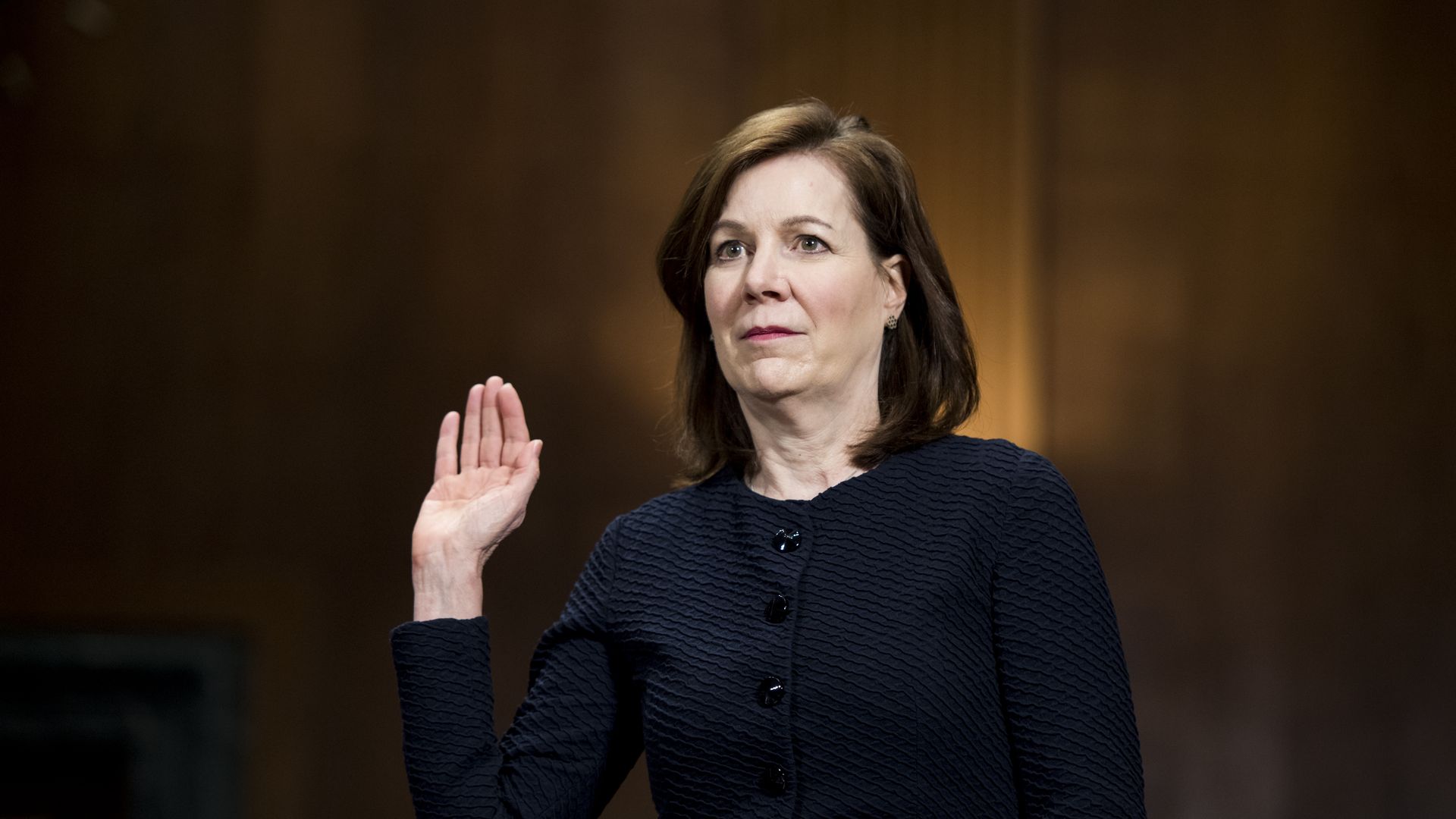 The Senate Judiciary Committee confirmed President Trump's nominee Wendy Vitter on Thursday to a U.S. District Court seat in New Orleans after a long tug of war between Republicans and Democrats over Vitter's stance against abortions, reports the Washington Post.
The big picture: Vitter is the 107th judge to be appointed since Trump took office. Her appointment sparked reactions from Democrats especially given that she would not say if she supported the court's decision in Brown v. The Board of Education, per the Washington Post.
Context: Vitter came under fire after Democrats learned she made claims against abortion that weren't included in her extensive background disclosures provided to the Senate committee — prompting Sen. Susan Collins (R-Maine) to side with Democrats in a narrow vote.
What they're saying: Vitter claimed Planned Parenthood kills 150,000 women a year and made false claims about abortions, saying the procedure is linked to breast cancer and that birth control leads women to pursue violent relationships, reports the Business Insider. However, after she was questioned about her claims, Vitter said she would follow the precedent of Roe v. Wade, per the Washington Post.
What Democrats are saying:
Rep. Beto O'Rourke tweeted: "And as president, I will only nominate judges who respect, affirm, and defend Brown v. Board. Andrew Oldham doesn't get nominated. Neither does Wendy Vitter. If you don't believe in civil rights, in equity, in opportunity, you don't belong in a position of public trust."
Sen. Elizabeth Warren (D-N.Y.) tweeted: "Tomorrow is the anniversary of the landmark Brown v. Board of Education. 65 years later, Wendy Vitter, @realDonaldTrump's pick for the LA District Court, won't say whether that case was correctly decided. The Senate must reject her nomination.#CourtsMatter."
Mayor Pete Buttigieg sent a campaign email saying: "And in the decades that followed, our nation embraced a belief that every child, regardless of their skin color, deserves access to the same quality education. But in our lifetimes, that belief stands threatened, as many disparities grow worse by the year."
Chelsea Clinton tweeted: "One day before the 65th anniversary of Brown v. Board of Education, the Senate confirms Wendy Vitter as a federal judge despite her refusal to affirm Brown decision. Also, Vitter claimed @PPFA kills over 150,000 women a year & falsely implied birth control & abortion cause cancer."
Sen. Mazie Hirono (D-Hawaii) tweeted: "Wendy Vitter promoted dangerous claims about abortion and birth control. She refused to say Brown v. Board was correctly decided. She withheld critical docs detailing her views to Senate Judiciary. There isn't enough room on Twitter to detail why Wendy Vitter is #UnfitToJudge."
Sen. Dick Durbin (D-Ill.) tweeted: "Wendy Vitter failed to disclose more than 100 speeches & documents to the Judiciary Committee, including a panel she moderated in 2013 where she told the audience to urge their doctors to put a brochure entitled "The Pill Kills" in waiting rooms. #UnfitToJudge #CourtsMatter."
Go deeper: The perfectly legal inequalities in America's rigged educational system
Go deeper