Violence and mistrust jeopardize ceasefire at Yemeni ports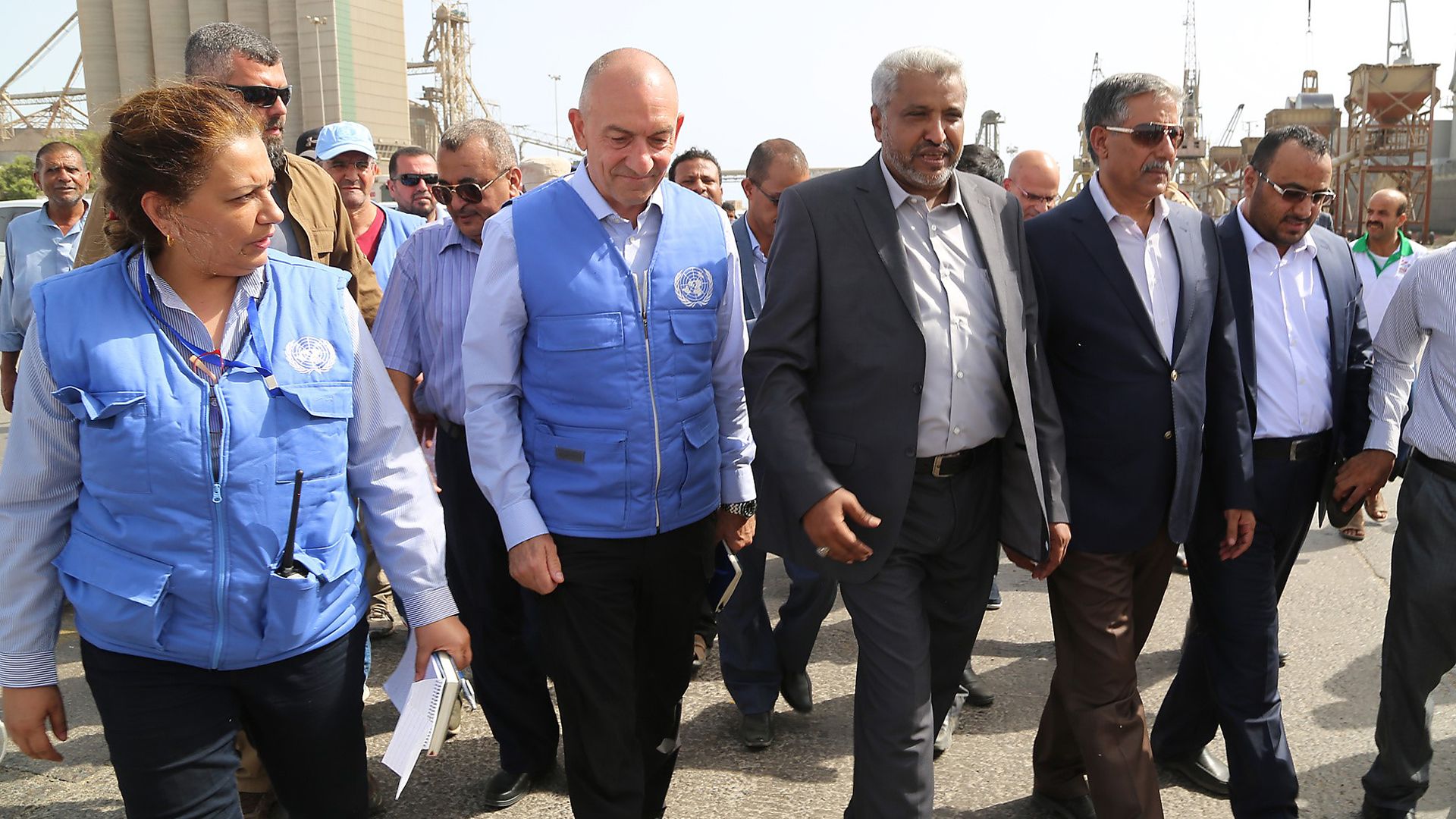 A dispute over Houthi withdrawals from critical ports in Yemen is threatening the success of a deal negotiated late last year with the country's internationally recognized government.
Why it matters: The Stockholm agreement, considered a breakthrough when announced in December, was intended to improve Yemen's dire humanitarian situation and build confidence between the government and the Iran-backed Houthis. But scant progress has been made, raising concerns about the UN's ability to broker a permanent peace between the warring parties.
Background: For the past 5 months, Yemen's government has pointed to the Houthis' reluctance to withdraw from the Yemeni ports of Hodeidah, Salif and Rass-Issaas as evidence of their insincerity.
Where it stands: The Houthi withdrawal finally began last weekend, and UN Special Envoy Martin Griffiths briefed the Security Council on Wednesday on its progress.
Yemen's government declared the withdrawal a sham, on the basis that it was prevented from monitoring and verifying the operation in "violation" of their agreement, leaving Houthi loyalists in charge.
The UN views any Houthi pullback as vital to ensuring the flow of humanitarian aid. It would also allow for removing mines from around the ports and responding to a derelict oil tanker anchored off Salif that could explode at any time.
What's next: Yemen's government has been left in a difficult position after the withdrawal, worried about the UN's ability to act as a neutral arbiter and the threat posed by Houthi forces positioned just outside Hodeidah.
Objections aside, the government is likely to withdraw as planned a few kilometers back from where they are currently stationed in Hodeidah's outskirts, while pressing for neutral port management by professional staff and law enforcement officials employed before the Houthi takeover in 2014.
The UN's ceasefire statement has already been contradicted by reports of clashes between the Yemeni government and Houthi forces in Hodeidah. Absent an enforcement mechanism for the UN to hold violators accountable, the violence could quickly escalate.
The bottom line: Unless the special envoy can guarantee the neutrality and safety of the port, the most critical part of the Stockholm agreement is in danger of collapse.
Fatima Abo Alasrar is a senior analyst at the Arabia Foundation.
Go deeper