WeWork discloses earnings, CEO discloses why it might go public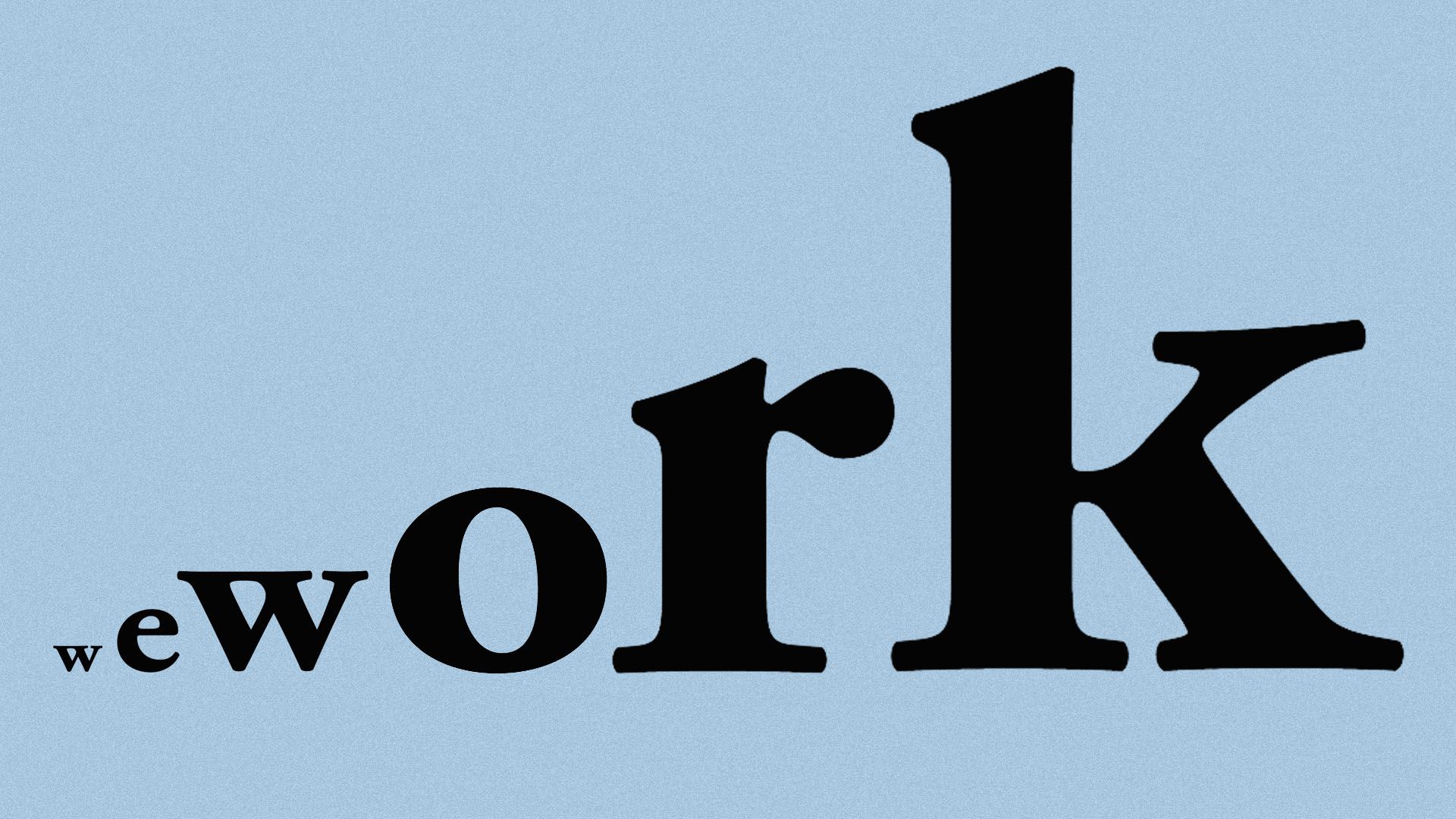 WeWork on Wednesday disclosed another quarter of rapid growth and large losses, its first earnings report since confidentially filing for an IPO, with co-founder and CEO Adam Neumann telling Axios that his company has a much different story to tell than Uber or Lyft.
Why it matters: WeWork has revolutionized commercial office space globally, but some investors are skeptical that it can ever turn a profit, let alone justify a valuation that venture capitalists last put at $47 billion.
WeWork reported $728.43 million in Q1 2019 revenue, which represents 113% year-over-year growth and a $3.02 billion revenue run-rate.
It also showed $264 million of net loss, a slight improvement over $274 million in Q1 2018.
Year-over-year membership rose from 220,000 to 466,000.
"Community-adjusted EBITDA," a metric WeWork devised to approximate unit economics, rose by 78% year-over-year to $169.5 million.
WeWork CFO Artie Minson tells Axios that seasonality doesn't significantly affect the company's quarterly results.
The company also disclosed that an affiliated real estate investment fund, which buys buildings that either already have or will have WeWork as a tenant, so far has raised $2.8 billion (of which around $1 billion is invested).
Axios met with Neumann at WeWork headquarters in New York last Thursday. His enthusiasm for his company's mission and prospects seems sincere, not forced, although he was careful not to say anything that he felt would violate the so-called "quiet period" that started when WeWork filed confidentially for its IPO.
What follows is an edited transcript of the conversation:
Why go public
"I don't know that we're going to go public. Every decision here gets made at the time of the decision. We have lots of cash in the bank and access to debt, so we're in no rush."
Why get the IPO paperwork ready?
"You have some of the information on this, but the first reason is we could do it last December when it was still confidential. Second, we were about to potentially do a very large deal with [SoftBank] and we know that always in deals like this there's optionality and that was buying us a lot of optionality to do it before, so it was done before the deal got canceled.
At the end of the day, even though we have pockets as large as SoftBank, public markets still offer substantially larger access to capital.... There is a cost to building out the infrastructure we want to build, no matter how efficient my numbers are, no matter how much landlords and third-parties pay for it. The costs are high so we need access to a lot of cash.
Also, when we choose to go public, we'd like to ensure that the public has room to grow with us rather than keeping all of the growth while we're private."
Profitability, in light of investor reaction to Lyft and Uber
"Every $1 billion we spend creates 236,000 desks at an average of $6,000 and a contribution margin of 27%. What that means is the $1 billion over the next 15 years will generate $24 billion in revenue and $7 billion in contribution margin.
When those other companies spend that billion, they're not building a pipe, a global physical platform. It's very different. We're building something that generates cash-flow, not giving salaries or discounts in a pricing war.
I don't think [getting closer to profitability] is a good reason to scale back growth. If our employees can handle it and the business has the right finances to back it up with enough safety to protect our investors, and the experience members are getting is better and better, then great. If by growing that fast we're starting to hurt one of those things, then we're growing too fast."
Love/hate reputation among investors
"I'm more of a love it or hate it kind of person because I wear my heart on my sleeve... But whoever thinks [our outcome is binary] must not understand the basics of the business. This global platform has such earnings potential. If we chose to stop growth we'd immediately go EBITDA and cash-flow positive, just based on what we already have.
Plus, we only have 0.09% of penetration in the top 260 global cities, in terms of total employees we could have — so not including things like factory workers or retail workers.
If we penetrated 1.5%, that would be $50 billion in annual revenue. Even if we just got to 1% in the 105 cities we're in today, that would be $16 billion from just the basic platform, before including any services. For example, we're huge in London but still at only 0.6% penetration. We're still so early."
Founder control, in light of Facebook's controversies
"By having more control there's a higher chance over time that we'll be able to deploy our long-term vision regularly, including when times get tough. I'm very respectful of how others, like Mr. Bezos, have executed on their long-term vision differently but, for us, this dual-class allows us to execute and put member experience and employees at the forefront.
I don't know Mark [Zuckerberg] personally, but it's a fact that when you grow that fast something is going to break. In his case he's touching so many people that when something breaks it's tougher than when WeWork is growing really fast and something breaks — because it only affects our nearly half a million members, and probably not even that many because it's just something breaking in one city or one location."
On being a public company CEO
"We talk a lot at WeWork about superpowers and say everybody has them. And when people ask about mine, I say it's change.
Acting like a public CEO, I think, means being more responsible with my words, more careful with my promises, more respectful with my actions, more thoughtful with how I communicate opinions, and more methodical if possible with my fiduciary duties. Those all sound positive. So I think the sooner I can take on those traits, the more feedback I can get about how to be a better version of myself. And that will help the organization try to fulfill our mission."
[Editor's note: Neumann's comments about contribution margin were mis-transcribed in an earlier version of this story.]
Go deeper