Why war with Iran is suddenly on the table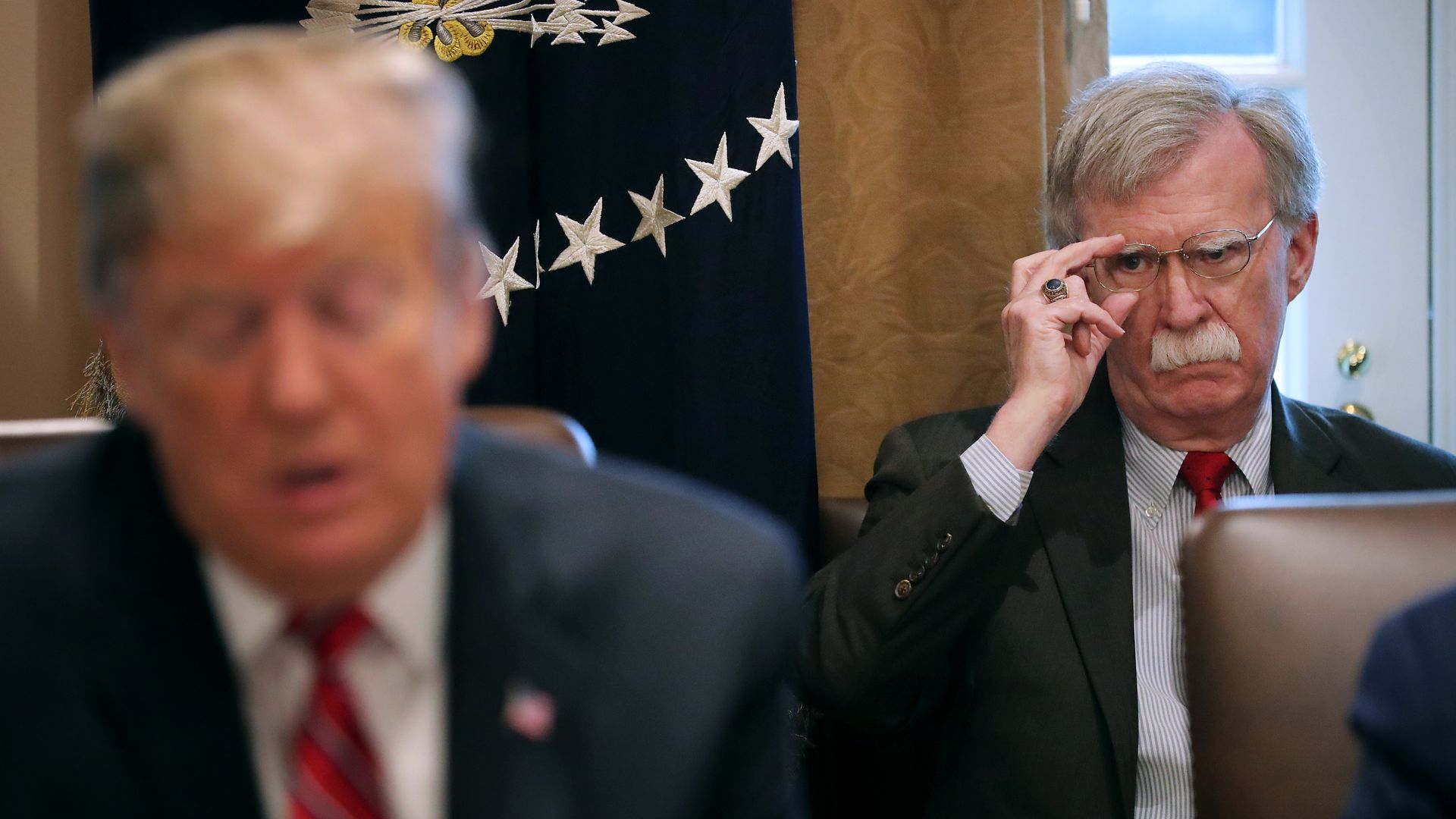 Fears are growing that bluster between the U.S. and Iran might explode into war.
The latest: The U.S. has evacuated non-essential personnel from its embassy in Iraq, and Iran's Islamic Revolutionary Guard Corps warned "we are on the cusp of full-scale confrontation."
The big picture: The Trump administration has been glaring threateningly at Iran since President Trump withdrew from the 2015 nuclear deal a year ago, pursuing harsh sanctions and declaring that the pressure will only increase until Iran's regime changes course, or collapses.
The situation has escalated rapidly over the past 10 days, with national security adviser John Bolton and Secretary of State Mike Pompeo spreading the alarm about potential attacks from Iran and warning that the U.S. will respond to any provocations with immense force.
Trump is generally more wary of military action in the Middle East than his advisers, particularly Bolton. But he did warn that Iran will "suffer greatly" if "they do anything" provocative.
Timeline:
May 5: Bolton issues a statement referring to impending Iranian attacks and announces a U.S. aircraft carrier is en route to the region.
May 7: Pompeo makes an unscheduled trip to Iraq and issues warnings about Iran.
May 9: Acting Defense Secretary Patrick Shanahan presents plans for 120,000 U.S. troops to be deployed to the Middle East in the event of an Iranian attack, per NYT.
May 10: The U.S. sends additional military hardware, including a warship, to the Middle East.
May 12: Two Saudi oil tankers are attacked near the Strait of Hormuz. An anonymous U.S. official later says an initial investigation points to Iran.
May 13: Pompeo diverts to Brussels to brief European leaders on the Iranian threat.
May 14: Armed drones strike two Saudi pumping stations. Houthi rebels operating in Yemen claim responsibility.
May 15: The U.S. orders a partial evacuation of its embassy in Baghdad, Iraq.
U.S. allies have generally appeared skeptical of the American warnings.
The British deputy commander of the anti-ISIS coalition in Iraq and Syria denied yesterday that there was an "increased threat" from Iran — a remark that drew a rebuke from U.S. Central Command.
The EU's top foreign policy official, Federica Mogherini, urged "maximum restraint," rather than Pompeo's preferred "maximum pressure."
Even Israeli Prime Minister Benjamin Netanyahu wants to steer clear of any confrontation, Axios contributor Barak Ravid reports.
Ayatollah Ali Khamenei, Iran's supreme leader, said Tuesday that "we don't seek a war, and they don't either," adding that Tehran is also not interested in negotiations and insisting, "our resoluteness is more unwavering than theirs."
The bottom line: The message from the Pentagon has been that the U.S. doesn't want a war, but is ready to fight if necessary. Administration officials say privately that rhetoric doesn't work with Iran, so a credible threat of force is needed. That hasn't tempered fears of a march to war.
Go deeper