How to jump-start a fledgling class of new, cheaper drugs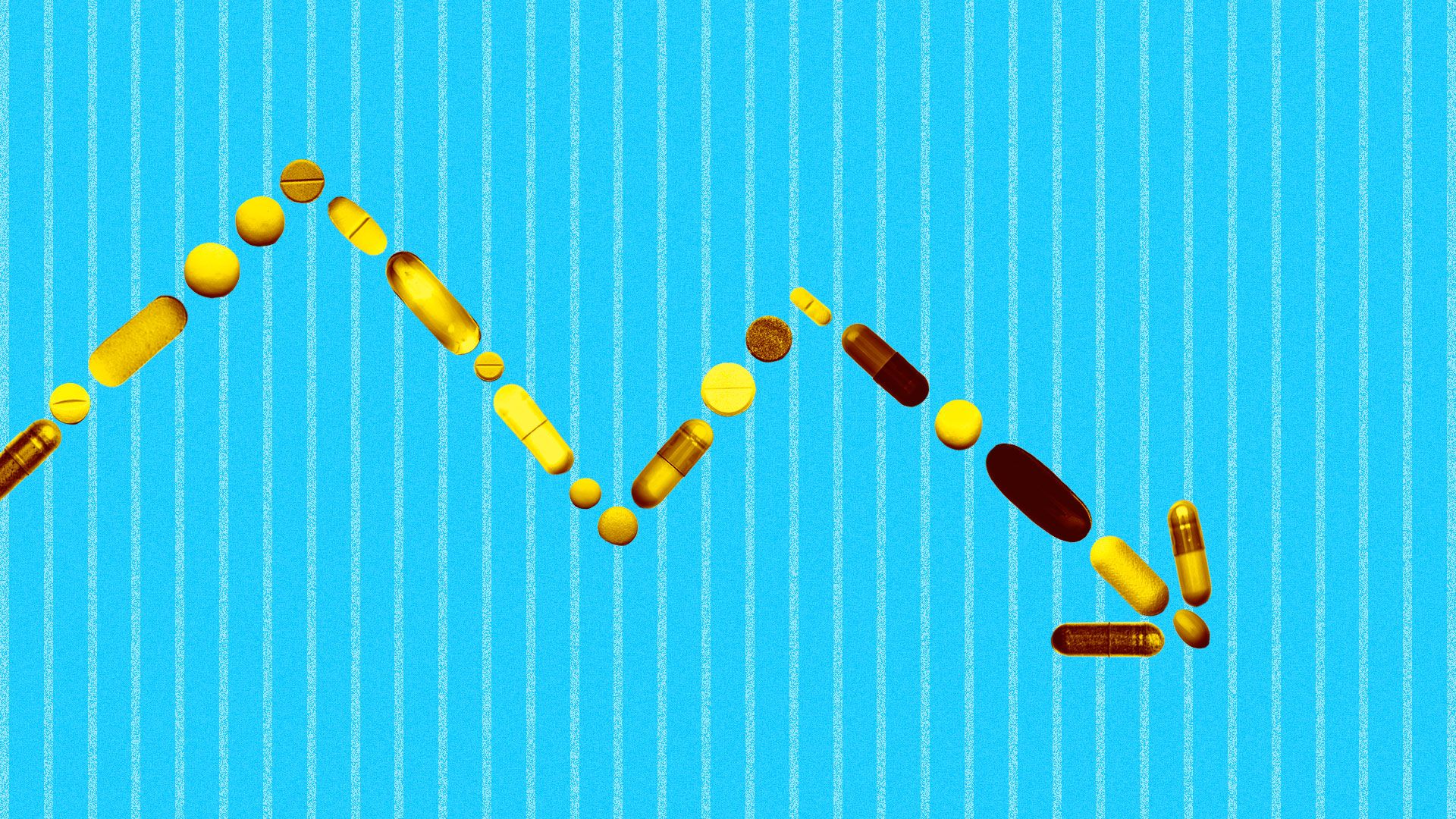 The Affordable Care Act was supposed to open the door to a new class of drugs that would spark competition and lower prices for some of the most expensive therapies in the world. But that effort has barely gotten off the ground — less than a dozen of these new products are actually available to patients, and few deliver significant savings.
Why it matters: The future of drug development is hurtling toward complex, expensive biological products. If the market for cheaper versions of those treatments doesn't get a jump-start, the health care system will see its drug spending climb to new heights.
How it works: Generics are one of the most effective tools we have to eventually bring down the cost of traditional small-molecule drugs.
Newer, more complex biologic drugs don't have traditional generic versions, but "biosimilars" were designed to fill the same purpose — introducing a nearly identical product, a few years later, with a lower price.
The big picture: Two experts — former FDA Commissioner Scott Gottlieb and Gillian Woollett, who leads the FDA practice at the consulting firm Avalere — put a lot of the blame for biosimilars' slow start on insurers and pharmacy benefit managers.
"If I was trying to drive more rapid adoption, I'd be focused on market structures," Gottlieb said.
Pharmacy benefit managers negotiate discounts in the form of rebates, and keep part of the discount as profit. Critics say they therefore make more money negotiating a big discount off of an expensive drug, rather than giving preference to a cheaper alternative.
"Basically, it comes down to: People do what they're paid to do," Woollett said.
Those incentives are especially strong with biologics.
Many insurance plans require patients to try the brand-name biologic first, and only move to a biosimilar if the first drug fails, Woollett said. That's backwards: With traditional drugs, you usually have to try the generic first.
And in Medicare, these types of drugs aren't subject to price negotiations. Doctors get paid a percentage of the drug's cost — another incentive to pick the more expensive drug.
"Payers are the linchpin. They have to deal with these rebate issues," Woollett said.
Doctors are also hesitant about biosimilars, generally.
"I think it's misguided reluctance, but it's not uncommon for physicians to be tied to a product they've been very accustomed to and used for a long period of time," Gottlieb said.
But biologics manufacturers have also spread "misleading information" about biosimilars, Woollett said.
The FDA could be doing more to correct misinformation about biosimilars and to allay doctors' fears about whether the products are sufficiently similar to switch current patients, Woollett argues.
The FDA took a step forward on that front Friday, finalizing rules for what a biosimilar has to do in order to be considered "interchangeable" with the product it copies, similar to the way traditional generics are interchangeable with brand-name drugs.
Overall, commercial factors put a damper on the whole process, experts said.
Developing a biosimilar is difficult, time-consuming and expensive. Theoretically, because the products are still pretty expensive, a manufacturer should be able to match their competitors' marketing budgets and overcome at least a lot of physicians' trepidation. Some of these problems are, at least theoretically, solvable.
But if a would-be biosimilar is staring down a long and expensive development process, followed by a long and arduous approval process, and years of expensive patent litigation — only to see themselves undercut by insurers and brand-name competitors — that proposition simply isn't worth it.
The bottom line: "Unless something changes, biosimilars will continue to struggle and may indeed fail in the United States," Woollett said. "The rest of the world then may fail too."
Go deeper