What America's swing voters think about climate change and energy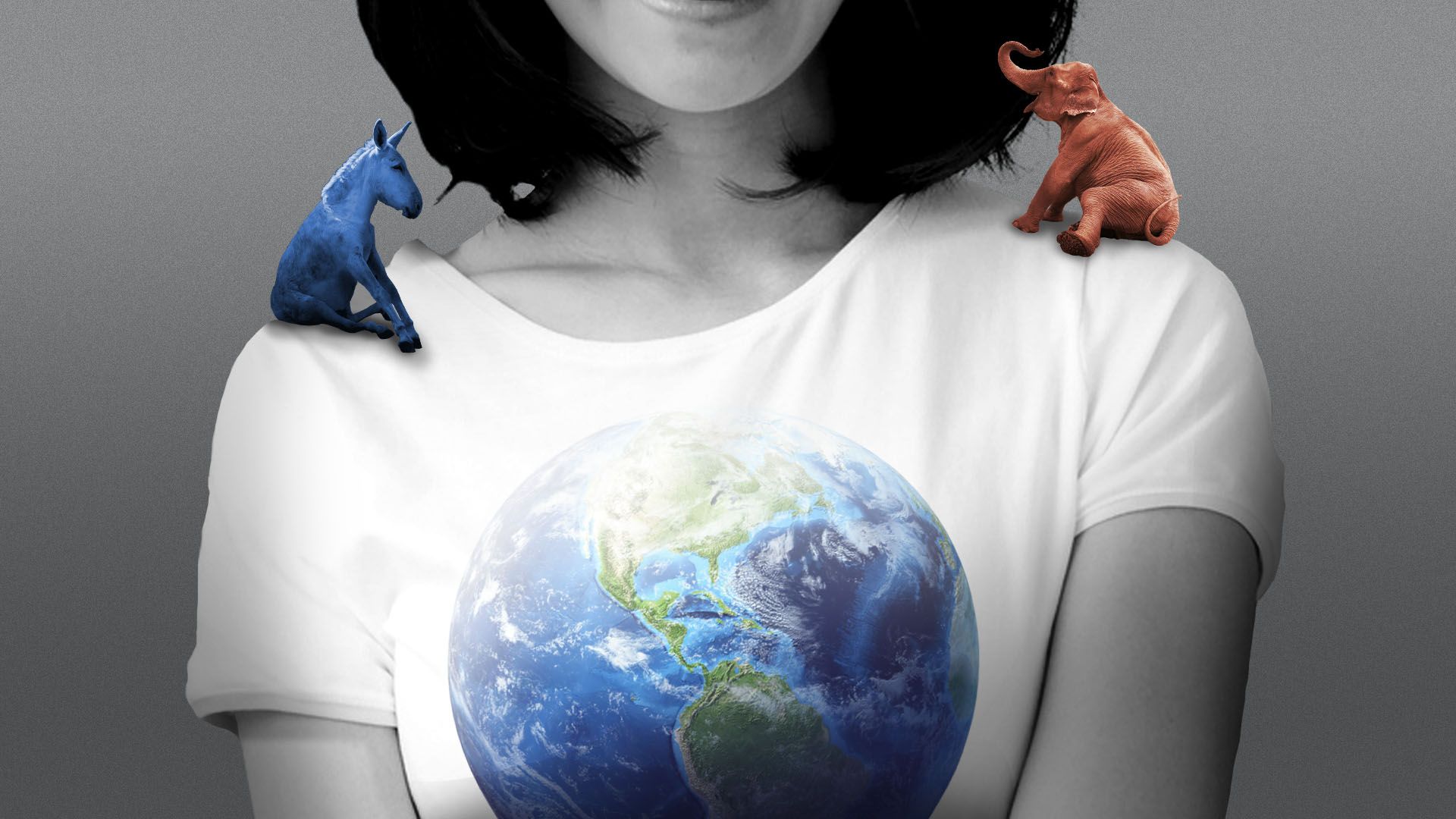 Swing voters in three of America's top battleground states want President Trump to do more on climate change, think the weather is getting weirder and don't know much about the Green New Deal.
Why it matters: It's voters like these who have an important role electing America's presidents. So it's worth listening to them. I watched three recent focus groups of swing voters, conducted by the nonpartisan research firms Engagious and Focus Pointe Global, to learn more.
Groups of about a dozen swing voters in Wisconsin, Ohio and Iowa answered questions about political topics, including climate and energy.
Across the last two presidential cycles, roughly half voted for Republican Mitt Romney in 2012 and then flipped to Democrat Hillary Clinton in 2016. The other half went for Democrat Barack Obama in 2012 and Republican Trump in 2016. The Iowa focus group had only Obama-Trump voters.
Trump thoughts
There was widespread agreement with the statement that Trump should do more on clean energy innovation to reduce carbon emissions. On a scale of zero to 10 (zero being don't agree at all and 10 being strongly agree), most voters ranked this around a 7 or higher.
Iowa voter Jamison Painter is unconvinced that climate change is as big of a problem as most Democrats (and also scientists, to be clear) have said it is. But…
"I think Trump could probably do a little bit more, to be honest," 44-year-old Painter told me in a phone interview after the focus group last week in Sioux City, Iowa. "I think he's kind of ignoring the problem."
He supports Trump withdrawing from the Paris Climate Agreement, but not his move to drastically reduce the size of protected land in Utah known as the Bears Ears monument: "That's just not necessary."
He voted for Obama twice, but became disenchanted with the Democratic Party as it moved left in recent years. Painter voted for Trump in 2016 and plans to do so again in 2020. The president's position on climate and energy isn't a top concern for him.
Wisconsin resident Meghan voted for Trump in 2016 because she didn't like Clinton, but she disagrees with Trump on these issues. "He is taking his own opinion and not the research and what's going on in the world," Meghan said during the Appleton, Wis., focus group in March.
Weird weather
There was general agreement with the statement that the weather is getting weirder, and some connected it to climate change. On the 1-10 scale of agreeability, most voters ranked this a 6 or higher.
Erin Grace, a 37-year-old Iowa resident, told me in an interview after the focus group that she thinks human activity is probably driving the weird weather, including extreme flooding and shifted seasons.
Because of this, Grace says, she ranks energy and climate issues a seven in terms of voting importance. She's a Democrat and isn't sure who she is going to vote for in 2020.
Another Iowa voter, Christine, said in the focus group that Iowa's recent floods may be linked to Arctic ice melting. "The water maybe comes from there," she said.
Surveys are just starting to show a relationship between climate change and extreme weather in the public's eye, according to Anthony Leiserowitz, an expert in climate communications at Yale University. But…
"Worry about global warming and support for action is still far more dominated by political party and ideology," Leiserowitz says.
Green New Deal and other policies
The vast majority of these voters don't know much about the Green New Deal, a sweeping proposal calling for drastic reductions in greenhouse gas emissions alongside broader economic goals, like federal jobs guarantees and universal health care.
Grace from Iowa says she didn't know anything about it, but that it "sounds positive."
Painter also from Iowa described the Green New Deal as "radical."
Voters were mixed about whether they would support relatively small increases in electricity costs to address climate change.
Wisconsin voter Debbie Woeshnick said during the focus group that she wouldn't support a $10 monthly fee on her utility bill because she thinks "the government should take care of it." Woeshnick was one of five voters in the room who opposed such a fee; seven supported it.
Iowa voter Lori Knight said she would be worried about what the government would do with the money, a concern the entire room of Obama-turned-Trump voters shared.
The bottom line: Energy and climate change seem to be rising in the minds of America's swing voters, but the extent of concern appears less intense than many might otherwise assume if you just watch Twitter or cable news.
What's next: I'll be reviewing these focus groups at least once or twice more through the 2020 elections, so let me know what you think by emailing me at [email protected].
Editor's note: This story was updated to include the correct city where the Iowa focus group took place. It was Sioux City, Iowa; not Sioux Falls, which is in South Dakota.
Go deeper