Trump pushes China and Iran to the brink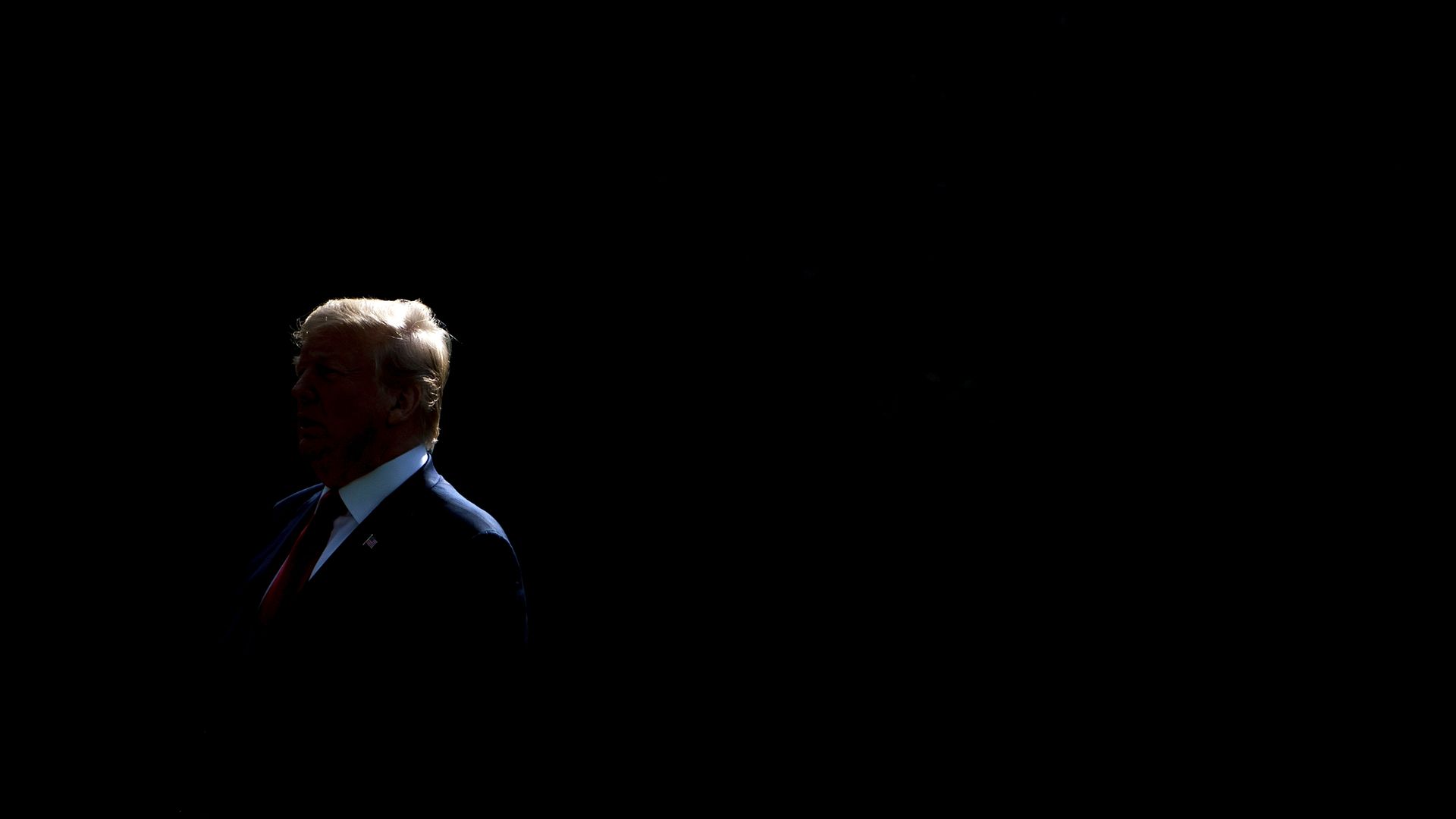 President Trump is pushing both China and Iran to the brink, betting they'll capitulate and warning of dire consequences if they don't.
Why it matters: The stock market is already taking a beating as China retaliates to Trump's tariff hikes on $200 billion in Chinese goods, and analysts are warning of a possible global recession if he follows through with his threat to extend them to all Chinese imports. Meanwhile, Trump's warnings that Iran will "suffer greatly" if "they do anything" to provoke the U.S., paired with bellicose statements from senior officials, are deepening fears of another war in the Middle East.
Even short of war, Trump's pressure campaign will likely mean higher oil prices, more suffering for the Iranian people and the collapse of the 2015 nuclear deal.
Between the lines: This is how Trump negotiates, Axios' Jonathan Swan emails:
"He believes in grand displays of hard power — extreme threats of military force ('fire and fury' for North Korea, sending the carrier to Persian Gulf) and punitive measures (tariffs and sanctions) — more than he does the subtler tools of statecraft."
"He believes the only way to get what you want from another country is to first force them into a begging position. The leaders in both China and Iran are hardliners who put a premium on maintaining national pride and, as the Chinese explicitly said, 'dignity.'"
"Both countries' leaders have indicated they're willing to be patient with Trump and intend to wait him out. The question is how impatient Trump becomes and how he reacts to the negative domestic effects of some of his punitive policies."
The latest: China announced tariff hikes today on $60 billion in U.S. goods. Meanwhile, the Communist Party's propaganda machine kicked into high gear, Bill Bishop reports in his Sinocism newsletter.
Chinese media "has struck a defiant tone since Friday, blaming the US for the failure, playing the victim with its usual shrill skill, talking tough about being able to outlast the US in any prolonged trade fight, and … threatening non-tariff retaliatory measures," Bill notes.
Meanwhile, Secretary of State Mike Pompeo added a last-minute stop in Brussels to his schedule today in order to warn leaders there of the "escalating threat" from Iran.
Pompeo and national security adviser John Bolton have continued to raise such threats over the past week without offering specifics. Trump told reporters today that he'd been "hearing little stories about Iran," adding: "If they do anything, they will suffer greatly."
"Today, the question in Washington — and surely in Tehran, too — is whether President Trump is making moves that will provoke, instigate, or inadvertently drag the United States into a war with Iran," Robin Wright argues today in the New Yorker.
"The Administration has vowed to keep increasing pressure until Iran changes its behavior. ... So far, Tehran has not changed course."
The stated position from both civilian and military leaders is that the U.S. isn't seeking a military confrontation with Iran but is prepared for one if necessary.
"The problem, as U.S. history proves, is that the momentum of confrontation is harder to reverse with each escalatory step," Wright contends.
What to watch: Last month, as the U.S. stepped up its attempts to block all Iranian oil exports, Iran threatened to close the Strait of Hormuz, the world's most important oil chokepoint," per Fortune.
Today, Saudi Arabia announced that two Saudi tankers were damaged by an "act of sabotage" over the weekend in the Gulf, without identifying any suspects. Iran's foreign ministry distanced itself, calling the incident "worrisome" and "regretful."
But now, AP is citing an anonymous U.S. official as saying an "initial assessment is that Iranian or Iranian-backed proxies" were responsible.
Go deeper