Predicting the next power disaster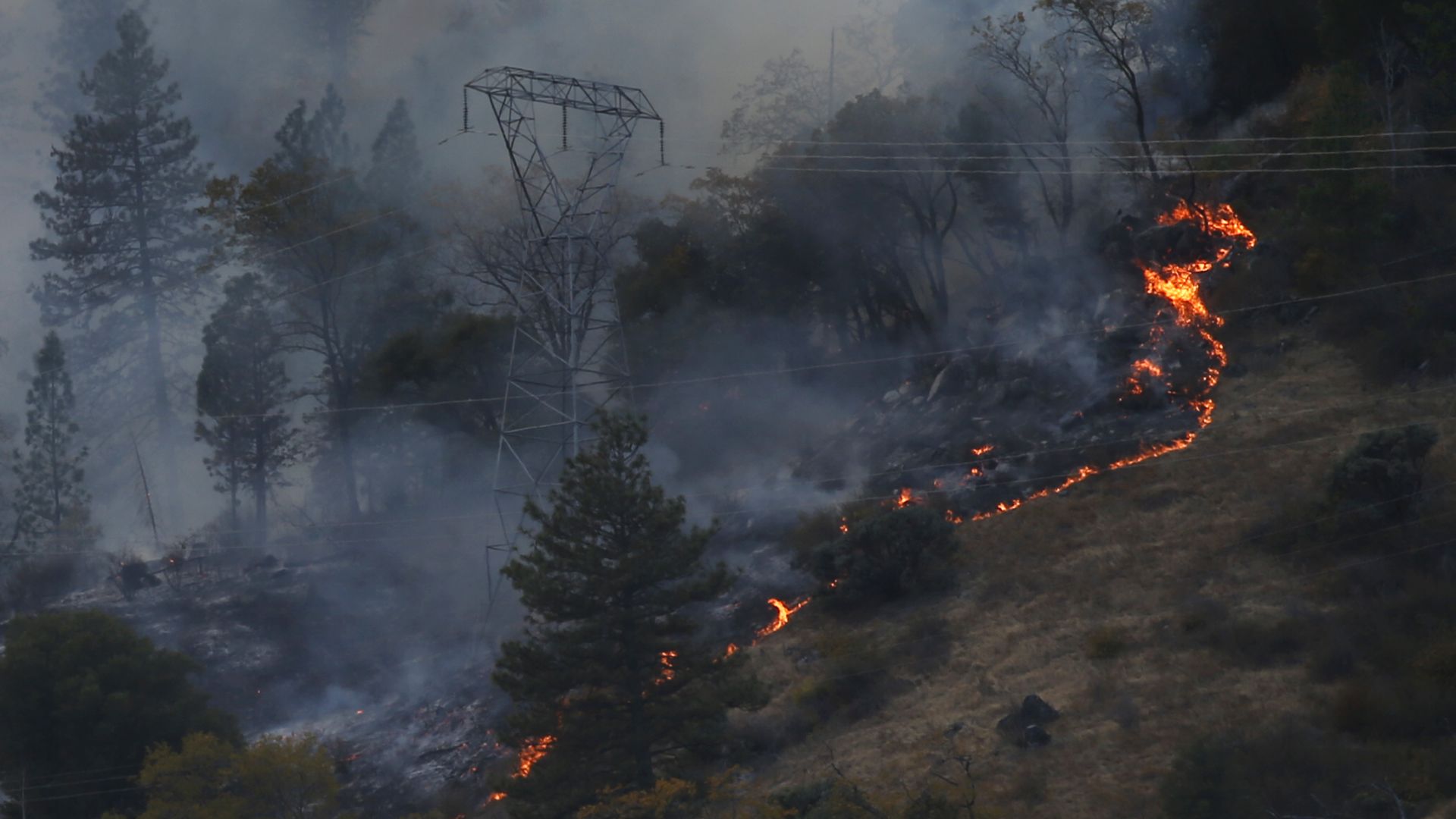 After decades of neglect, U.S. infrastructure is cracking, sagging and exploding — and pressure on old systems is growing as cities swell and the climate changes.
What's happening: Utility companies, fearful of setting off more disasters like California's deadly wildfires, are hungrily buying up AI systems that can tell them which equipment is the next to rupture or go up in flames.
California's three largest utility companies caused more than 2,000 fires in an approximately 3-year span, the L.A. Times reported in January. And gas-line explosions have killed hundreds and injured nearly 1,000 people in the past 2 decades.
The ordinarily conservative utilities are throwing everything they can into reducing these risks, says Otto Lynch, an adviser to the Infrastructure Report Card, a study of U.S. infrastructure by the American Society of Civil Engineers. "You do not want to be the person responsible for taking down New York City."
Now, a spate of new startups selling AI systems to predict oncoming equipment problems have found utilities eager customers.
A company called VIA uses data from power company equipment inspections, smart meters and environmental factors to figure out if transformers are at risk of disaster.
Urbint looks at previous gas problems, plus satellite imagery, soil and weather data, and planned digs near gas lines to map danger zones.
Petasense supplies Silicon Valley Power in Santa Clara, California, with sensors that can detect malfunctions in power-generating equipment from minute changes in their vibration.
The big picture: A confluence of 21st century shifts is endangering critical infrastructure.
Extreme weather is increasingly frequent, with high winds bringing power outages, and soggy soil causing pipe corrosion and leaks.
Fast-growing cities mean old infrastructure suddenly has to serve far more people than it was designed to — and the construction booms rattle underground systems out of place.
Electric cars and home solar panels are putting tremendous stress on transformers that weren't built for the load.
Meanwhile, utility companies that need more employees to deal with this new reality are instead in danger of losing a quarter of their workforce to retirement in the next five years — along with their decades of accumulated knowledge.
Without a drastic intervention, the U.S. is set for a lot more California-scale disasters — or, where conditions are not as tinderbox-like for massive outages, says Lynch. His infrastructure report card gave the energy sector a D+ in its most recent issue.
For a company the size of California's PG&E, with many thousands of transformers scattered through an enormous area, "there literally aren't enough people to physically inspect equipment enough," says VIA cofounder Colin Gounden.
They want to know: "How do I figure out what the highest risk factor are?"
The penalty for neglect is stark. The PG&E tower that likely started the lethal Camp fire last year was 99 years old — nearly a quarter-century past its "useful life."
VIA has convinced a handful of utility companies around the world to sign up for its predictive software and pool their data together; Urbint says it has signed up four of the five largest U.S. gas utilities and expects to have more than half of all gas companies by the end of the year.
But, but, but: Fancy analytics alone won't solve the energy sector's looming crisis. The American Society of Civil Engineers said in 2017 that the energy sector needs $177 billion in extra funding to get through the coming decade.
What's next: The Trump Administration and Congress appear closer than ever to a $2 trillion infrastructure package — but with weeks to go in negotiations, the outcome is uncertain, with big questions remaining on where the money will come from.
Go deeper