GM confirms talks to sell Lordstown plant to Workhorse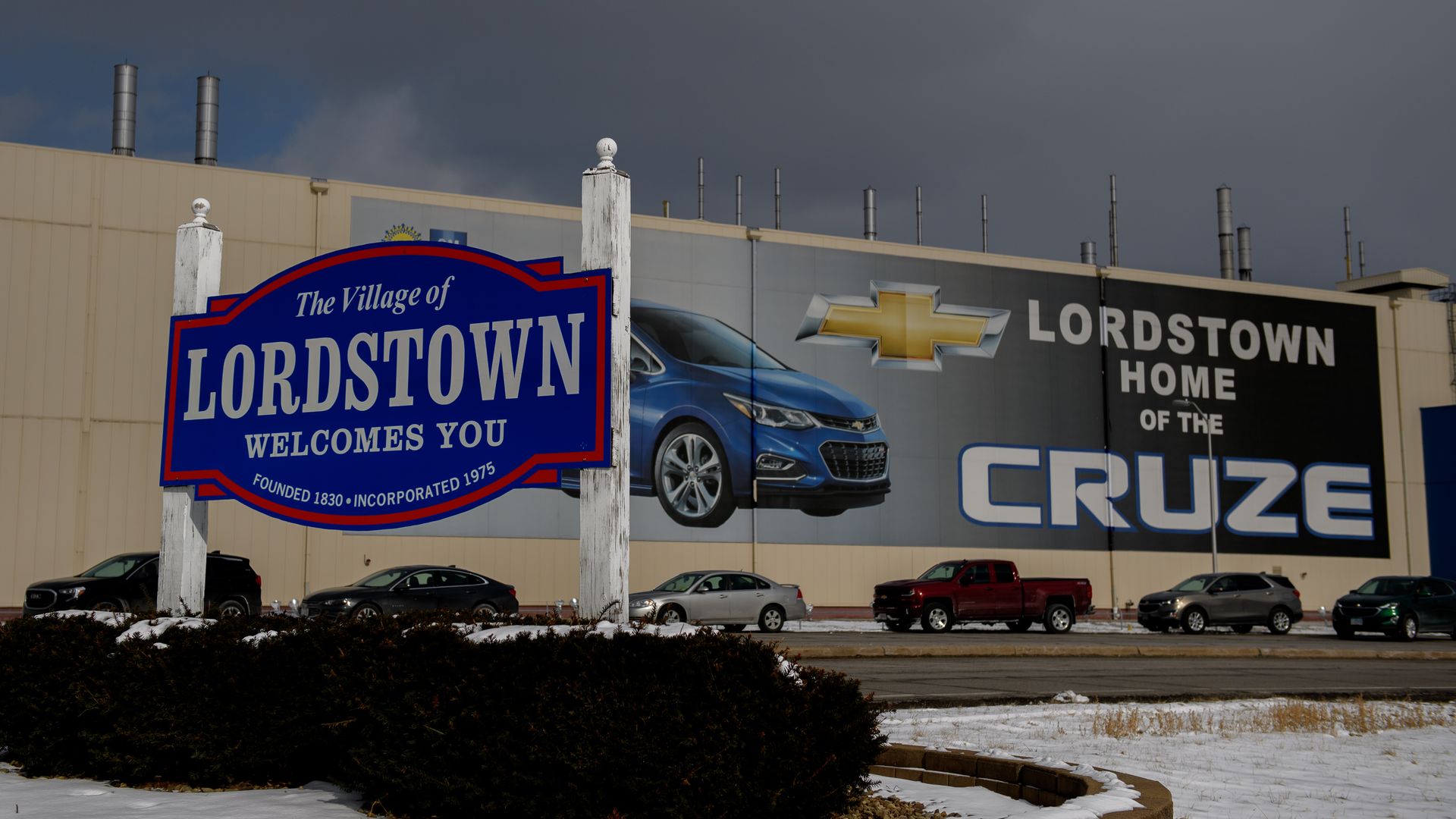 General Motors confirmed Wednesday that it is in discussions to sell its Lordstown, Ohio, plant to electric vehicle maker Workhorse and a newly-formed corporate entity, confirming an earlier pair of tweets by President Trump.
The big picture: The Lordstown plant's planned closure by GM is a key 2020 issue for Trump, who wants to shore up his place with blue-collar voters in a key swing state. But while the news might seem good for the plant's workers on its face, Workhorse is no GM — it has a market cap of just $55 million and 98 full-time employees, compared to the 1,600 workers who were employed by GM at Lordstown.
The announcement says that the newly-formed corporate entity would acquire the Lordstown plant and be headed by Workhorse founder Steve Burns. It added, "Workhorse would hold a minority interest in the new entity."
GM also said it will invest $700 million in three locations in Ohio, creating 450 new jobs in the process.
The full text of Trump's Twitter announcement:
"GREAT NEWS FOR OHIO! Just spoke to Mary Barra, CEO of General Motors, who informed me that, subject to a UAW agreement etc., GM will be selling their beautiful Lordstown Plant to Workhorse, where they plan to build Electric Trucks. GM will also be spending $700,000,000 in Ohio in 3 separate locations, creating another 450 jobs. I have been working nicely with GM to get this done. Thank you to Mary B, your GREAT Governor, and Senator Rob Portman. With all the car companies coming back, and much more, THE USA IS BOOMING!"
What they're saying: In a statement, GM CEO Mary Barra said, "We remain committed to growing manufacturing jobs in the U.S., including in Ohio, and we see this development as a potential win-win for everyone. Workhorse has innovative technologies that could help preserve Lordstown's more than 50-year tradition of vehicle assembly work."
"The U.S. economy and our core business are strong, so we can expand our commitment to U.S. manufacturing and Ohio and create job opportunities for our employees."
"We also expect to bring more jobs to the U.S. over time in support of the expected provisions of the USMCA."
Go deeper: GM's Lordstown closure set to be a key 2020 issue for Trump
Go deeper