Panama's voters opt for incremental change with President-elect Cortizo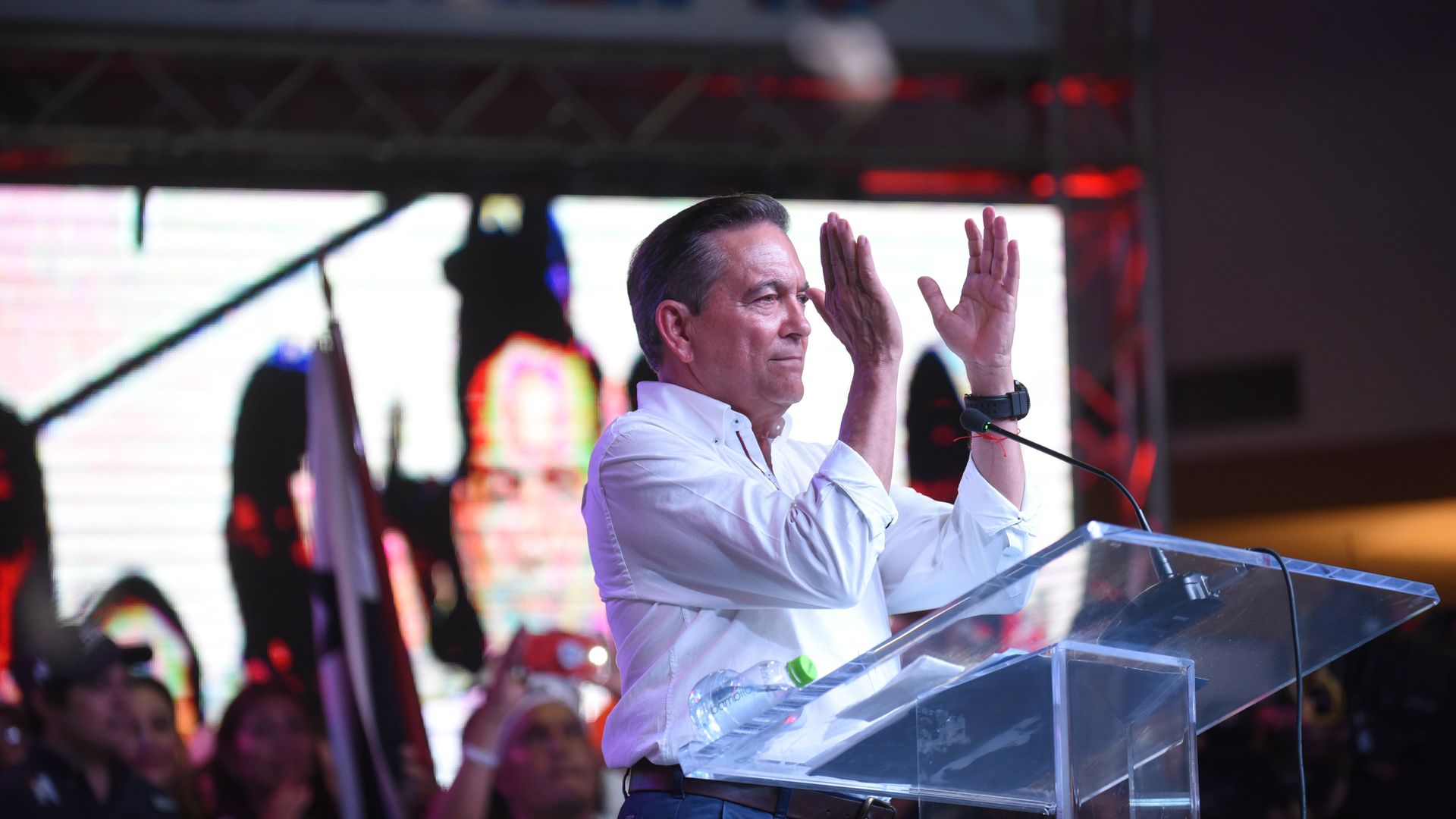 Panama's voters decided to stick with known quantities in Sunday's presidential election, choosing Laurentino "Nito" Cortizo to succeed term-limited incumbent Juan Carlos Varela.
The big picture: Panama's voters were closely divided between two former cabinet ministers from the traditional political parties, bucking a regional trend toward populist political outsiders who have brought fresh if at times unpredictable leadership to countries as diverse as Brazil, Mexico and El Salvador.
Details: Cortizo, a former agriculture minister from the center-left Democratic Revolutionary Party (PRD), prevailed by 33% to 31% over former foreign minister and Panama Canal Authority chairman Romulo Roux of the center-right Democratic Change Party (CD).
Roux was closely aligned with former President Ricardo Martinelli, who is currently in jail awaiting trial for charges of spying on his political opponents while in office.
Where it stands: When he takes office on July 1, Cortizo will reach the apex of a long political career that includes a decade in the National Assembly, a 2-year turn as agriculture minister under President Martín Torrijos, and an unsuccessful presidential run in 2008. Prior to this year's campaign, Cortizo spent most of the past decade focusing on his livestock and construction businesses.
Known as a fastidious cattle rancher, Cortizo has vowed to fight corruption, improve health services, reform the education system and build a new University of Panama campus.
Another top agenda item will be reigniting economic growth, which exceeded 10% earlier in the decade but reached only 3.8% last year.
What to watch: Cortizo has pledged to strengthen Panama's relationship with the U.S. while balancing its ties to China.
The Varela government officially recognized China instead of Taiwan in June 2017, and President Xi Jinping signed 19 economic cooperation agreements with Panama during a visit last December.
The Trump administration views the Panama Canal as a key strategic gateway and has expressed concern about China's growing role in building infrastructure throughout Central America.
The bottom line: In a region bedeviled by populist upswells from both the right and the left — coupled with unrest in Venezuela, Nicaragua and Haiti — Panama's government is unlikely to make waves under Cortizo. Instead, this key U.S. ally and free trade partner will combine a business-friendly outlook with a pragmatic foreign policy to remain a stable partner in a tumultuous neighborhood.
Daniel P. Erikson is managing director at Blue Star Strategies and a senior fellow at the Penn Biden Center for Diplomacy and Global Engagement.
Go deeper