Boeing's lunar gateway concept is open for testing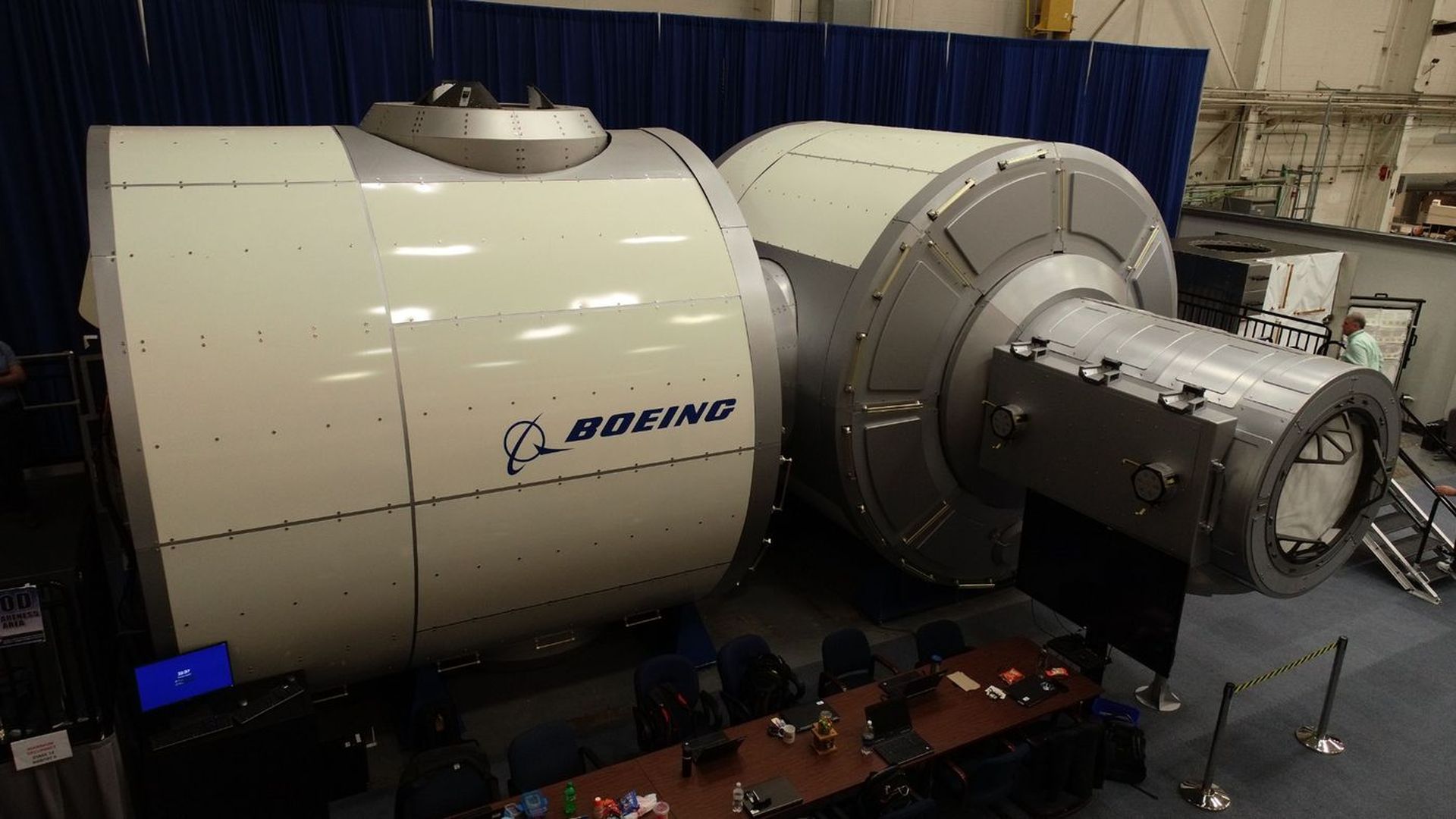 Boeing wants to take lessons learned from the International Space Station (ISS) to meet NASA's ambitious 2024 deadline to get humans back to the moon.
Driving the news: The longtime NASA contractor just finished up construction of a full-scale, ground-based model of its prototype for the space agency's lunar gateway. NASA will now start running the prototype through a series of tests.
The model — located in Huntsville, Alabama — includes habitation and airlock modules based on Boeing's work developing the ISS.
"We have a lot of cool stuff in there," David Pederson, Boeing's test team lead engineer for the gateway, said during a press briefing last week.
The demonstrator includes an exercise area with a window, a galley with working water and science experiment boxes.
Details: NASA hopes to launch a lunar gateway as an orbiting base of operations from which astronauts could launch to the lunar surface.
Boeing is confident its gateway concept, if selected, would be ready to launch ahead of a 2024 landing.
According to Boeing, the modules are designed to launch separately, with the power and propulsion module heading to lunar orbit in 2022.
The habitation module would launch one year later.
The modules are designed to snap together with little assembly required.
But, but, but: Boeing isn't the only company working on a lunar gateway concept.
Lockheed Martin has finished its demonstrator. Northrop Grumman, Sierra Nevada Corp. and Bigelow Aerospace are still working toward turning their models over to NASA for testing.
As of March, the space agency says it plans to incorporate the best elements of the demonstrators into the final product, rather than going with one design.
Be smart: NASA's 2024 deadline is extremely ambitious and will likely take a large influx of funding provided by Congress. However, it's unclear whether the Trump administration has enough support to make that lunar mission a reality.
The agency was expected to submit its updated budget proposal in mid-April, but that deadline came and went with no word on how much NASA will need to get the job done.
In theory, NASA could still aim for the moon without including a gateway in its plans.
Go deeper: All eyes on NASA's commercial crew
Go deeper