Trump administration accuses China of "reneging" on trade deal commitments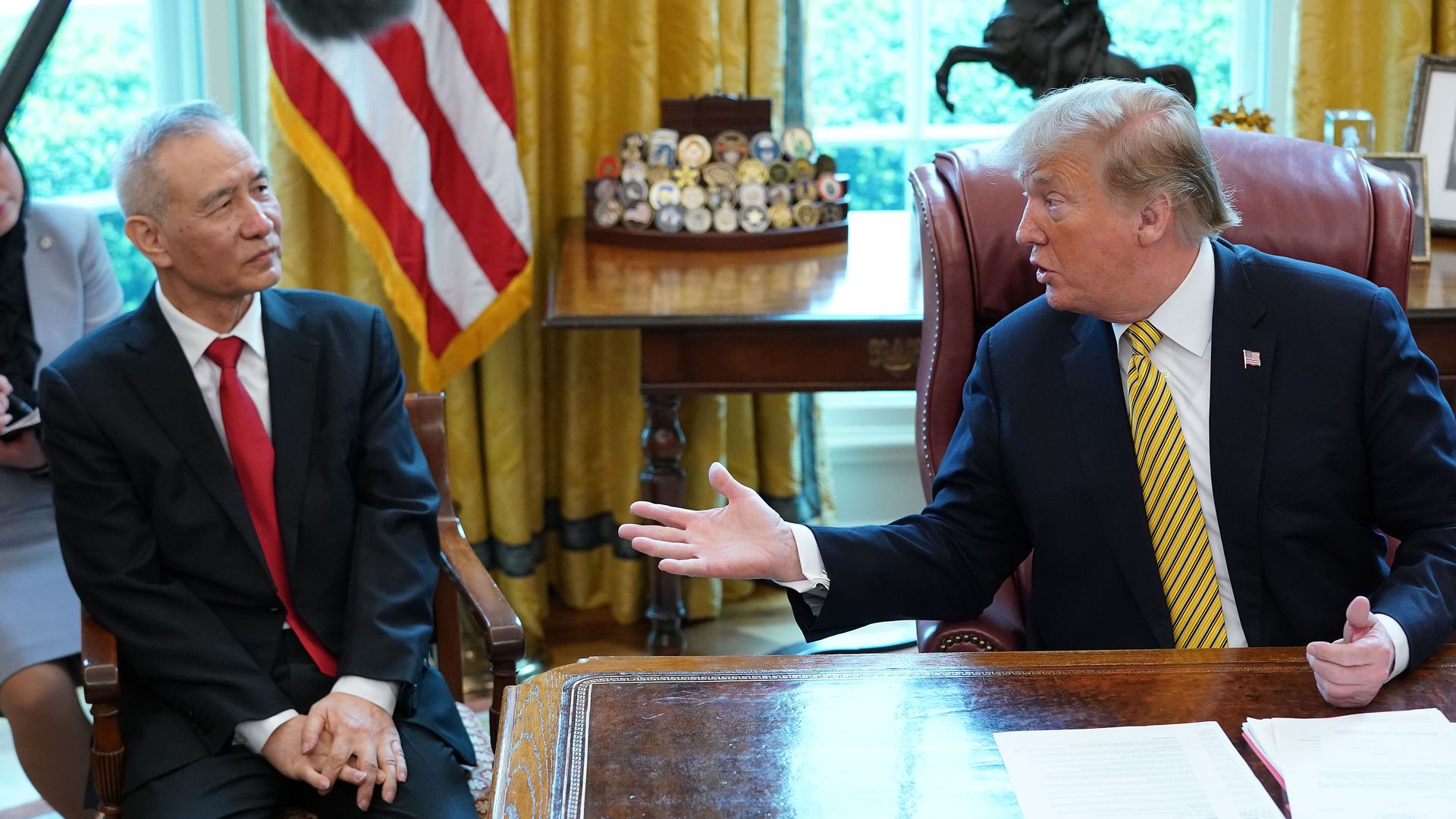 U.S. trade representative Robert Lighthizer said in a briefing with reporters Monday he will put out a Federal Register notice tomorrow saying that the Trump administration will raise tariffs on $200 billion of Chinese goods from 10% to 25%, and that importers will begin paying the new tariffs "the first minute of Friday."
Why it matters: The business community and markets had been cautiously hopeful that Trump's Sunday tweets were an empty threat to create leverage over China and that he'd ultimately back down. That's still possible, of course, but Lighthizer made clear he didn't think that was going to happen.
Driving the news: Lighthizer said he still expects the top Chinese negotiator, Liu He, to come to Washington on Thursday, though he said he hadn't spoken to the vice premier since he and Treasury Secretary Steven Mnuchin left Beijing last week. Mnuchin, who was also in the briefing, said he hadn't spoken to Liu He either since he left China.
Mnuchin said he thought until recent days that the Trump administration was on the precipice of a "historic" deal with China — one that was hyper-detailed, running to almost 150 pages. 
He said the past week had brought a "big change in direction for the negotiations" with the Chinese backtracking on specific commitments that they had made in writing.
Mnuchin and Lighthizer wouldn't say what, specifically, the Chinese were trying to re-trade. But they both stressed that China's team wasn't squabbling over small stuff. Lighthizer and Mnuchin used words like "substantive" and "substantial" to characterize the attempted Chinese backflip.
Between the lines: Mnuchin left slightly more room for another twist this week. He made a point of saying that Liu He had been "very helpful to work with" and he'd built a strong relationship with the vice premier. He said President Trump had been willing to extend the deadline on tariff hikes previously because of the "substantial progress" they'd made. 
Lighthizer said his interpretation of what happened was that some on the Chinese side found the commitments the negotiating team had already agreed on to be unacceptable. (Translation: The Chinese side has hardliners, too.) "I would use the word reneging on prior commitments," Lighthizer said.
Mnuchin, who is less hawkish on China, left slightly more room for a last minute plot twist. He said if the Chinese come to Washington and are willing to go back to their original commitments and negotiate in good faith, then of course he and Lighthizer would take that to President Trump. But as of now, the tariffs are going ahead, he said.
What's next? A reporter asked Lighthizer what he would say to American businesses who already have goods on the water headed to U.S. ports, which will face significantly higher costs if the tariffs go into effect. Lighthizer said, "There'll be ways to work out" the situation but he gave no specifics. He said it's been clear for some time that something like this — a dramatic tariff increase — could happen. U.S. businesses, in other words, should have been prepared for this.
Go deeper