Amazon's neighborhood watch app raises discrimination, privacy fears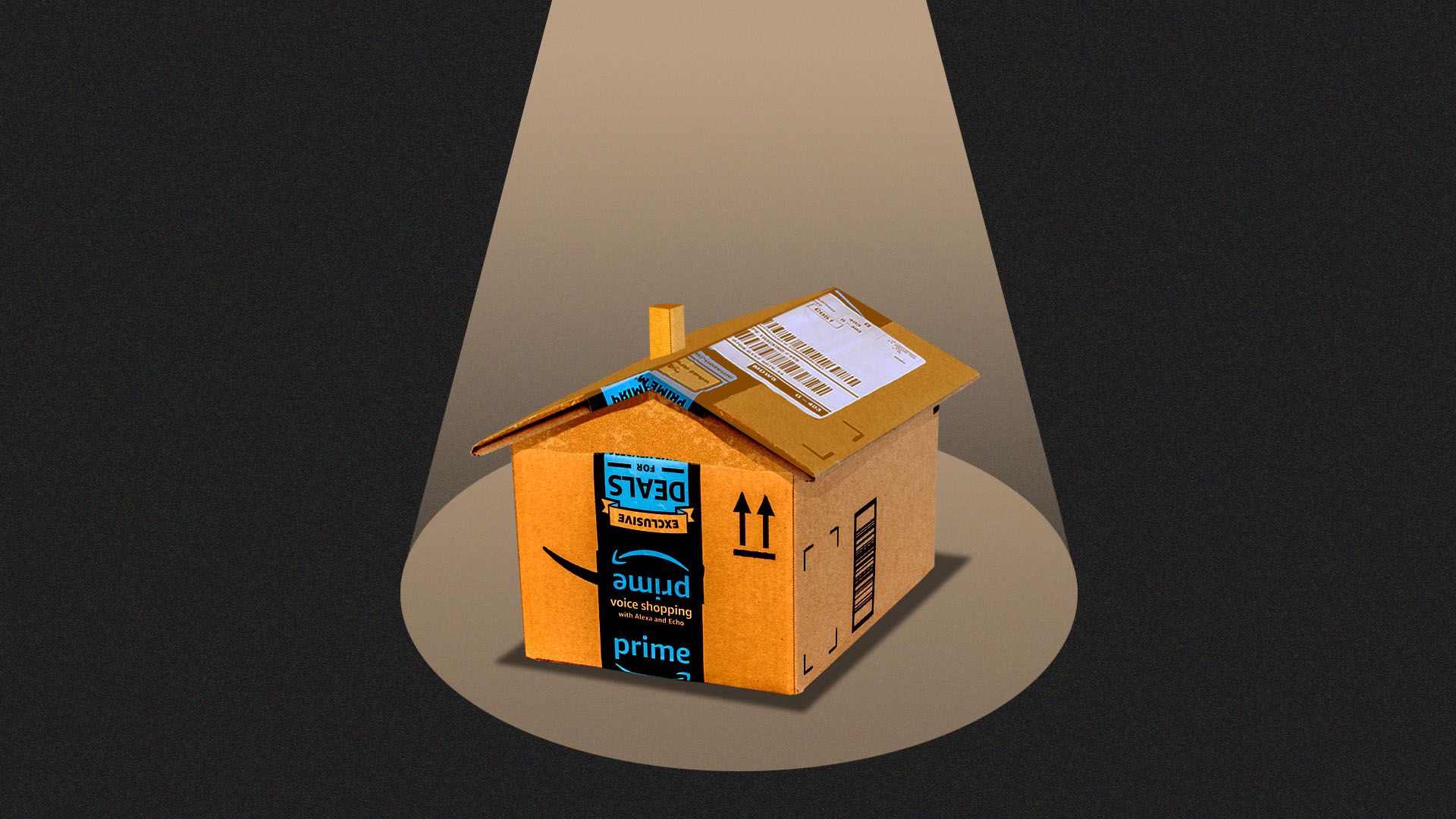 Advocates and experts are worried that an Amazon-owned mobile app, used by owners of its Ring security cameras to upload videos for neighbors to see, could entrench racial discrimination and violate people's privacy.
Why it matters: The app, called Neighbors, is striking deals to partner with police departments across the country.
Driving the news: Last week, journalists on Twitter noticed Ring was hiring an editor — prompting concerns that Amazon was stoking community fears to sell security systems. (Amazon bought the company last year.)
How it works: People with and without Ring cameras can download the Neighbors app. It features a feed where users can post videos and photos from their cameras, file reports of activity they think is suspicious and read crime reports from the app's "News Team."
The application partners with law enforcement, allowing them to post alerts to solicit possible video evidence useful to their investigations through a platform described by The Intercept earlier this year. (The company says that when "using Neighbors Portal, law enforcement see the same interface that all users see.")
An agreement obtained by the open-records site MuckRock between the Richmond, Va. police department and Ring said it was up to the agency to maintain "appropriate access controls for RPD personnel to use the Ring Neighborhood Police portal."
Part of the agreement was that for every "qualifying download" of the app that came from the Richmond program, the city would get a $10 credit towards donated cameras.
Details: The Neighbors app highlights multiple concerns about what happens when you build digital platforms for neighborhoods, particularly those that aim to spotlight crime, said multiple advocates and experts.
Neighborhood message boards are already famously rife with racism, and Motherboard reported earlier this year it had found frequent racist comments on Ring's app as well. "I think having the videos oftentimes makes things even worse than they would be in just a text-based neighborhood message board format," said Harlan Yu, executive director of the research group Upturn.
The ubiquitous nature of Ring cameras runs the risk of capturing behavior unrelated to the crimes they are supposed to deter. "This is sort of supercharging the surveillance of people's private lives and potentially constitutionally protected activity," said Shankar Narayan, director of the Technology and Liberty Project at the Washington state branch of the American Civil Liberties Union.
What they're saying: The burdens of increased video surveillance and fears stoked by the apps will fall on people of color, who are already more likely to face police discrimination.
"The bottom line is that this app is going to end up simply stoking people's fears, especially people's racist fears, and it's also going to bring law enforcement to act on people's racial biases," said Yu.
"Amazon needs to recognize that law enforcement itself in this country has a long and documented history of racial discrimination," Yu added.
Ring's response: "We realize that there are many intricacies involved in fighting crime and facilitating community discussions and are always looking at ways to further develop and enhance our services," the company said in a statement.
The company said it encourages "neighbors to report racial profiling using our in-app flagging tool" and that its users "have full control of who views their Ring footage."
It also denied using facial recognition.
Digitizing the neighborhood watch has raised discrimination concerns before.
In 2015, the Business Improvement District in Washington, D.C.'s wealthy Georgetown neighborhood found that almost 70 percent of the "suspicious" people discussed on a GroupMe chat between shops and police were black.
Nextdoor, the popular message board app for neighborhoods, has struggled with racism on its platform as well.
The Neighbors app is already being linked to arrests, according to reports from local news outlets around the country.
In February, police in Shawnee, Kansas weren't able to find a man who had been allegedly trying to cash stolen checks.
They used Ring's app, asking residents to "Check your video. Check out your windows," Shawnee Police Department Sgt. Craig Herrmann told a local television station.
"We were able to have people basically continuing to watch, to look for him after we left," he said.
The bottom line: The number of data-hungry devices — from wearables to connected appliances to security cameras — keeps growing, raising increasingly urgent questions about how they shape society and perpetuate biases.
Go deeper