Wall Street has kind of soured on health care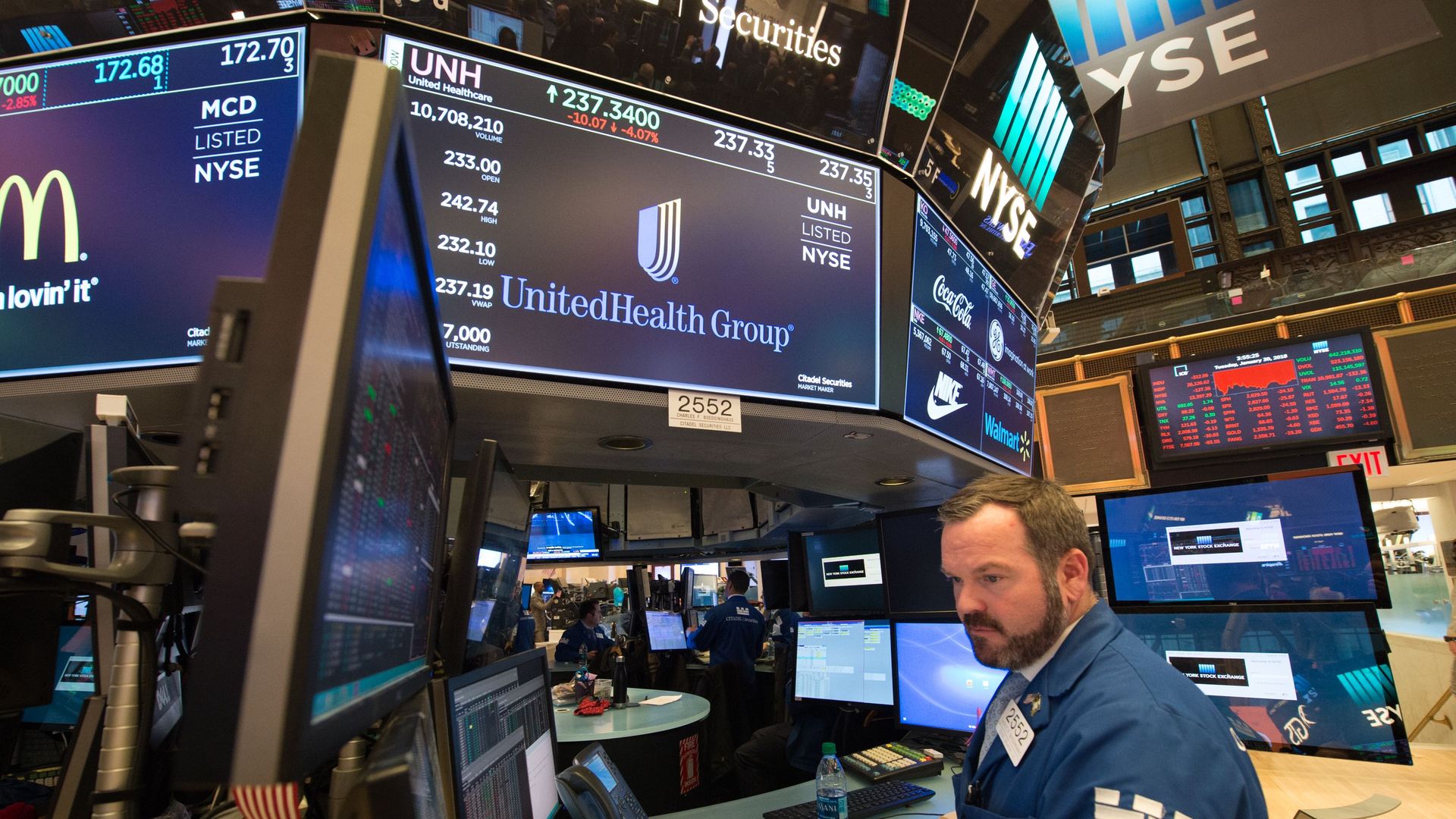 Many of the largest health care companies — including UnitedHealth Group, HCA Healthcare, Anthem and Humana — have reported blowout profits in the first quarter. And yet, the industry's stocks continue to take a pounding on Wall Street.
Between the lines: Stock prices of health care companies have consistently outperformed broader indices over the past several years, so some pullback is natural. But stock prices also are a reflection of future value, and everything from rising support of "Medicare for All" to drug pricing regulation is clouding what future profits will look like.
The big picture: Medicare for All, a litmus test for 2020 Democratic presidential candidates, has dangled over stocks even though Wall Street firms know enacting that program would require several consecutive political miracles. One investor told us Medicare for All is a "utopian pipe dream."
Still, the S&P 500 health care index shed $150 billion of market value during a 4-day stretch in April — right after Sen. Bernie Sanders talked up his Medicare for All plan and UnitedHealth CEO Dave Wichmann called out the proposal.
Yes, but: Medicare for All is only one factor investors have been getting nervous about, said Jason Norris, who researches health care stocks for Ferguson Wellman Capital Management, a $5 billion investment firm.
The Trump administration's drug rebate rule appears likely to go into effect in 2020, and that would drastically change how health insurers and pharmacy benefit managers negotiate for drugs.
Sales of many blockbuster drugs are maturing, leaving investors wondering what's next, Bloomberg reported.
Don't forget: Computers, not humans, do a lot of the stock trading — so a big part of the selloff also is tied to machines copying each other.
"The algorithms take over," said Emily Evans, a health care managing director at investment research firm Hedgeye. "It trips the wire and causes everything else to sell."
The bottom line: "Investors have owned a lot of health care," said Norris, whose firm has been pruning health care stocks since Democrats took over the House in 2018. "We were really overweight. A lot of this uncertainty is (leading to) reducing that exposure."
Go deeper