Pompeo headed for Finland, Greenland to discuss Arctic policy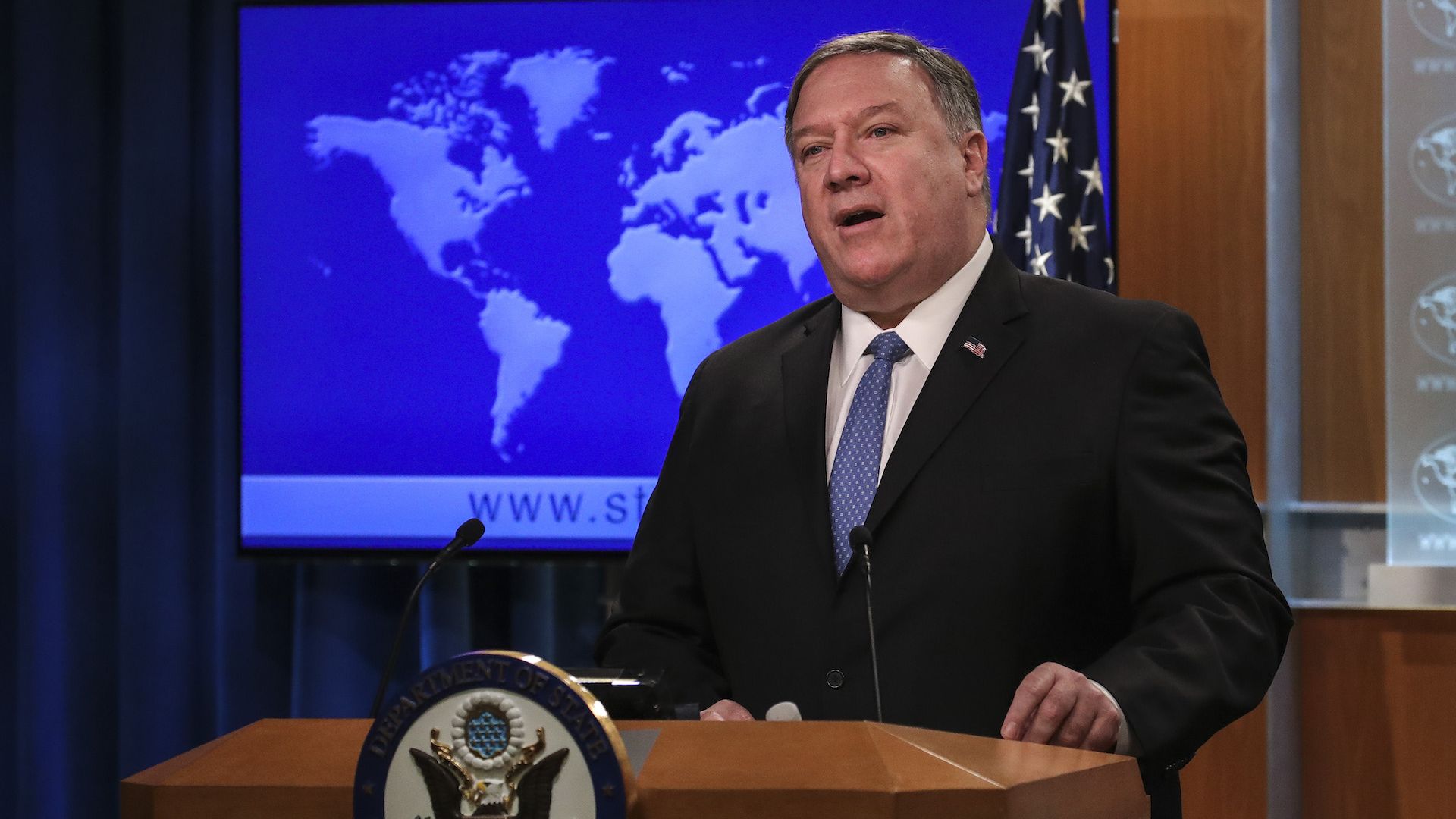 Secretary of State Mike Pompeo is scheduled to visit two places in the Arctic in the coming days, where it could be extremely difficult to ignore or downplay the reality and consequences of human-caused global warming.
Why it matters: The Arctic is warming at more than twice the rate of the rest of the globe, setting in motion a transformation of a once-frozen region into a new state. Melting sea ice is quickly making the Far North more accessible, and marine traffic from container ships and cruise vessels is becoming more common, particularly in Russian and Canadian waters. As one of 8 Arctic nations, the U.S. plays a key role in setting policy for the region.
The big picture: On May 7, Pompeo will be in Rovaniemi, Finland where he will join foreign ministers from other Arctic nations to discuss issues of concern in the region within a forum known as the Arctic Council. Finland, which is hosting the meeting, has set an agenda that puts climate change high on the list of priorities.
But, but, but: Pompeo is likely to be more interested in regional security issues, given a recent Russian military buildup and growing interest in Arctic oil and gas resources. China, too, has been increasingly eyeing the Arctic.
"There has been a sustained effort by US military and Coast Guard officials to re-frame the issue of climate change in the Arctic as a security challenge," says Malte Humpert, the founder and senior scholar at The Arctic Institute.
"This avoids the political pitfalls of having to talk about climate change and jumps straight to talking about security implications."
The U.S., Humpert says, wants to demonstrate that it will "not surrender control over the region to Russia and China," as sea ice melts and the world heads toward a newly accessible Arctic Ocean each summer, and much thinner ice cover at other times.
The context: The U.S. under President Trump has vowed to pull out of the Paris Climate Agreement, and has been pursuing policies aimed at boosting its production of fossil fuels that lead to planet-warming greenhouse gas emissions. The U.S. has also deemphasized Arctic diplomacy by eliminating the position of a special envoy for the region, while also seeking to boost its military presence in the region.
Pompeo is also scheduled to stop in Nuuk and Kangerlussuaq, Greenland on May 9, where he will meet with the Greenlandic premier and the Danish foreign minister.
He will be at least the 4th Secretary of State to visit Greenland, with Colin Powell, Hillary Clinton and John Kerry visiting on behalf of previous administrations.
Greenland is one of the few places in the world that may benefit economically from global warming, as they're seeing an influx of international investment and interest in mining and other industrial activities, as well as tourism.
During the visit to Kangerlussuaq, Pompeo will meet with members of the New York Air National Guard, who fly climate scientists and their equipment to the melting Greenland ice sheet to conduct their research.
Go deeper:
Go deeper