Miami may be the perfect city to test out flying cars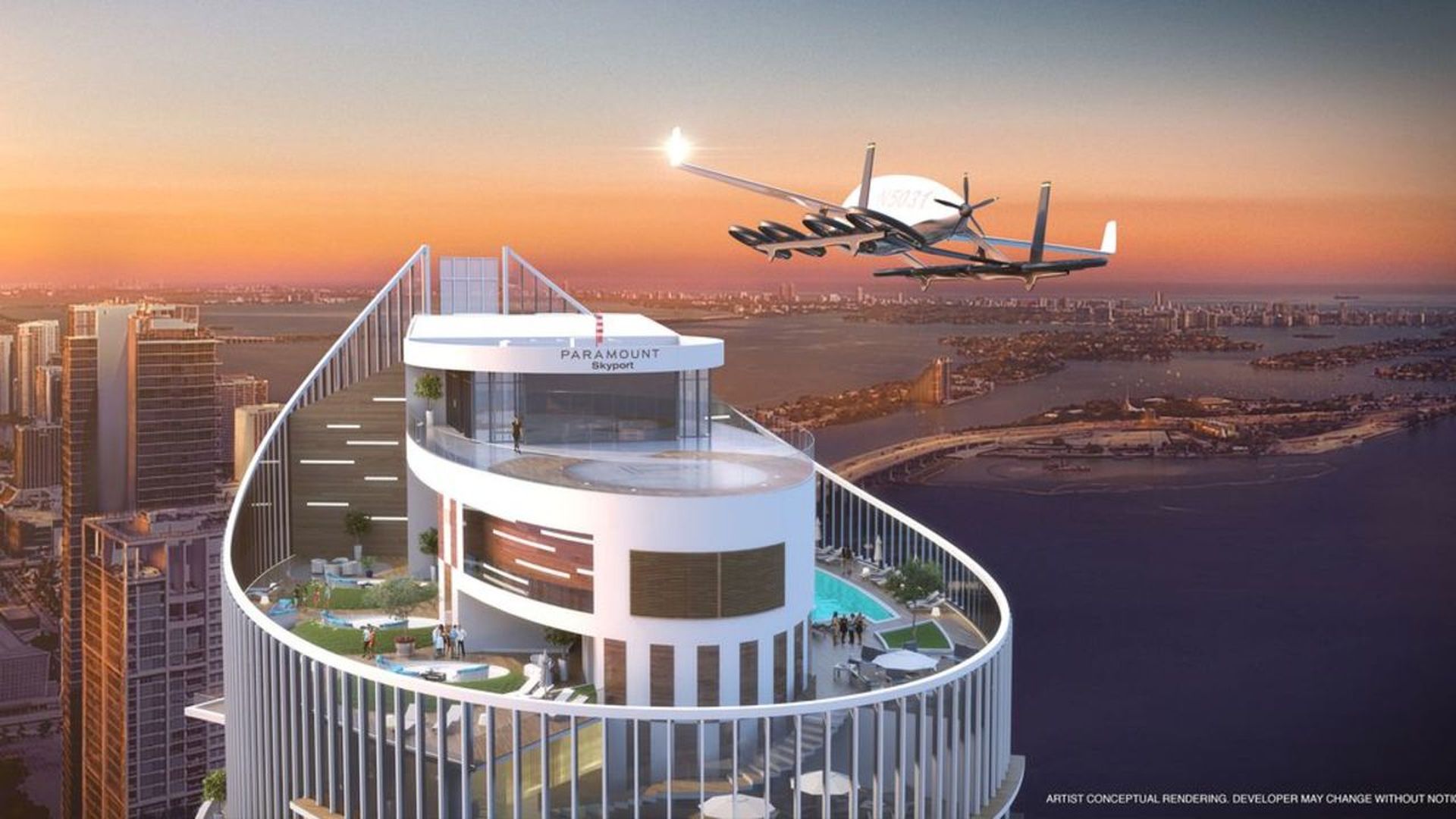 Future residents of the 60-story Paramount Miami World Center won't have to bother with trying to hail a ride at street level. Instead, they can take a glass-enclosed elevator up to the rooftop skyport and be whisked off by a flying car.
Why it matters: South Florida is a prime market for VTOL (vertical take-off and landing) air taxis because of the region's congested highways and affluent population, says Daniel Kodsi, developer of the center.
Flying car technology is inevitable, per Kodsi:
"We are just a few years away from the first flights, which could start in the 2020s, depending on regulatory issues," he says.
To prepare for that future, his firm designed the 60th-floor SkyDeck pool so it can easily be transformed into a SkyPort.
The floor of the swimming pool will rise as shown in this video, draining all the water, and convert itself into a takeoff and landing pad.
Kodsi says he's in talks with several VTOL air vehicle manufacturers.
Context: Helicopter landing pads have adorned buildings for decades. But Kodsi claims the new Miami tower would be the first in the world designed especially for so-called flying cars.
Yes, but: While some advocates predict flying cars will be here within a decade, no one knows whether masses of people want to fly in taxis, or whether the many logistical and regulatory hurdles can be cleared.
Details: The $600 million tower, now under construction, will have 524 high-end apartments including 26 penthouses, with prices ranging from $700,000 to $1.5 million.
The bottom line: With his TV royalties, surely George Jetson could afford to retire there.
Go deeper