Maduro weakened by crisis, but still propped up by foreign support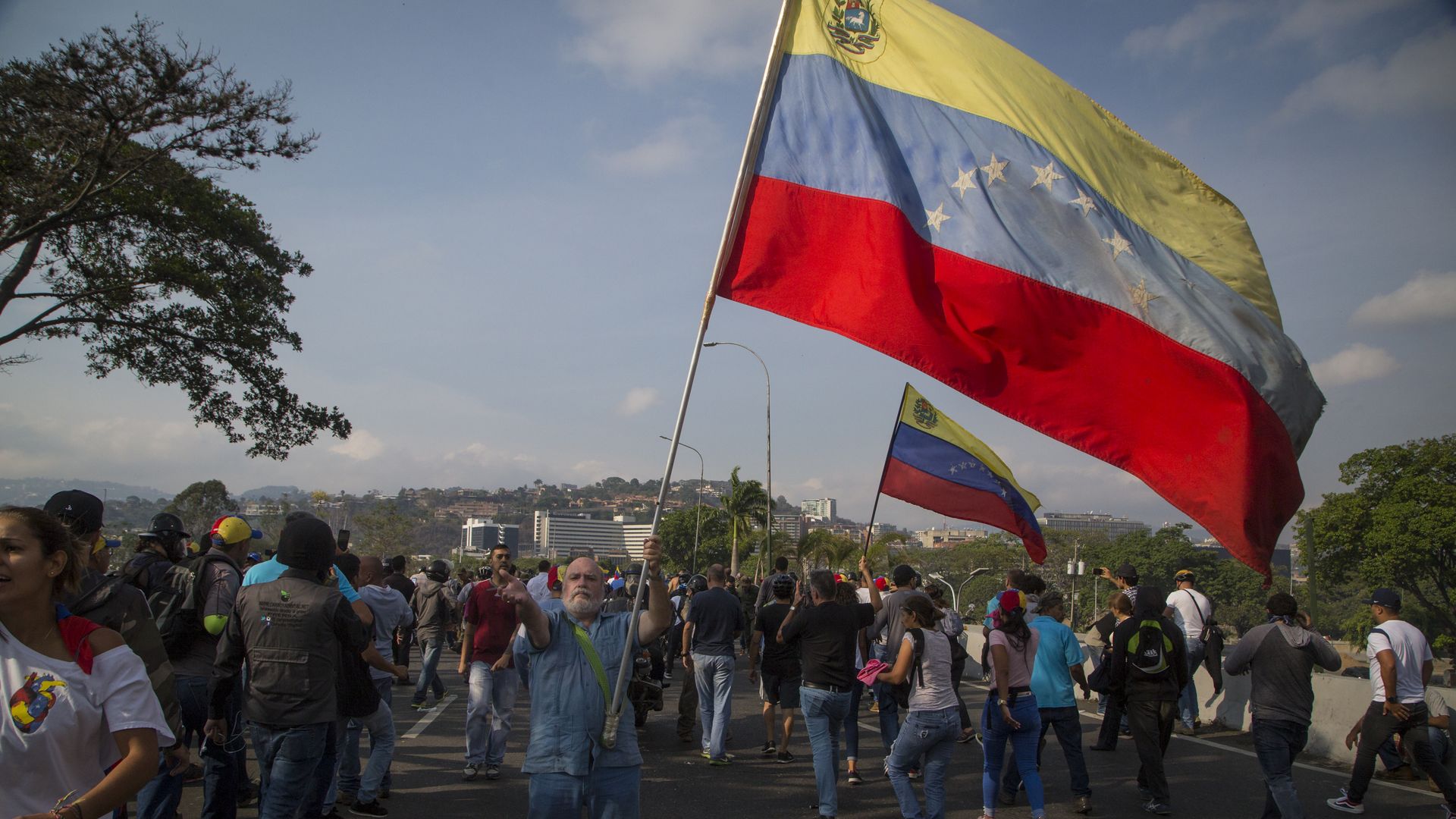 A surprise, small-scale military uprising shook embattled leader Nicolás Maduro as turmoil spread across Venezuela on Tuesday, though he did manage to hold off a cascade of defections by senior military officials.
The big picture: Opposition leader Juan Guaidó played a strong card early in the day, flipping a high-ranking military official from the SEBIN secret police force, who then helped free Guaidó mentor Leopoldo López from house arrest and released a letter criticizing Maduro. López was a high value political prisoner, so footage of him walking free powerfully undermined Maduro's credibility as commander in chief.
Where it stands: In both 2016 and 2017, the opposition staged confrontational demonstrations to raise the costs of repression. The protests drew international attention to human rights abuses but failed to worsen regime divisions, sending the effort's leaders back to options at the negotiating table and the ballot box.
After earlier coercive diplomacy failed to produce a military uprising, the Trump administration is doubling down on its efforts to drive regime change. Increased sanctions pressure could foment greater divisions within the regime, while the refusal to take military options off the table may provide Guaidó a much-needed security umbrella.
What's next: It seems likely that Guaidó will push his Operation Freedom campaign to the brink. And Maduro will probably stick around to push back, despite Secretary Pompeo's claim that he'd nearly fled into exile. Another clash could come as early as today's May Day demonstrations.
What to watch: The main open questions are what cards Guaidó has left in his hand, how many more rounds of coup poker can be played before one side folds, and how the U.S. and others respond.
It's still not clear that the U.S. alone can tip the scales. Working with the regional Lima Group will be key, but even more valuable would be finding a way to meet the prices that Beijing, Havana, and Moscow are asking to reevaluate their support for Maduro.
Michael McCarthy is a research fellow at American University's CLALS, an adjunct professor at George Washington University's Elliott School for International Affairs, and the founder and CEO of Caracas Wire.
Go deeper