Facebook's off-again, on-again affair with privacy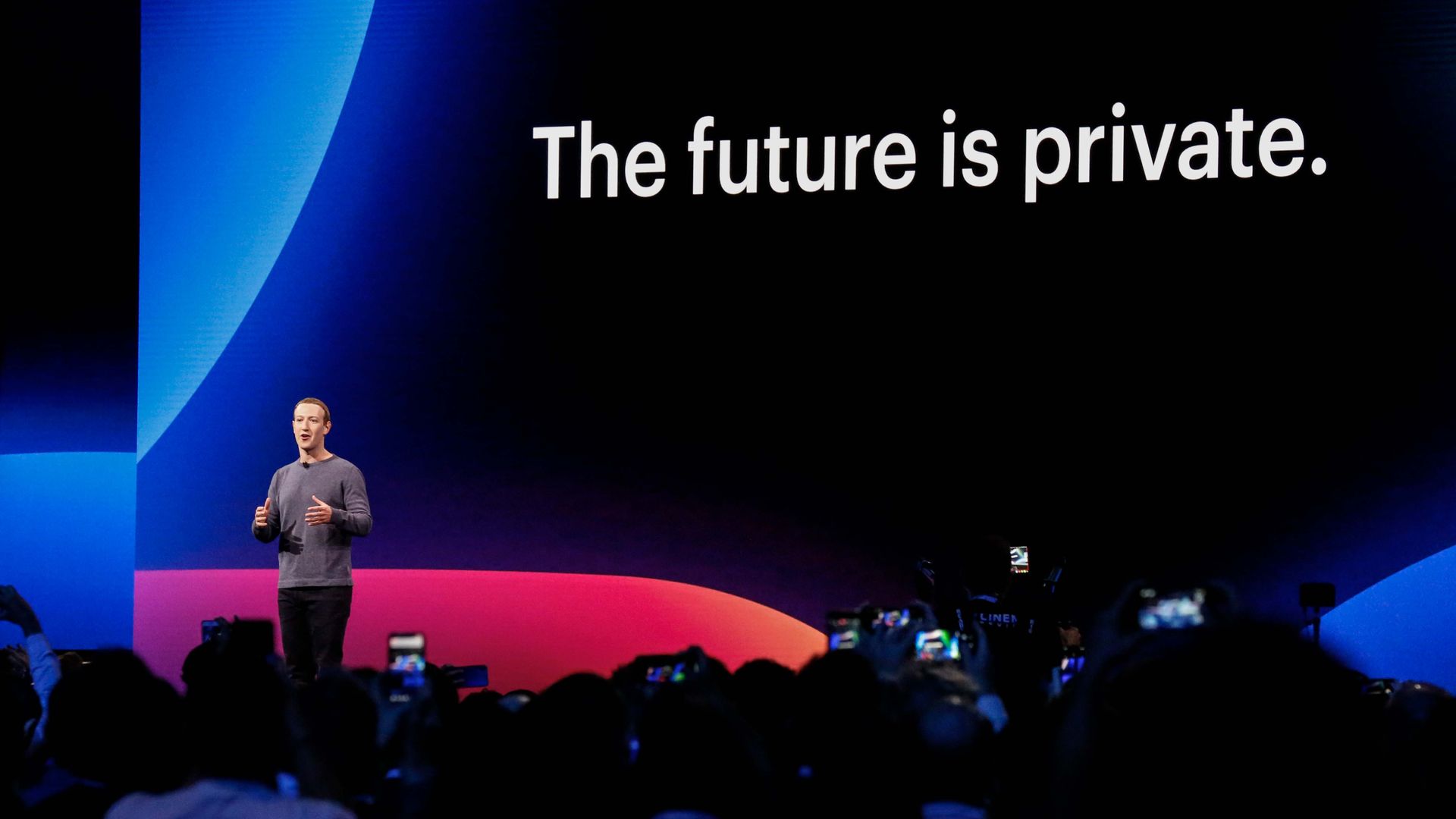 As Mark Zuckerberg filled in the details of his new, privacy-oriented vision of Facebook at the F8 developers conference Tuesday, he left out a key episode from the past: Long before Facebook's pivot to privacy, the company pivoted to make everything more public.
Why it matters: There's a reason Facebook's new "digital living room" where you are "free to be your true self" sounds familiar. You've already been there, if you were one of the hundreds of millions of people who used Facebook before roughly 2010.
Flashback: Facebook's original superpower — and the reason so many users flocked to it from the untamed wilds of the wider web — was that it gave you an assurance of semi-privacy and a respite from the anonymity that fueled so much online conflict.
But roughly a decade ago, as the company turned its gaze from user growth to making money, it started deprecating privacy and altering its default settings toward more public interactions.
Public pages were more valuable as ad inventory. Privacy, Zuckerberg said in 2010, was no longer a "social norm."
Driving the news: Today Facebook is doing everything it can to encourage users to shift their messaging to smaller private groups, to move their communications behind a veil of encryption, and to assure them that it's safe to just "be yourself" on its network.
The effort is massive and Zuckerberg plainly intends to deliver.
Yes, but: When Facebook shifted away from privacy a decade ago, it planted a field of landmines that started exploding in its business's path over the last two years.
The "digital town square" it built had no organic culture and grew without guardrails. The technology scaled, but the social system didn't.
As the company and its third-party partners mined user data for ad targeting, Facebook changed from a protector of privacy into a predator.
The shift also transformed Facebook from a relatively "safe" precinct of the online realm into a free-fire zone of misinformation, trolling and hate speech — culminating in its role as a vector for Russian meddling in the 2016 U.S. presidential election.
The catch: Today Zuckerberg is promising users a newer, better experience rooted in privacy — but he's not talking about how Facebook's current 2 billion-plus users get there from here.
Facebook already has a culture, and changing it is not as simple as redesigning an interface or rewriting a codebase.
The bottom line: Zuckerberg may believe that he succeeded a decade ago because the public-oriented Facebook he built succeeded in creating a powerful, rich company that's still growing today.
But in another way, Zuckerberg also failed back then. Facebook's original pivot towards the public realm made a huge sociopolitical mess that he's still trying to clean up.
Giving the network a big shove back toward privacy offers no guarantees that it will solve Facebook's current trust and safety problems. And it could easily make an even worse mess.
Go deeper