Dems rip into Barr after Mueller points to missing "context" of investigation summary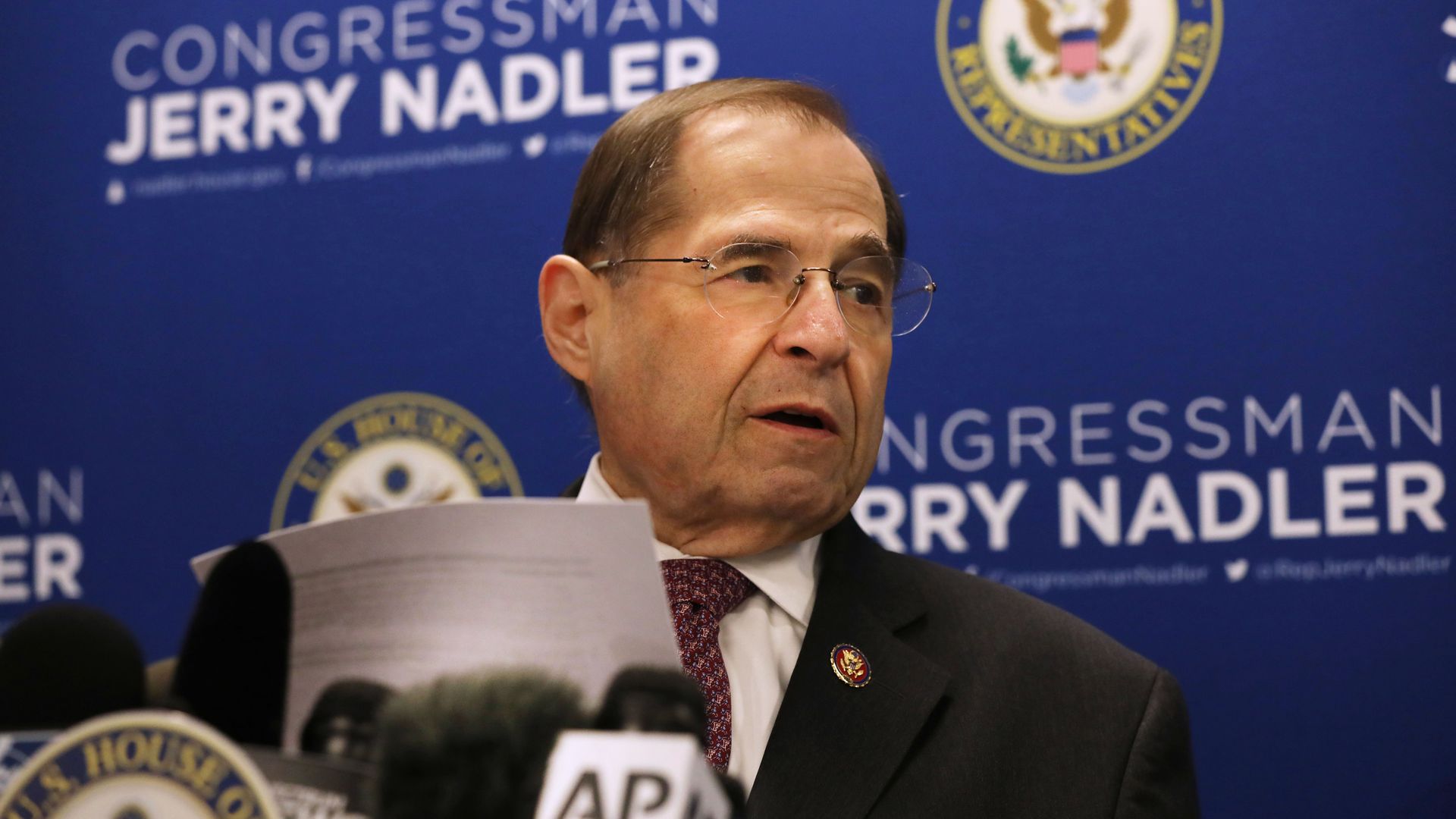 Democrats turned up the volume on their criticisms of Attorney General William Barr Tuesday night, upon learning that special counsel Robert Mueller, in a letter to Barr, objected to his characterization of the special counsel's conclusions.
Why it matters: The Washington Post revealed that Mueller wrote a letter in late March to Barr, complaining that he failed to provide ample "context, nature, and substance," on the special counsel's investigation. For those who already doubted Barr's summary of the Mueller report, some seized on the letter to justify their concerns.
What they're saying:
House Judiciary Chairman Jerry Nadler (D-N.Y.): "The Special Counsel's concerns reflect our own. The Attorney General should not have taken it upon himself to describe the Special Counsel's findings in a light more favorable to the President. It was only a matter of time before the facts caught up to him."
He added: "[Barr] has expressed some reluctance to appear before the House Judiciary Committee this Thursday. These reports make it that much more important for him to appear and answer our questions. [The DOJ] has also been reluctant to confirm a date for Special Counsel Mueller to testify. Given this evening's reports, I will press the Department to schedule that hearing without delay."
Senate Minority Leader Chuck Schumer (D-N.Y.): "In light of Mueller's letter, the misleading nature of Barr's 4/10 testimony & 4/18 press conference is even more glaring. Barr must bring the letter with him when he testifies in the Senate tomorrow. And it's time for Mueller to testify publicly. Now."
House Financial Services Committee Chair Maxine Waters (D-Calif.): On MSNBC's All In with Chris Hayes, Waters said: "This is typical of what's going on with this president and this administration. They do everything that they can to deny information about who this president is and what he has done. … I think that Barr should resign. If he does not resign, he should be facing impeachment proceedings also. He has abdicated on his responsibility. He's lied. … It is outrageous, and he needs to go."
House Intelligence Chairman Adam Schiff (D-Calif.): "Now it is confirmed Mueller objected to the 'context, nature, and substance' of Barr's misleading summary of the report. And the false public narrative it allowed the White House to create. No one can place any reliance on what Barr says. We need to hear from Mueller himself."
"We're going to have to consider all of the remedies that we have," he later said, when asked if Democrats should try impeaching Barr. He also called on Barr to "step aside."
Sen. Elizabeth Warren (D-Mass.): "AG Barr is a disgrace, and his alarming efforts to suppress the Mueller report show that he's not a credible head of federal law enforcement. He should resign — and based on the actual facts in the Mueller report, Congress should begin impeachment proceedings against the President."
2020 Democratic presidential candidate Julián Castro: "Attorney General Barr willfully misled the American people to cover up attempted crimes by Donald Trump. He should resign his position or face an impeachment inquiry immediately."
Sen. Mark Warner (D-Va.): "This is exactly why I said Mr. Barr should never have been confirmed in the first place. At this point he has lost all credibility, and the only way to clear this up is for Mr. Mueller to testify publicly."
Sen. Tom Udall (D-N.M.): "This is why I opposed Attorney General Barr's confirmation and have requested an investigation into his handling of the Mueller investigation and report."
Go deeper:
Go deeper