Democrats call for Attorney General William Barr's resignation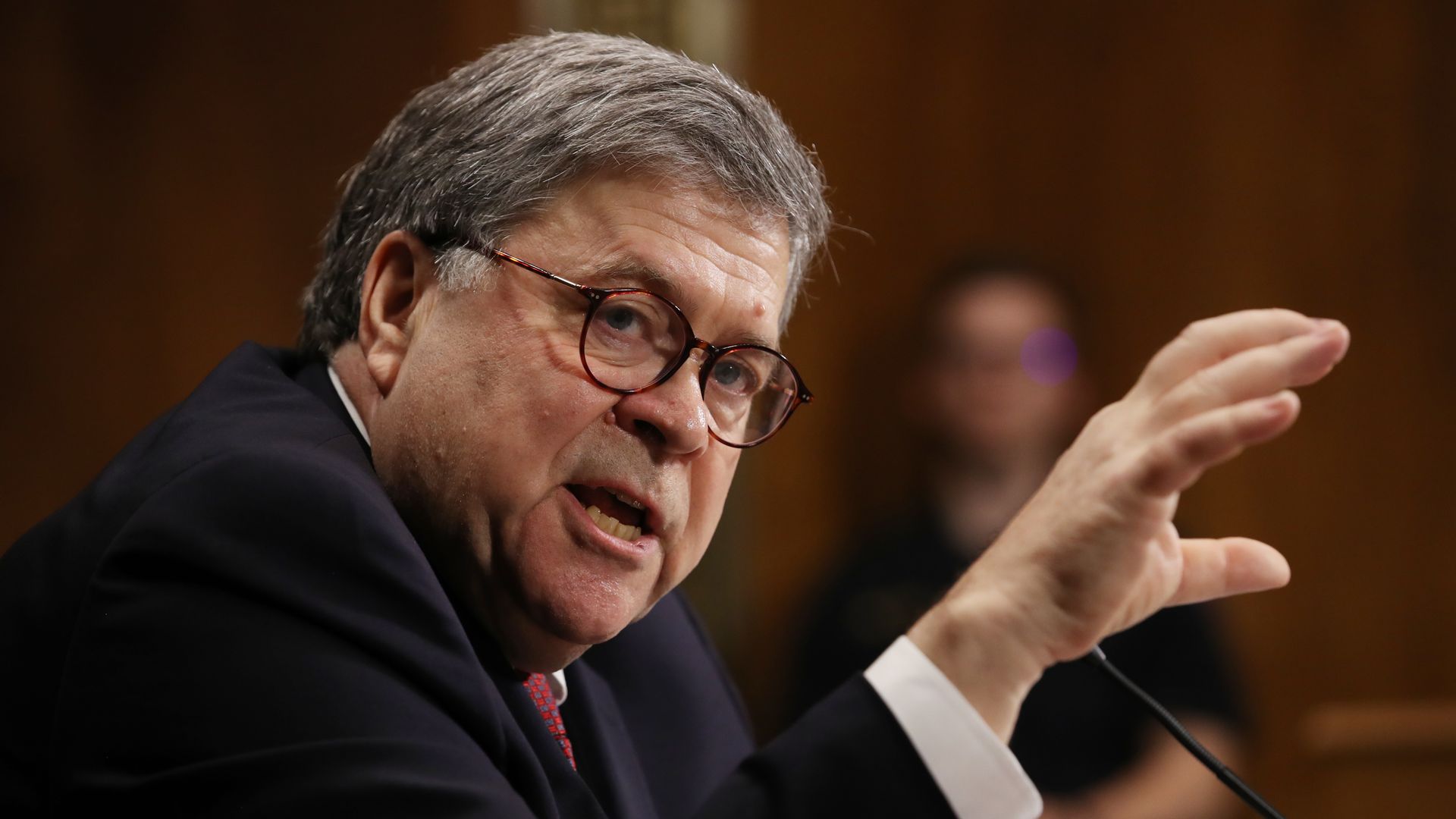 Congressional Democrats and 2020 candidates are calling for Attorney General William Barr to step down from his post due to his handling of the Mueller report.
Context: Barr testified before the Senate Judiciary Committee on Wednesday to answer questions on special counsel Robert Mueller's report into Russian interference in the 2016 election — a day after a letter was made public from Mueller to Barr about his March 24 characterization of the report's findings.
2020 candidates who called for Barr to resign:
Julián Castro: "In attempting to deceive the American people, Attorney General Barr went in front of Congress and lied under oath. Congress must hold this administration accountable—that starts with launching impeachment inquiries into William Barr and Donald Trump."
Sen. Kamala Harris (D-Calif.): Following Barr's testimony, Harris tweeted, saying "What I just saw from the Attorney General is unacceptable. Barr must resign now."
Sen. Elizabeth Warren (D-Mass.): "AG Barr is a disgrace, and his alarming efforts to suppress the Mueller report show that he's not a credible head of federal law enforcement. He should resign—and based on the actual facts in the Mueller report, Congress should begin impeachment proceedings against the President."
Washington Gov. Jay Inslee tweeted: "Americans cannot trust William Barr to serve as our nation's top law enforcement officer. He should resign immediately."
Sen. Kirsten Gillibrand (D-N.Y.) tweeted: "Attorney General Barr needs to resign. Today, he's proven once again that he's more interested in protecting the president than working for the American people. We can't trust him to tell the truth, and these embarrassing displays of propaganda have to stop."
Sen. Cory Booker (D-N.J.) tweeted: "Attorney General Barr answers to the American people—not to President Trump—and over the past 24 hours it's become clear that he lied to us and mishandled the Mueller Report. He needs to step down." Booker is collecting signatures for a petition calling on Barr to resign immediately.
Beto O'Rourke tweeted: "Barr has failed in his responsibility to our country. He is not fit to serve as Attorney General and should resign."
Former Vice President Joe Biden: Asked whether he agrees with other 2020 Democrats that Barr should resign, Biden said, "I think he's lost the confidence of the American people. I think he should."
What other Dems are saying:
House Intelligence Chairman Adam Schiff (D-Calif.) tweeted: "Attorney General Barr should resign. He misled the American people with his inaccurate summary of Mueller's report. Then he misled the Congress when he denied knowledge of Mueller's concerns. How can he be trusted to impartially administer justice? Short answer: He can't."
Sen. Mazie Hirono (D-Hawaii) said: "AG Barr has lied to both the House and Senate. Let's call it what it is. He's only in the job to protect @realDonaldTrump. As far as I'm concerned, he should not be the Attorney General."
Sen. Dick Durbin (D-Ill.) tweeted: "I'm gravely concerned that the 14 criminal referrals from Special Counsel Mueller related to the investigation are under the supervision & control of AG Barr. He's virtually disqualified himself to be the kind of person we can expect to stand back & make sure justice is served."
Sen. Chris Van Hollen (D-Md.) tweeted: "Attorney General Barr deliberately misled Congress about his knowledge of Mueller's concerns over his summary. I am confident that @JudiciaryDems will be pursuing questions on this issue today. But we already know that Mr. Barr has a pattern of deception and he's got to go."
Go deeper: Dems rip into Barr after Mueller points to missing "context" of investigation summary
Go deeper