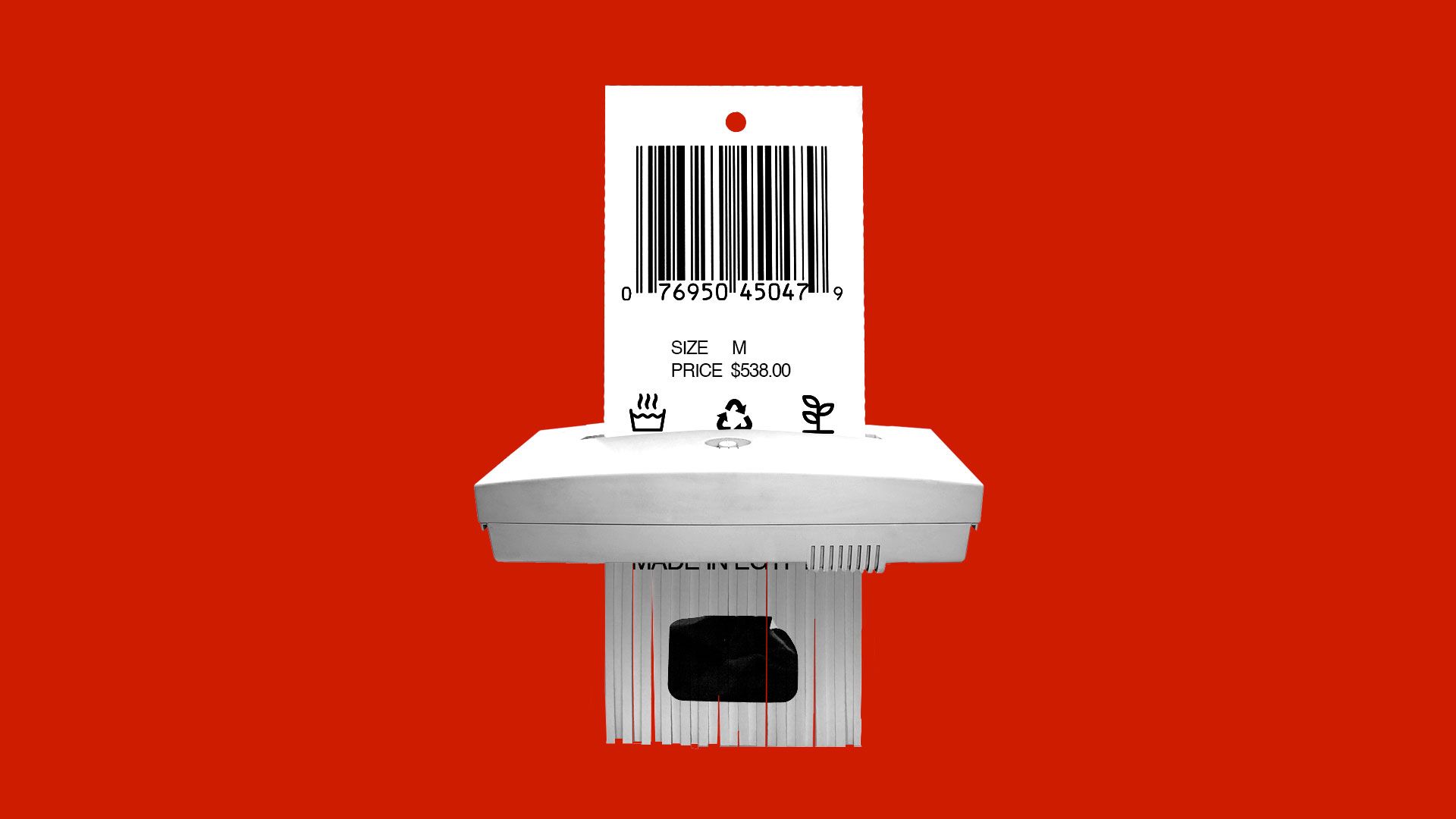 In the latest phase of the desperate race to survive against Amazon's immense selling power, brick and mortar stores are increasingly aping one of the retail giant's most potent practices: dynamic pricing.
Between the lines: This increasingly popular tactic — in which a seller constantly adjusts the price of its products, for example hiking hotel prices during a big convention — benefits both buyers and sellers, its defenders argue. But as pricing is increasingly automated, the dangers include gouging and discrimination.
"We are headed, long term, in the direction of prices that are constantly changing, either by time of day or by individual or by demographic type," says Joseph Turow, a media and marketing professor at the University of Pennsylvania.
The big picture: The price for any given item on Amazon.com changes every 10 minutes, on average, driven by insight the company gleans from many millions of shoppers' habits and preferences.
This allows Amazon to stay ahead of the competition and respond to minute changes in buying patterns even over the course of a day.
It's a huge leg up over mom-and-pop retailers who set prices and then largely leave them alone.
But consumers, already accustomed to price spikes when certain goods are in high demand, are seeing them pop up in unusual places.
You're most likely to see prices fluctuate for transportation, such as when ordering an Uber, shopping for an airline ticket or paying for a tank of gas.
But other sectors are experimenting with it.

Grocery stores are installing electronic price tags on their shelves, allowing them to remotely change the entire store's prices based on supply and foot traffic.
Restaurants are testing whether people are willing to pay a premium during busy times.
Big entertainment venues like theme parks, concert halls and ski resorts are charging more during peak popularity.
This is just the beginning. "Dynamic pricing is inevitable," says Alex Shartsis, CEO of Perfect Price, a startup that sells software allowing companies to deploy the practice on their own wares.
Shartsis' current customers include rental car companies and gas station chains. But he says Amazon's long and growing shadow is a powerful motivator for companies to try new tricks.
At its best, the tactic can curb waste — such as by automatically lowering the price of perishable produce if it's overstocked, or soon to go bad — and keep products available by raising prices as stock dwindles.
But unchecked, automated systems could send prices for staples like water skyrocketing after a disaster: price gouging.
And taken to its extreme, experts worry that completely individualized pricing can harm certain buyers.
Different prices could be charged according to buyer profiles factoring in race, gender or other sensitive shopper information, whether directly or through a proxy like a zip code or purchasing history.
As AI automates price-setting, the factors on which these decisions are based are further hidden.
"It's totally opaque," Turow says. "People don't know why they're being targeted, and in what way."
Go deeper