Facebook announces a new design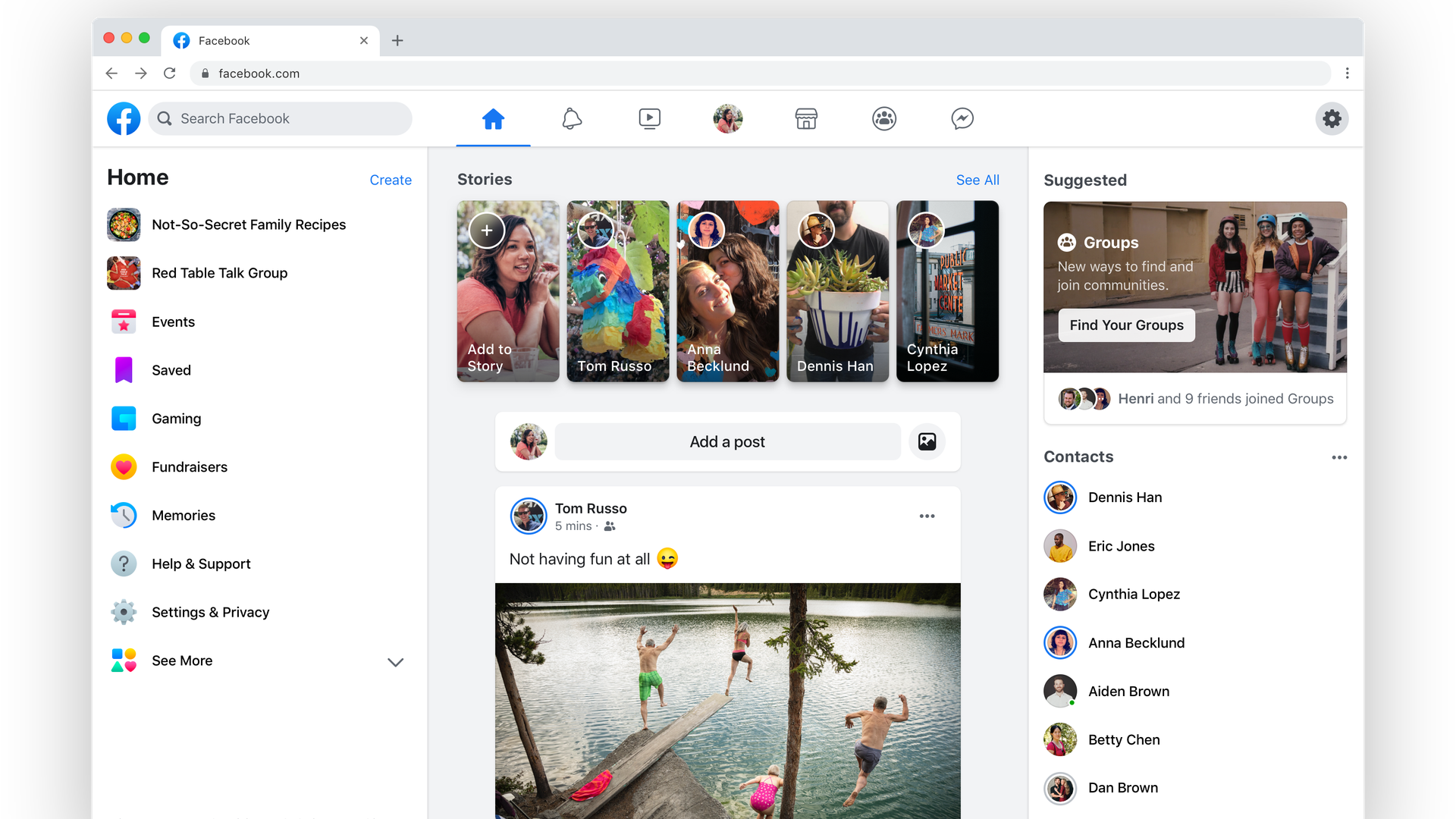 Facebook CEO Mark Zuckerberg announced a major redesign for the world's largest social network, including both its mobile apps and website, to emphasize interactions in private Facebook Groups.
Why it matters: Facebook wants to redefine its services to provide not just the "digital town square" but also to serve as "digital living rooms," and Zuckerberg's sweeping plans involve an effort to regain the trust of users in the wake of 2 years of controversy and scandal.
Details: The new design — "the biggest change to the Facebook app in the last 5 years," Zuckerberg said — drops Facebook's trademark blue bar for a clean white design and puts Stories and group posts front and center.
Inside Facebook, the main Facebook app was often referred to as "the blue app" to distinguish it from Facebook's other platforms, like Instagram and WhatsApp.
Now, "The app isn't even blue any more," Zuckerberg told the crowd at F8, Facebook's annual developer conference.
Changes will arrive quickly for Facebook's mobile apps and "in the next few months" for the desktop site.
The big picture: Facebook had previously announced plans to reorient Facebook around private interactions and to integrate encrypted messaging across all its platforms. Zuckerberg made clear that these changes will take a long time.
"A few years ago we would probably just have rolled this out," Zuckerberg said Tuesday. This time, the company will be moving carefully as it makes these changes, he said — ditching its early motto of "move fast and break things."
"We'll be rolling this out later this year" was the most often-repeated phrase in his talk.
What they're saying: "I know we don't have the strongest reputation right now on privacy," Zuckerberg said. "I'm sure we're going to keep on unearthing old issues for a while. But we've shown time and again as a company that we can do what it takes to build and evolve the product people want."
Our thought bubble: We know Zuckerberg is dead serious about steering the world's largest social network in the direction of private interactions. We don't yet know whether users will trust him to create their "digital living rooms," given the mess he made while building the "digital town square."
Other F8 announcements:
Facebook Messenger will introduce end-to-end encryption, introduce a new desktop app for both Mac and Windows, and it's also getting a backend rewrite that will speed it up.
Instagram has updated its camera, allowing users to begin making Stories without needing to have an image or video to start with.
Facebook Dating is adding new features, including one that suggests possible matches in Facebook groups you belong to and another called Secret Crush, which connects a pair of users when both have indicated an interest in the other.
Facebook has begun testing a new Meet New Friends feature that goes beyond the longstanding "People You May Know" feature to propose new connections where Facebook's algorithm thinks two users might hit it off.
Oculus will ship two new VR headsets, the all-in-one Oculus Quest and the Oculus Rift S, on May 21, each at a $399 price tag.
Go deeper