Rod Rosenstein formally submits resignation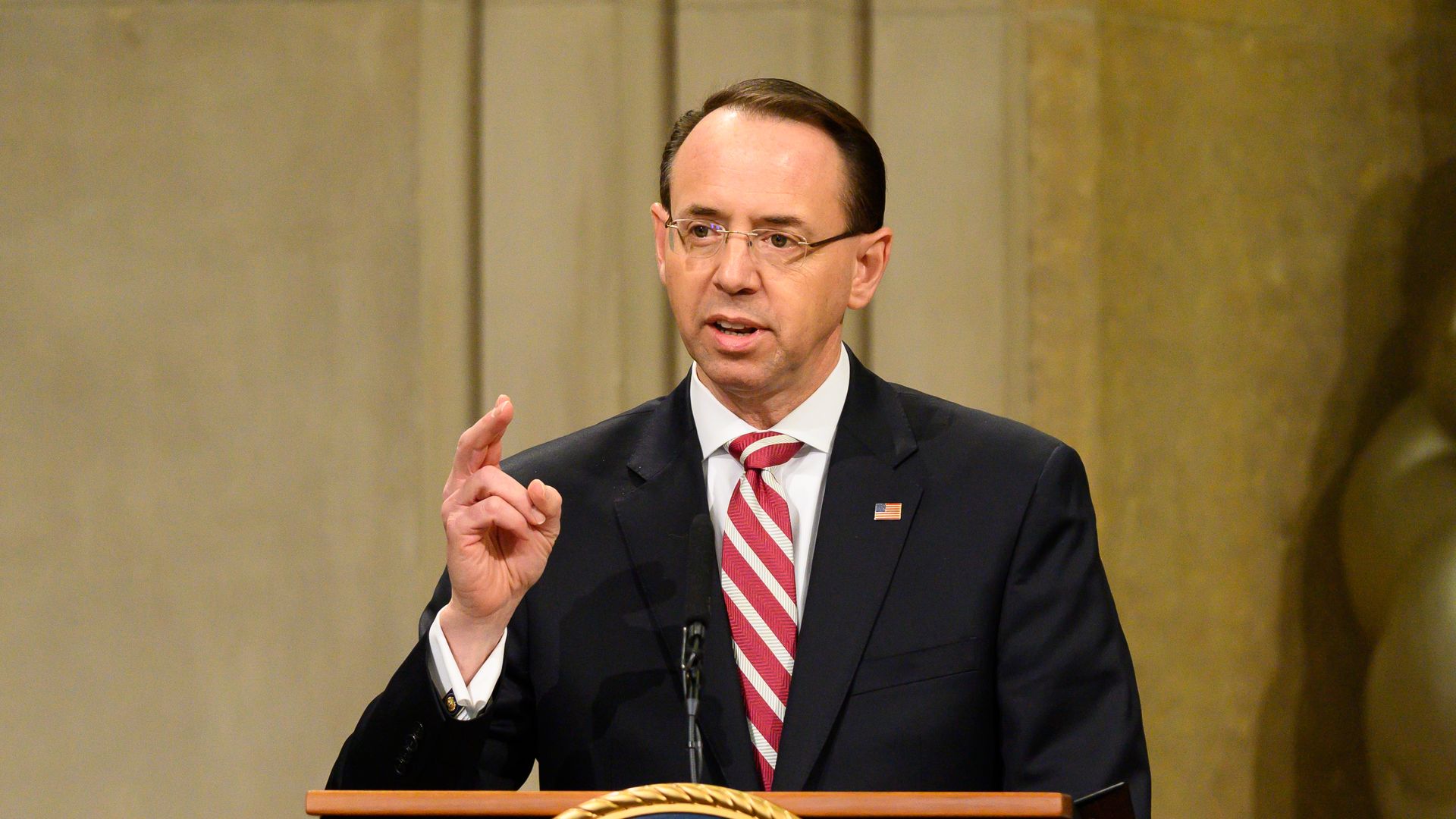 Deputy Attorney General Rod Rosenstein has formally submitted his resignation to President Trump, effective May 11.
Why it matters: Rosenstein was expected to leave the Justice Department after seeing the Mueller investigation through to its conclusion. His successor Jeffrey Rosen has already been named by President Trump and is now awaiting confirmation in the Senate.
The big picture: Rosenstein's rocky 2-year tenure as deputy attorney general made him one of the most intriguing and puzzling players in the Mueller saga.
Timeline
In May 2017, Rosenstein wrote a letter that Trump used as a basis to fire then-FBI director James Comey.
Later that month, after Attorney General Jeff Sessions' recusal, Rosenstein appointed special counsel Robert Mueller to investigate the Trump campaign's ties to Russia, as well as possible obstruction of justice by Trump himself.
A now-famous New York Times report alleges that after firing Comey, Rosenstein became so concerned with Trump's behavior that he considered rallying cabinet members to invoke the 25th Amendment to remove the president from office. He also reportedly suggested secretly recording Trump by wearing a wire in the Oval Office.
In September 2018, Rosenstein offered to resign in discussions with White House chief of staff John Kelly, but ultimately stayed on. The Justice Department drafted an exit statement announcing Rosenstein's resignation that was never released publicly.
With Attorney General Bill Barr's appointment in November 2018, Rosenstein transferred oversight of the Mueller investigation. Rosenstein's defense of Barr's controversial rollout of Mueller's report, which Democrats have blasted as a partisan ploy to protect Trump, has prompted new questions about his loyalties.
The Washington Post reported last week that when Rosenstein spoke to Trump after offering his resignation to Kelly, he assured the president he was on his side. "I give the investigation credibility," Rosenstein reportedly said. "I can land the plane."
Rosenstein's resignation letter:
Go deeper