Beto's $5 trillion climate plan aims for net-zero emissions by 2050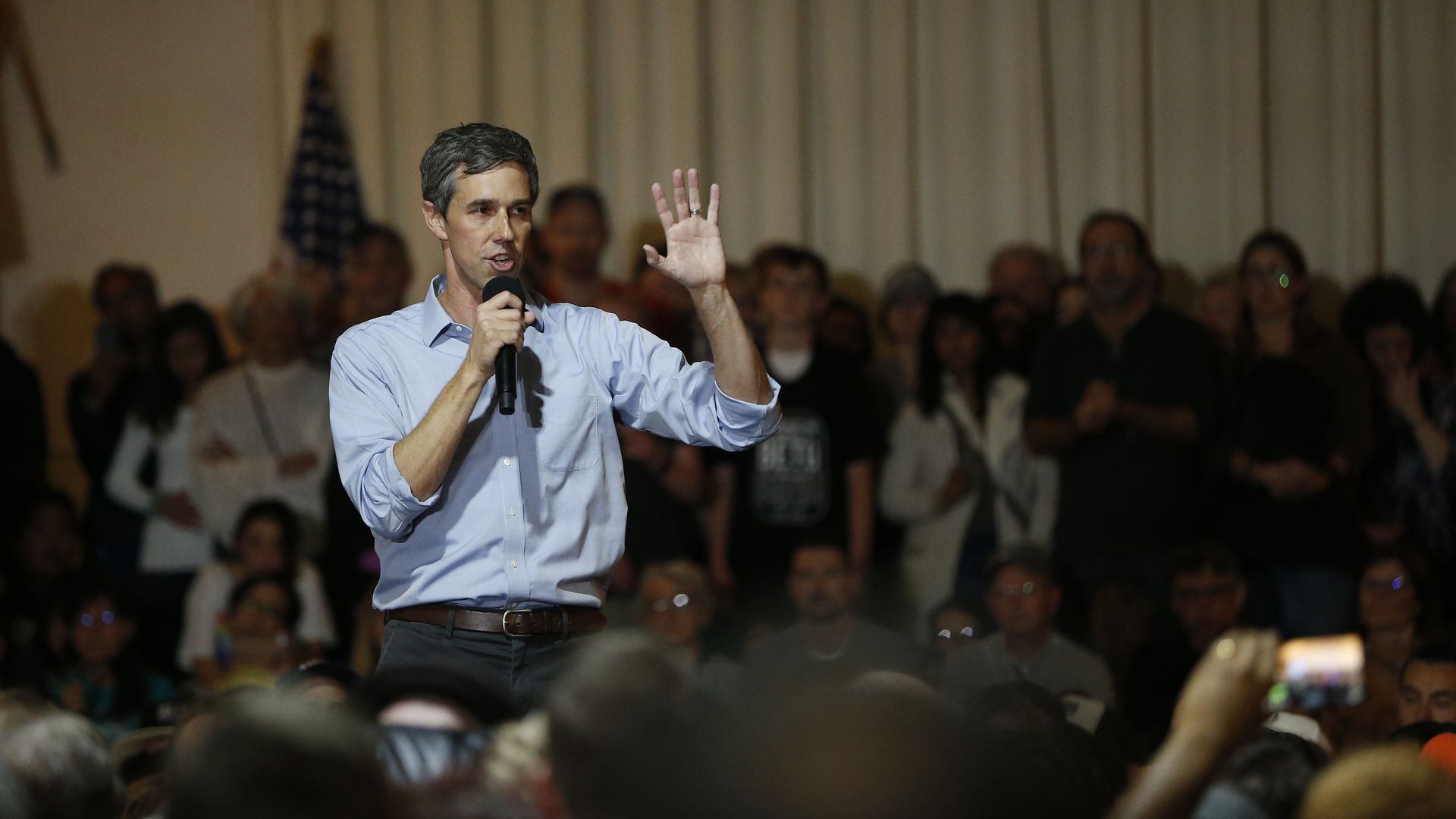 2020 Democratic candidate Beto O'Rourke revealed an ambitious $5 trillion climate change proposal Monday, and the former Texas congressman is taking an aggressive and detailed stance to aim for net-zero carbon emissions by 2050.
Why it matters: This is O'Rourke's first major policy proposal, and it stakes out an aggressive position on tackling global warming through executive action and legislation. The plan is highly detailed and includes provisions related to making the country more resilient to extreme weather events.
It suggests that O'Rourke sees moving left on emissions as a way to attract younger and more progressive voters.
It's also a sign that he wants to compete directly for the climate candidate mantle with Sen. Bernie Sanders as well as Washington Gov. Jay Inslee, who has made climate the centerpiece of his long-shot run.
But, but, but: Several major elements would require new legislation on Capitol Hill, including its call for a "legally enforceable" standard for achieving net-zero emissions by 2050. The reliance on Capitol Hill for key elements heavily clouds its prospects due to widespread GOP resistance to aggressive emissions policies.
The big picture: Calling climate change the "greatest threat we face," the plan calls for steps such as an end to new fossil fuel leasing on federal lands and requiring that federal permitting decisions "fully account for climate costs and community impacts." Its major pillars include:
Taking actions with executive power, including a commitment to stay in the Paris Agreement; toughen rules on power plants, auto mileage standards and methane emissions from oil-and-gas development.
The first bill sent to Congress would "launch a 10-year mobilization of $5 trillion directly leveraged by a fully paid-for $1.5 trillion investment."
It would be funded with revenues from changes to the tax code that would "ensure corporations and the wealthiest among us pay their fair share" and end current incentives for fossil fuel companies.
It also calls for "limited-duration, performance-focused" tax incentives to speed up deployment of climate-friendly tech.
Quick take: The plan is a mix of policy measures preferred by advocates of various stripes.
The policy measures range from huge investments in rapidly scaling up deployment of zero-carbon technologies to major new investment in R&D in many areas such as agriculture and industry.
The latter is a nod to advocates who say that despite mainstreaming of solar and other zero-carbon technologies, major new breakthroughs will be needed to achieve the steep emissions cuts needed to avoid high levels of warming.
Go deeper