U.S. exit from Arms Trade Treaty forfeits input on a global challenge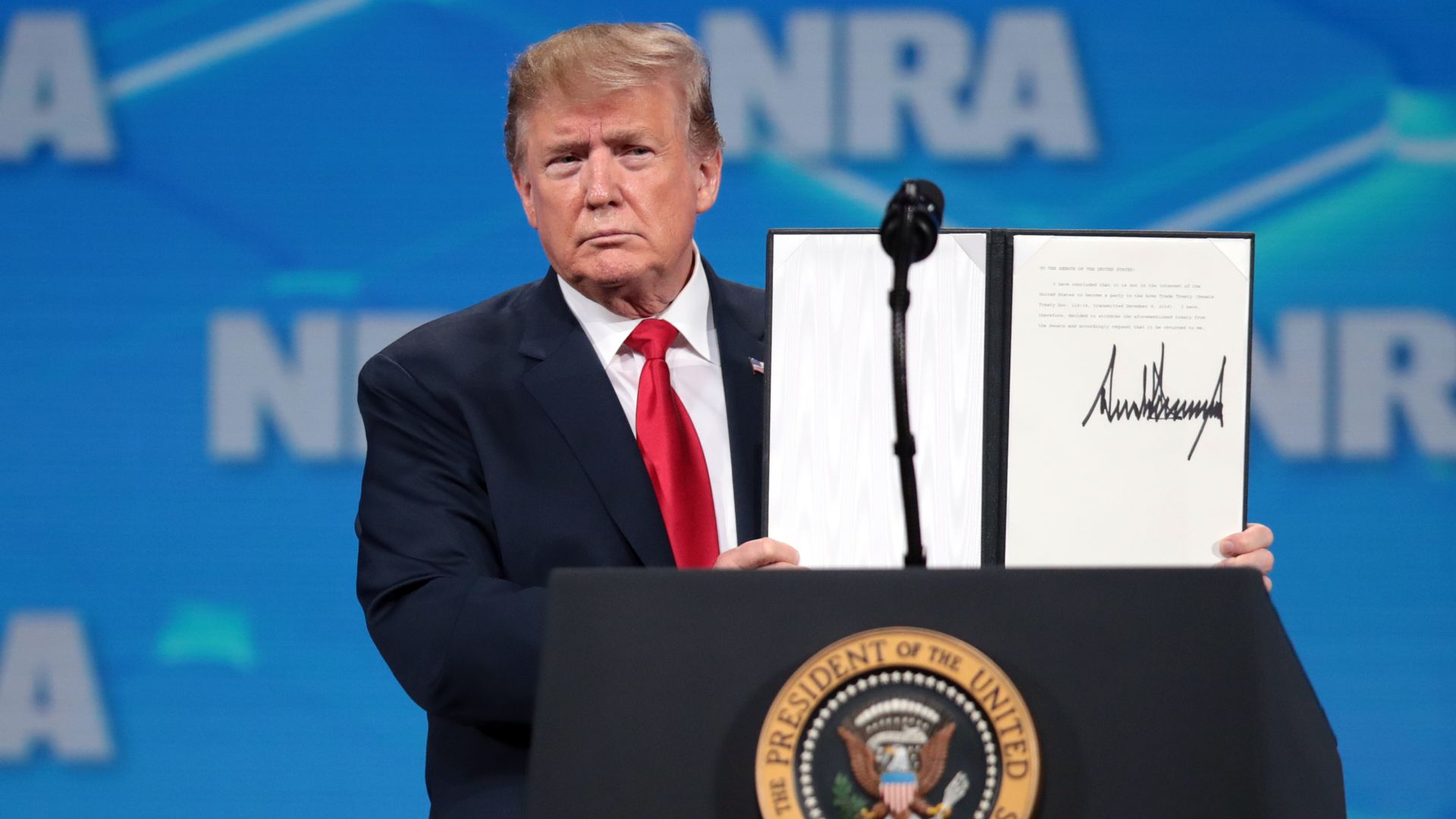 President Trump's announcement on Friday that the U.S. will "unsign" the Arms Trade Treaty (ATT) further erodes the global norms of international weapons sales.
Why it matters: The ATT is intended to contribute to international peace and security and reduce the human suffering caused by illegal and irresponsible arms trading. The agreement also promotes transparency and accountability in a global market that's worth nearly $100 billion a year but has largely been handled in the shadows.
Background: The ATT was adopted by the UN in April 2013 and entered into force in December 2014. The treaty, which now has 101 States Parties and an additional 34 signatories, regulates the international trade in conventional arms by establishing common international standards for States to incorporate into their national control systems.
The U.S. was an active participant in the negotiations, working to ensure that the treaty text was consistent with its own laws and regulations and supported its national security priorities, foreign policy objectives and longstanding values.
Most of America's closest allies — including all of Europe, Australia, New Zealand, Japan and South Korea — are ATT States Parties. (Israel and the UAE are signatories, while India, Pakistan and Saudi Arabia remain outside the treaty.)
Where it stands: The U.S. now stands with governments such as Russia, China, Syria, Iran and North Korea in opposing measures intended to promote global cooperation and level the playing field.
After giving up its position as a signatory, the U.S. will lose the ability to influence substantive discussions around the ATT and the leverage to ensure the treaty remains consistent with U.S. priorities and procedures.
What's next: The U.S. will have to formally notify the ATT depositary that it intends to unsign the treaty and not be bound by its object and purpose. The timeline is unknown, but the announcement has already weakened the pursuit of a safer international arms trade through multilateral diplomacy.
Rachel Stohl is managing director at the Stimson Center and was the consultant to the ATT negotiations.
Go deeper