Shooting at California synagogue during Passover celebration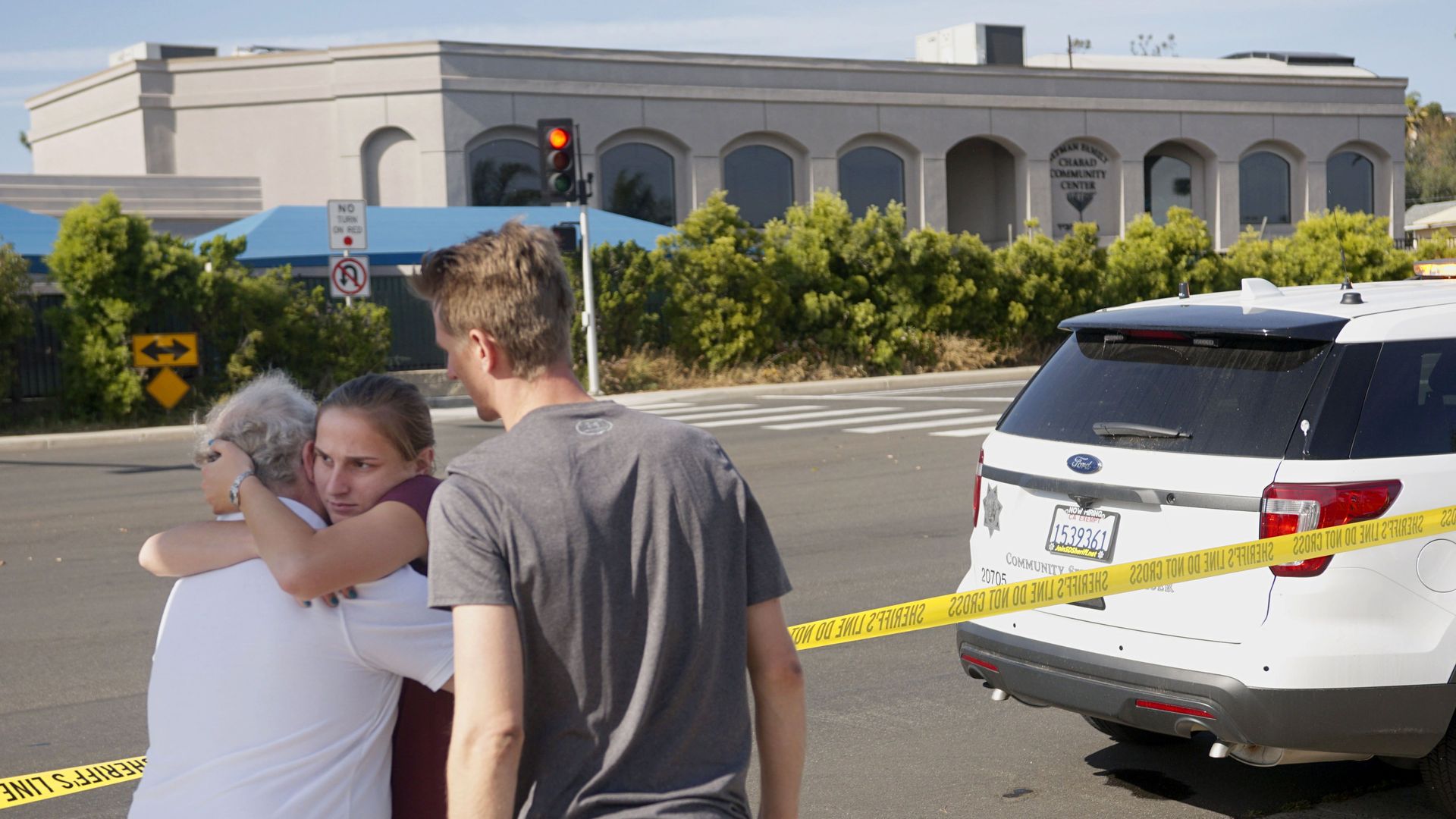 The FBI is assisting San Diego County police in the investigation into a shooting in Chabad of Poway Synagogue, which killed 1 woman and wounded 3 people Saturday.
Details: Poway Mayor Steve Vaus said to MSNBC it's a "hate crime." County Sheriff William Gore said the only suspect is 19-year-old John Earnest. They're investigating reports of a link to an anti-Semitic online manifesto and his possible involvement in the arson and vandalism of a mosque in Escondido, Gore said.
The backdrop: In an online post an hour before the synagogue shooting, a person identifying themselves as John Earnest, a nursing school student, claimed responsibility for the Escondido Mosque attack. The poster praised the New Zealand mosques massacre and the Tree of Life Synagogue, Pittsburgh, mass shooting. California State University, San Marcos, confirmed to AP there's a student fitting that description listed with them.
The big picture: The shooting occurred about 11:30 am during a celebration on the final day of the Jewish holiday Passover. Gore said a man entered the synagogue and opened fire on worshippers with an AR-type assault weapon. An off-duty Border Patrol agent inside the synagogue shot at the suspect, failing to hit him but striking his car, he said.
Rabbi Yisroel Goldstein was shot in the hand, and tried to calm the gunman afterward, according to MSNBC. He had surgery after suffering defensive wounds to his index fingers.
A 34-year-old man and a minor patient hit by shrapnel from bullets were being treated in hospital but "doing well," Palomar Health said.
Police said there were no known threats to religious gatherings, but officers would step up patrols at places of worship this weekend.
Go deeper