Vladimir Putin joins the North Korea nuclear debate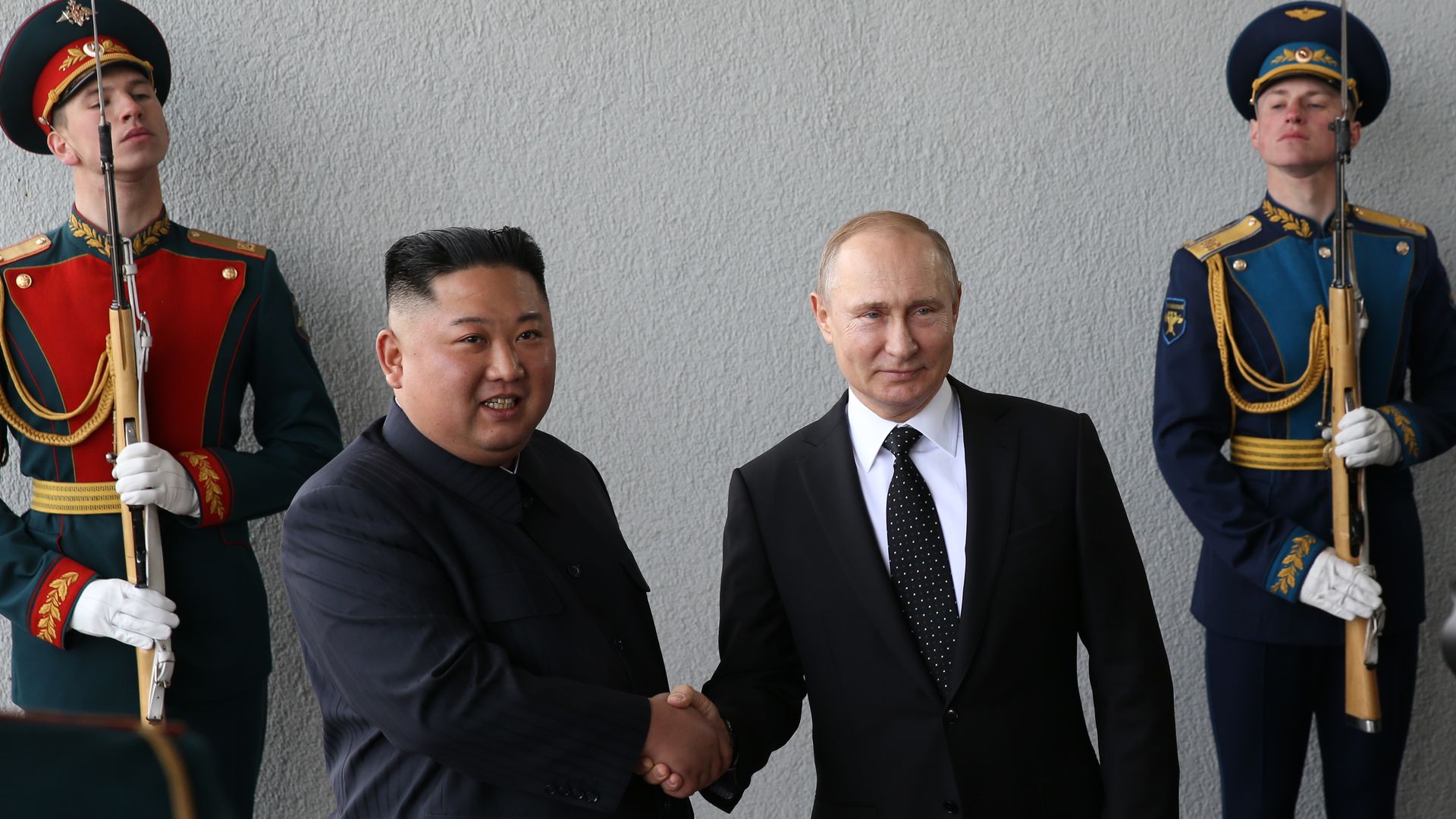 Russia's Vladimir Putin met for over 3 hours on Thursday with North Korea's Kim Jong-un, who traveled by armored train from Pyongyang to Vladivostok in Russia.
Why it matters: The meeting comes as North Korea makes its frustrations with the Trump administration clear after the failed summit in Hanoi, and it puts Russia at the table in a process where its role has been peripheral.
The BBC's Sarah Rainsford sets the scene from Vladivostok:
"... the red carpet rolled out, then big smiles, firm handshakes and warm words. It was a show of support by Russia meant to tell Donald Trump that his tactics of pressuring and threatening Pyongyang are mistaken."
"There was no joint statement or road map at the end of it all. But instead of collapse — like in Hanoi — this meeting ended in a champagne reception with the two leaders and their delegations serenaded by a Cossack choir as they tucked into beetroot soup and reindeer dumplings."
Putin doesn't want to see North Korea recognized as a nuclear state, but also opposes any sanctions that risk the collapse of the regime, according to Carnegie Moscow's Alexander Gabuev:
"The Kremlin's red lines and overall analysis of the situation are very similar to those prevailing in Beijing, making Russia a natural partner for China on the Korean Peninsula," he writes.
With Russia increasingly willing to butt heads with the U.S. and increasingly reliant on China, Moscow is "prepared to play bad cop in an unofficial division of labor on the Korean Peninsula," including at the UN.
The bottom line: Gabuev says the U.S. can't write Moscow off because "if any solution is to be achieved and blessed by the UN Security Council, the international community will need Russia's support, and so the diplomatic framework will have to accommodate the Kremlin's interests."
Go deeper: North Korea's message to Trump.
Go deeper