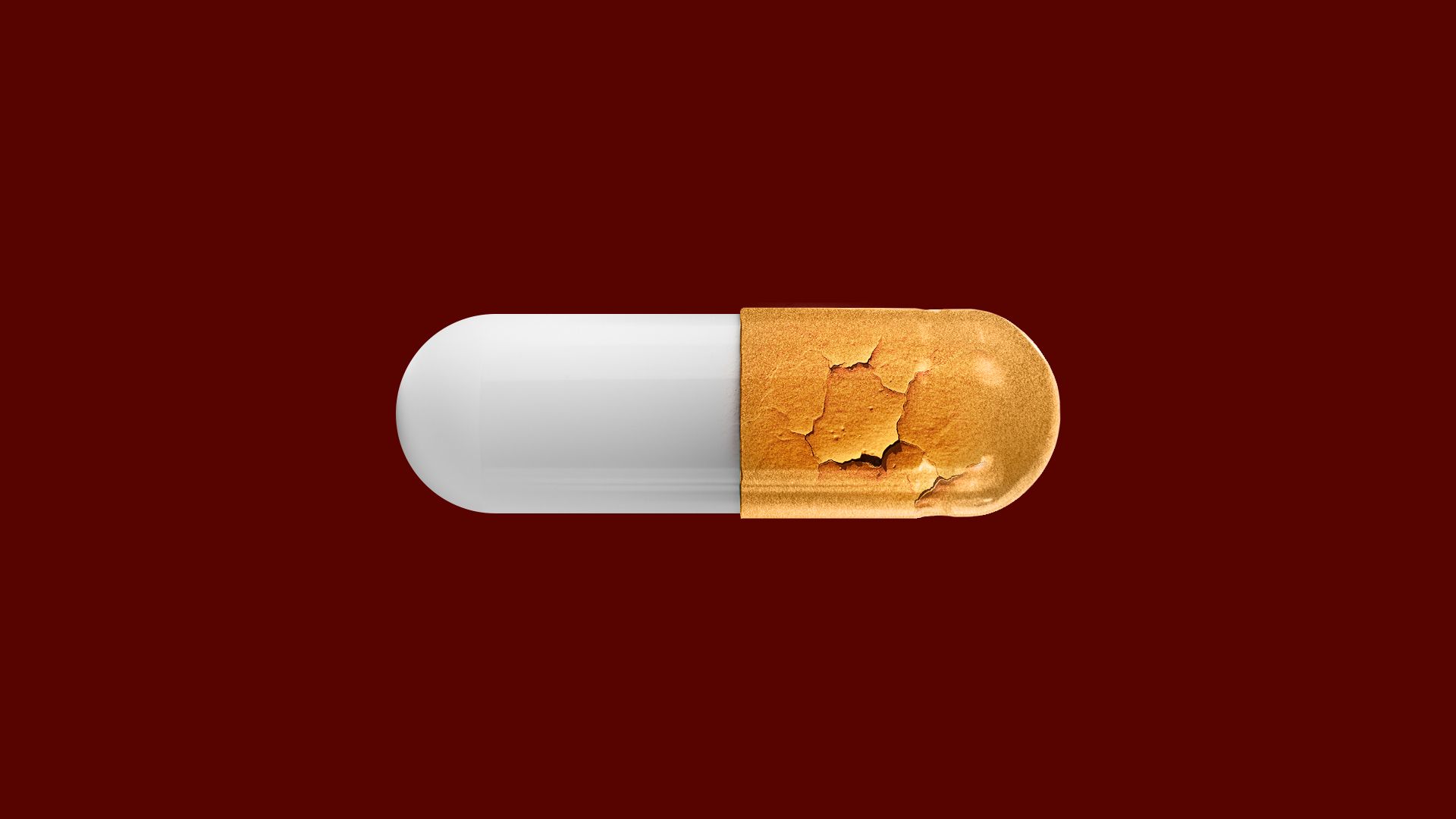 Pharmaceutical companies can often begin raking in huge profits before they've proven that a new drug will work. And some of them don't work.
The big picture: The FDA is increasingly allowing drugmakers to start selling their products based on preliminary evidence, wrapping up their clinical trials after they're already on the market. Some of those trials don't pan out — but drugmakers are still charging sky-high prices in the interim.
Driving the news: Eli Lilly said yesterday that it will pull the cancer drug Lartruvo off the market, after a clinical trial showed that the drug didn't extend patients' lives.
The FDA first signed off on Lartruvo in 2016, using a special regulatory pathway that allowed it to rely on the results of a small clinical trial.
The drug pulled in roughly $500 million in sales over the intervening 2 years.
Between the lines: Over the past few years, the FDA has been moving significantly more drugs through its "accelerated approval" process.
That trend is controversial on its own: The expedited process was initially a response to critics who said the FDA was moving too slowly on life-saving treatments. But now other critics now worry the agency is overcorrecting, putting drugs in patients' hands that may end up being unsafe or ineffective.
Many accelerated-approval drugs launch with sky-high prices, even though they're not yet fully proven.
"If it turns out the drug doesn't work in the end, nobody gets their money back," said Walid Gellad, a professor at the University of Pittsburg who studies the drug industry.
So far, that hasn't happened often. Lartruvo was only the second time in recent memory that an accelerated approval ended up going bust.
But the sharp jump in accelerated approvals is relatively recent; many of those drugs simply haven't finished their fuller clinical trials yet.
Prices are also rising. Gellad cited several big-ticket drugs approved through the faster pathway, including Exondys 51, which treats a rare muscular disorder. It came onto the market based on a clinical trial of just 12 people — with price of roughly $300,000 per year.
The federal government disproportionately reaps both the costs and rewards of accelerated approval, Gellad explained in a recent paper.
Private insurance plans can choose which drugs they'll cover, and can exclude drugs that haven't met the FDA's standards for full approval. That can deny patients early access to drugs that ultimately turn out to be life-savers; it can also spare them the cost of drugs that don't.
By law, though, Medicare and Medicaid have to cover almost every FDA-approved drug, and have only a limited ability to steer patients toward cheaper alternatives. (The Trump administration is trying to loosen those restrictions.)
Gellad has suggested a preliminary pricing structure to go along with preliminary approval.
The government could say, for example, that it will only cover manufacturing costs "plus some agreed-on markup" for accelerated-approval drugs.
That would give drugmakers an incentive to promptly follow through on the rest of their clinical trials and convert to a full FDA approval, he argues.
"If you look at it in the lens of paying for value: If there's no proof the drug has value, then why should we pay the same as if the drug had proof of value?" he asked.
Go deeper