Amazon wants to be the government's Everything Store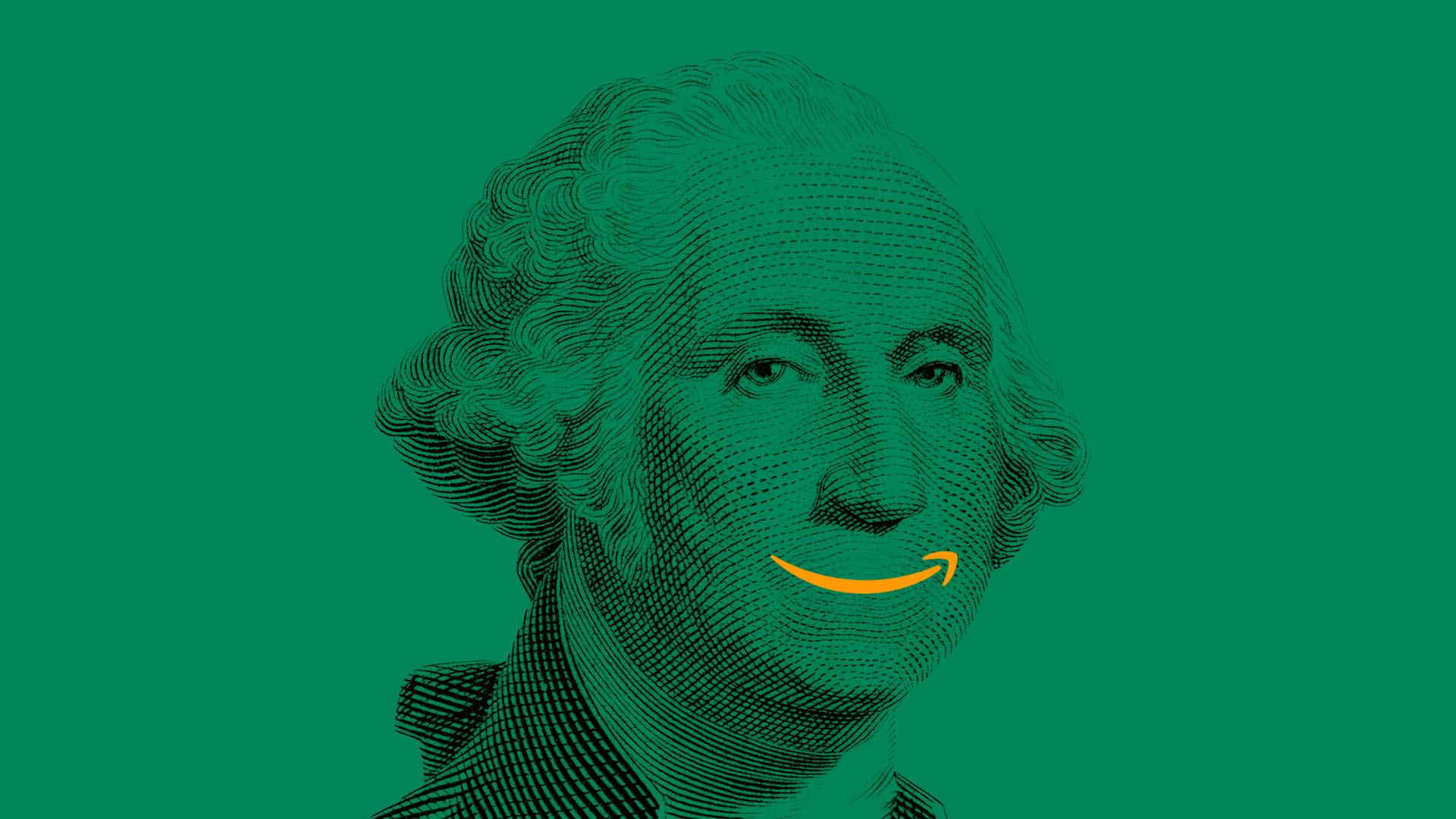 Amazon has found a potentially lucrative new customer for its retail platform: government officials who spend taxpayer dollars.
Why it matters: Collectively, federal and local officials spend billions of dollars a year on goods and services, ranging from copy paper to musical instruments for schools. Amazon's attempt to capture those dollars alarms its critics, who say that taxpayers could get a raw deal while the tech giant expands its dominance.
Driving the news: Amazon is pitching governments to adopt its Amazon Business product, which is a marketplace built for corporate users who often buy products in bulk or for specific workplace needs. Like on the consumer-focused platform, Amazon takes a cut of third-party sales.
Getting governments to use Amazon Business is complicated, since government purchasing contracts are closely scrutinized, subject to complex regulations and approvals, and agencies often have to buy products from certain types of businesses.
An Amazon spokesperson in a statement said that "tens of thousands of government customers are using Amazon Business" and are taking advantage of features like discounts on certain items, help finding suppliers that meet "socio-economic purchasing goals," and "transparency into their spending."
Details: A new program is in the works that will allow federal government workers to make some low-value purchases via websites that consumers are accustomed to using. Amazon is seen as a likely contender to be involved.
Federal officials anticipate the market for these purchases could be as large as $6 to $8 billion.
The Amazon spokesperson declined to comment on its plans regarding the initiative, which has not yet reached a stage at which companies are being chosen to implement it.
It has also established programs with the Federal Emergency Management Agency and the Air Force to capture some of the money their employees spend outside of the meticulously-negotiated contracts that govern some federal spending.
Amazon is reaching similar deals with localities all around the United States.
More than a thousand jurisdictions have signed a group contract that allows them to buy supplies ranging from office goods to audio-visual equipment from Amazon, according to a report produced last year by researchers at the Institute for Local Self-Reliance.
The contract, which Amazon first struck in 2017, is estimated to be worth as much as $5.5 billion in sales over its potential lifespan.
The big picture: Amazon is becoming more and more enmeshed with the machinations of government and the programs it administers — and has the lobbying budget to match.
It is a key cloud computing provider to government agencies.
It is currently testing accepting SNAP nutritional benefits in New York.
Critics say of Amazon's move into government contracts raises several red flags, including favoritism by officials on the other side of the bargaining table who create requirements that only Amazon can meet or otherwise skew the process.
In a statement, Amazon's spokesperson said that the local governments contract had been "competitively solicited."
Critics also say that Amazon's marketplace won't necessarily deliver the best prices for taxpayers.
"With Amazon it's a black box," said Stacy Mitchell, who co-authored the Institute for Local Self-Reliance report. "There's no ability to see as a citizen the decision-making process, whether it was fair and equitable, and whether the outcome was a prudent use of dollars."
Asked about criticism of the local contract, the Amazon spokesperson said that Amazon Business "offers single-unit and quantity discounts on millions of eligible items."
Yes, but: In a soon-to-be-released audit of early data on Pittsburgh's use of the Amazon local contract, "we've not seen that we're paying more by going to Amazon," said the city's independent controller, Michael Lamb.
"What it does is it restricts our ability to buy local," he said.
Lamb worries that as more city staffers learn to use the Amazon system, they could end up paying higher prices than they would get if they bought products from a local supplier.
What's next: Later this month, the General Services Administration and the Office of Management and Budget will release a report on the plan to open up e-commerce platforms to federal agencies — and likely signal whether it is leaning towards favoring an Amazon-like approach to the project.
Go deeper