Why specialty pharmacies matter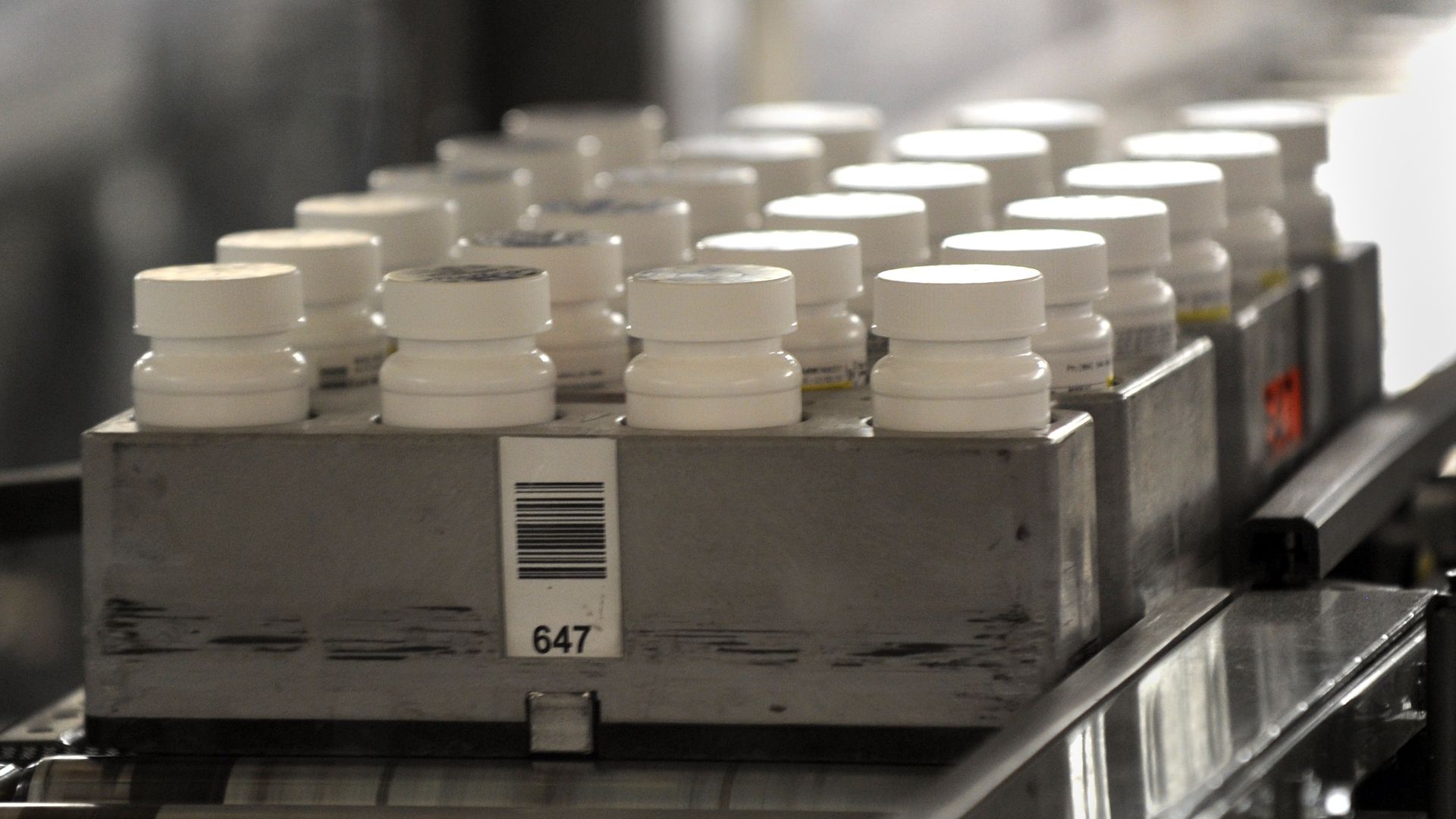 Expensive prescription drugs that treat complex conditions often are dispensed through specialty pharmacies, and that "specialty" label is lucrative — especially when those pharmacies are owned by the same companies that manage drug benefits.
Why it matters: State Medicaid programs and private insurance plans are paying steep markups on specialty drugs, according to industry analysts. Those costs are passed on through the taxes and premiums we all pay.
Driving the news: Analysts at research firm 46brooklyn found that Ohio's Medicaid program paid huge markups for generic specialty drugs, benefitting the state's 2 pharmacy benefit managers, CVS Health and OptumRx, at the expense of taxpayers.
The most egregious example was imatinib mesylate, the generic version of cancer drug Gleevec. Ohio's Medicaid program paid pharmacies a markup of more than $5,200 for every imatinib mesylate prescription.
How it works: CVS and OptumRx manage drug coverage for Ohio's Medicaid plans. Those plans classify many drugs — including imatinib mesylate — as specialty drugs, meaning they have to be filled through a specialty pharmacy. The catch: CVS and OptumRx own the speciality pharmacies that have to be used.
In other words, those companies get to steer high-markup generics toward themselves, and keep the profits.
This isn't an anomaly. The big 3 PBMs — CVS, OptumRx and Express Scripts — control more than half of the specialty pharmacy market nationwide. CVS has said its specialty business is a major reason why it's been able to grow revenue.
PBMs have faced lawsuits from other specialty pharmacies, which argue that having the PBM and specialty pharmacy under one roof is anticompetitive.
What they're saying: "This isn't just Medicaid," said Antonio Ciaccia, co-founder of 46brooklyn and a part-time pharmacy lobbyist in Ohio. "This extends to the commercial market."
Peter Bach, a researcher at Memorial Sloan Kettering who looked at the analysis, said it reminded him of a "60 Minutes" broadcast from last year that explained how Express Scripts distributed specialty drugs.
PBMs "create the appearance that they're trying to save the customer money, but that is not an obligation they face in any way," Bach said.
The other side: CVS, OptumRx and Express Scripts did not make executives available for interviews.
A CVS spokesperson said 46brooklyn has "a specific agenda and bias," and "we have no idea how reliable or valid their findings are absent an independent review of their methodology."
The Pharmaceutical Care Management Association, the lobbying group for PBMs, emailed a statement, unprompted, disputing the analysis but later acknowledged that none of the data points are wrong.
Yes, but: 46brooklyn's founders do have backgrounds in the pharmacy industry. However, their research uses publicly available federal data, and they post their full methodologies. Ciaccia also responded to PCMA's statement.
Go deeper: States are the new battleground for drug price middlemen
Go deeper