Trump gambles on tightening Iran oil sanctions as 2020 looms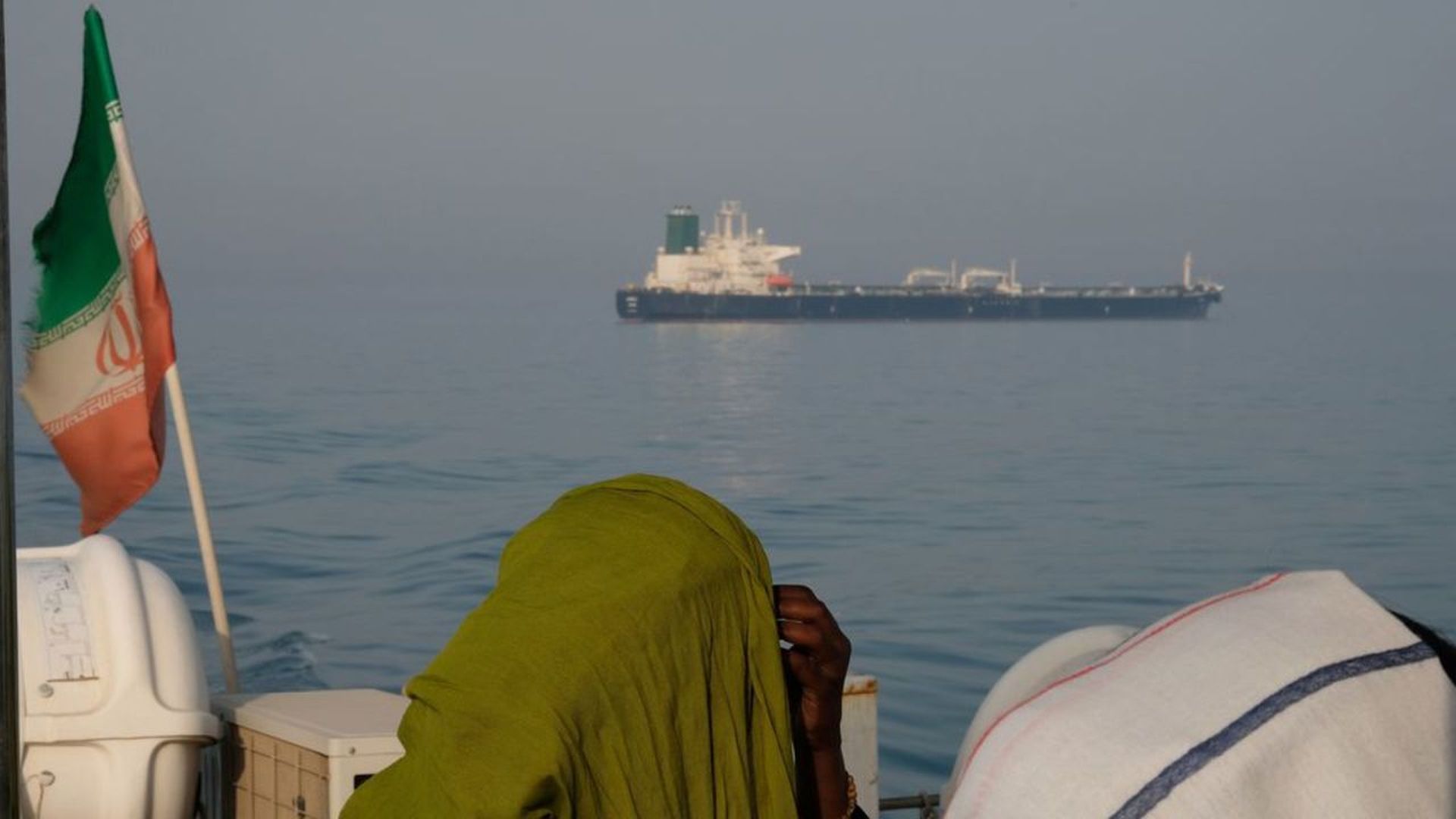 The White House is trying to thread a needle: Tighten oil sanctions against Iran without raising energy prices enough to erode the president's political standing.
Driving the news: ICYMI, the administration isn't renewing sanctions waivers beyond early May for countries that still buy Iranian oil.
The big picture: "It's a gamble on the part of the administration," oil analyst Ellen Wald tells Axios.
"The administration is hoping that either other producers will make up for it, or at least gas prices will fall again before it becomes a political liability," she says.
The intrigue: It might very well work, and the roughly $2 jump in oil prices since the news broke Sunday night — Brent crude is trading around $74.16 this morning — may signal surprise as much as anything else.
Analysts see a more volatile oil market, with a smaller cushion to absorb geopolitical conflict other factors that can hinder offsetting supplies. Risks include Iranian actions in the Strait of Hormuz and conflict in Libya.
What's next: Analysts say there's enough crude sloshing around to prevent markets from going bananas, but do see a greater chance prices will skew higher.
Goldman analysts, in a note, are sticking to their forecast of Brent trading in the $70–$75 range this quarter, but add there's likely to be a delay in what they see as a decline to the $65 range later this year.
Barclays analysts now see "material upside risk" to their forecast that Brent will average $70 this year, noting that the decision will indeed tighten markets, but the action "does not affect our view on longer-term prices materially."
Eurasia Group, via a note, predicts near-term volatility, but not a big or sustained price spike, pointing to the market's spare capacity levels and the likelihood that China and India will continue some Iranian imports.
Threat level: The administration is expressing confidence that Saudi Arabia and the United Arab Emirates, among others, will boost output to offset Iranian barrels. But there's some peril there.
"I think they may find that there's a difference between what the administration heard from Saudi Arabia and what Saudi Arabia believes it actually committed to doing," Wald notes.
Plus, Saudi barrels are not a panacea.
"The big gamble both the president and his Gulf allies are taking is that high geopolitical disruption risks amidst low spare production capacity could cause oil prices to rise sharply despite offsetting supply increases," Rapidan Energy Group's Bob McNally tells me.
The bottom line: There's still lots of time before the heart of election season.
"There may be pain for U.S. consumers, but it will only be for the short term and it'll be over well before the 2020 elections," Eurasia Group's Henry Rome tells Axios.
"There will be quite a bit of volatility in the near term, but this will come out in the wash over the next year and a half," he adds.
Go deeper