World-famous Chicago Symphony Orchestra strikes for 7th straight week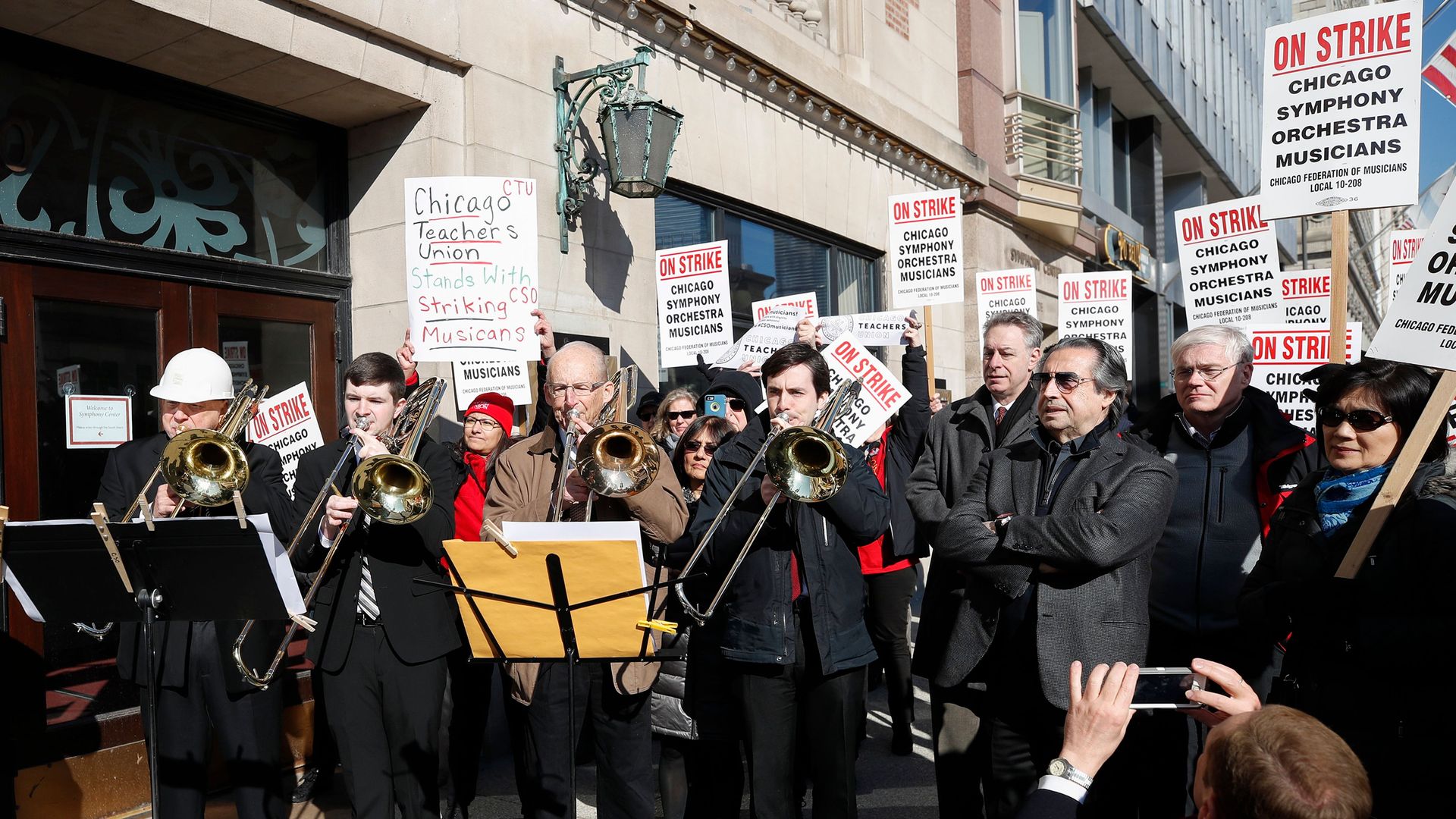 The longest strike in the Chicago Symphony Orchestra's 128-year history is barreling on with no end in sight, as stalled negotiations with the orchestra's controlling board have extended the impasse into its 7th straight week.
The backdrop: The CSO's world-renowned musicians began striking on March 10 after management proposed changing the orchestra's pension structure, citing higher interest rates and updated mortality tables. Wages have also introduced a major sticking pointing in negotiations, with musicians arguing that their annual base pay — while higher than most other orchestras' — has not kept up with inflation.
Chicago Symphony Orchestra Association President Jeff Alexander wrote in an email when the strike started that pensions are expected to add up to $36 million over the next 8 years, and that the CSO simply doesn't have the cash to fund the current structure, per the Chicago Tribune.
CSO bassist Stephen Lester argues that with its $300 million endowment, management "could easily afford the requirements that we have outlined," and that pensions wouldn't be so expensive if the orchestra had been adequately funded in the first place.
Alexanders counters that minimum required funding for pensions was the trend in the 90s and 2000s, and that "hindsight is very good."
In the meantime, the 7-week strike is squeezing pocketbooks for musicians and management alike, with concerts canceled through the month of April. Even still, there are few indications that talks will be relaunched after the CSO rejected management's "last, best and final offer" on April 8.
"We've been buoyed by the generous support of our peer orchestras, who have responded to a call for action from the International Conference of Symphony and Opera Musicians (ICSOM), and to date we've received pledges and actual contributions totaling $65,000, and we'll be getting more. But this is a hardship. Our musicians are frightened. They're upset."
— Bassist Stephen Lester told the
Tribune
Go deeper: Tribune columnist Howard Reich on the notion that musicians "have it easy"
Go deeper