Notre Dame blaze delivers cautionary tale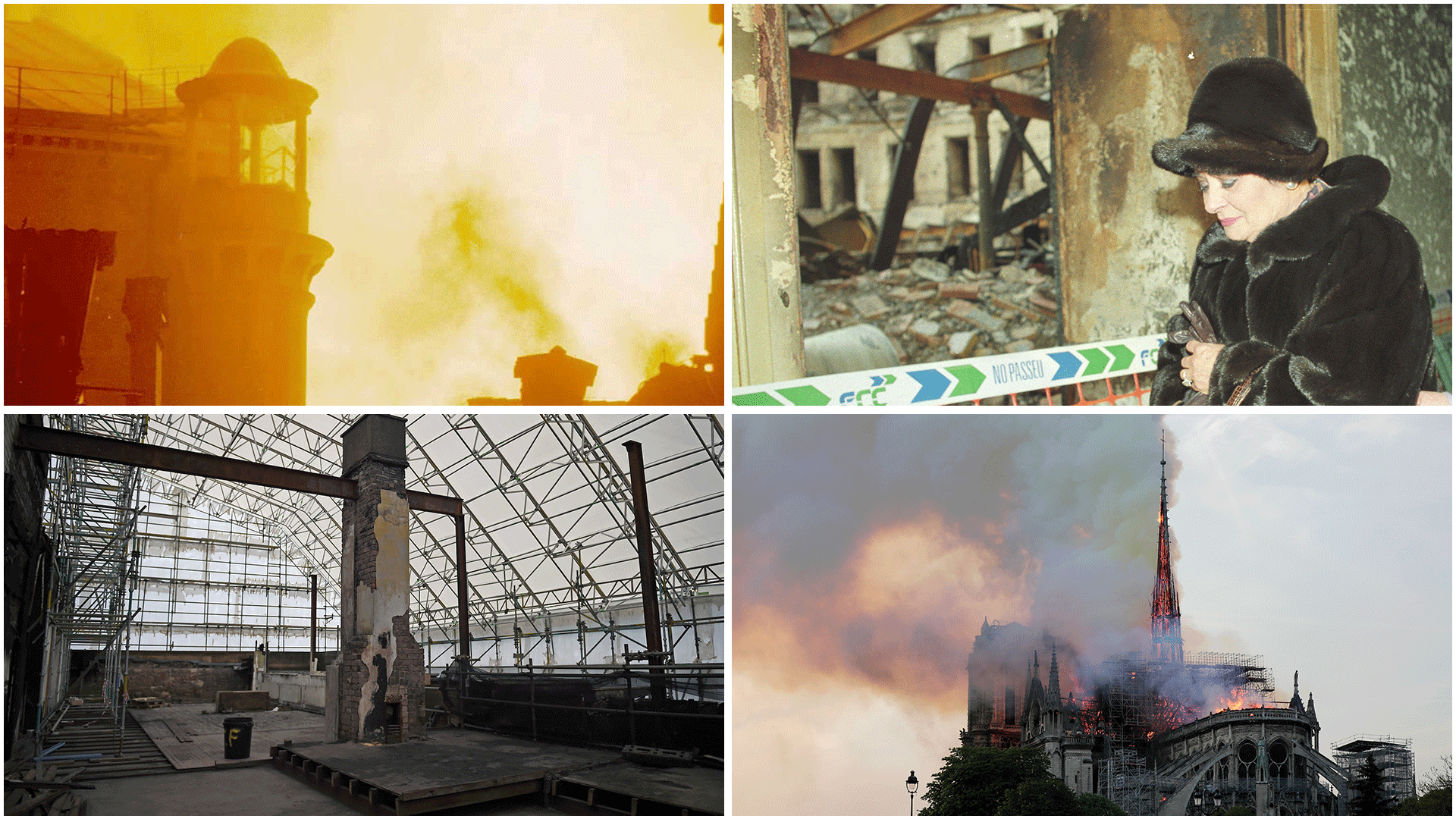 Notre Dame was hardly the first European gem consumed by fire, and authorities are increasingly warning that it won't be the last.
Why it matters: These civilizational achievements are also key sources of revenue in old Europe, the AP reports: "Tourism in Britain and France alone amounts to about 7% of their Gross Domestic Product, good for around 150 billion euros and 170 billion euros (around $170 billion and $190 billion) a year."
The big picture: "A 2015 study by the German engineering giant Siemens showed that Scotland had about 10 damaging fires a year, while England lost at least a dozen listed buildings a year. Germany has seen 70 such buildings destroyed since 2000."
"In 1985, the tower of Luxembourg's main cathedral caught fire and burned down."
"In 2004, a fire in the Duchess Anna Amalia library in Weimar, Germany, caused an estimated 80 million euros ($90 million) in damage."
"In Italy, the historic La Fenice opera house in Venice was destroyed by fire in 1996, and a year later, that happened at Turin's Sindone Chapel of the Holy Shroud."
Between the lines: As with Notre Dame, many "fires happen during restoration work," including the Glasgow School of Art's Mackintosh Building and Barcelona's opera house, the Gran Teatre del Liceu.
The bottom line: "As state funding dries up, governments are increasingly looking for private donors to renovate major monuments."
"In Italy in recent years, Tod's luxury shoes sponsored the Colosseum face-lift, while the Fendi fashion house helped the Trevi Fountain in Rome and Diesel backed improvements for the Rialto bridge in Venice."
Go deeper:
"Preserving the Sistine Chapel Is a Never-Ending Task. See Stunning Behind-the-Scenes Photos of What It Takes" (ArtNet)
"Britain's Houses of Parliament are often referred to as crumbling and are scheduled to undergo renovations in the mid-2020s. The oldest part of the estate, Westminster Hall, was built in 1099 and remains in use today." (NBC)
Go deeper