Scoop: Trump administration opposes military intervention in Iran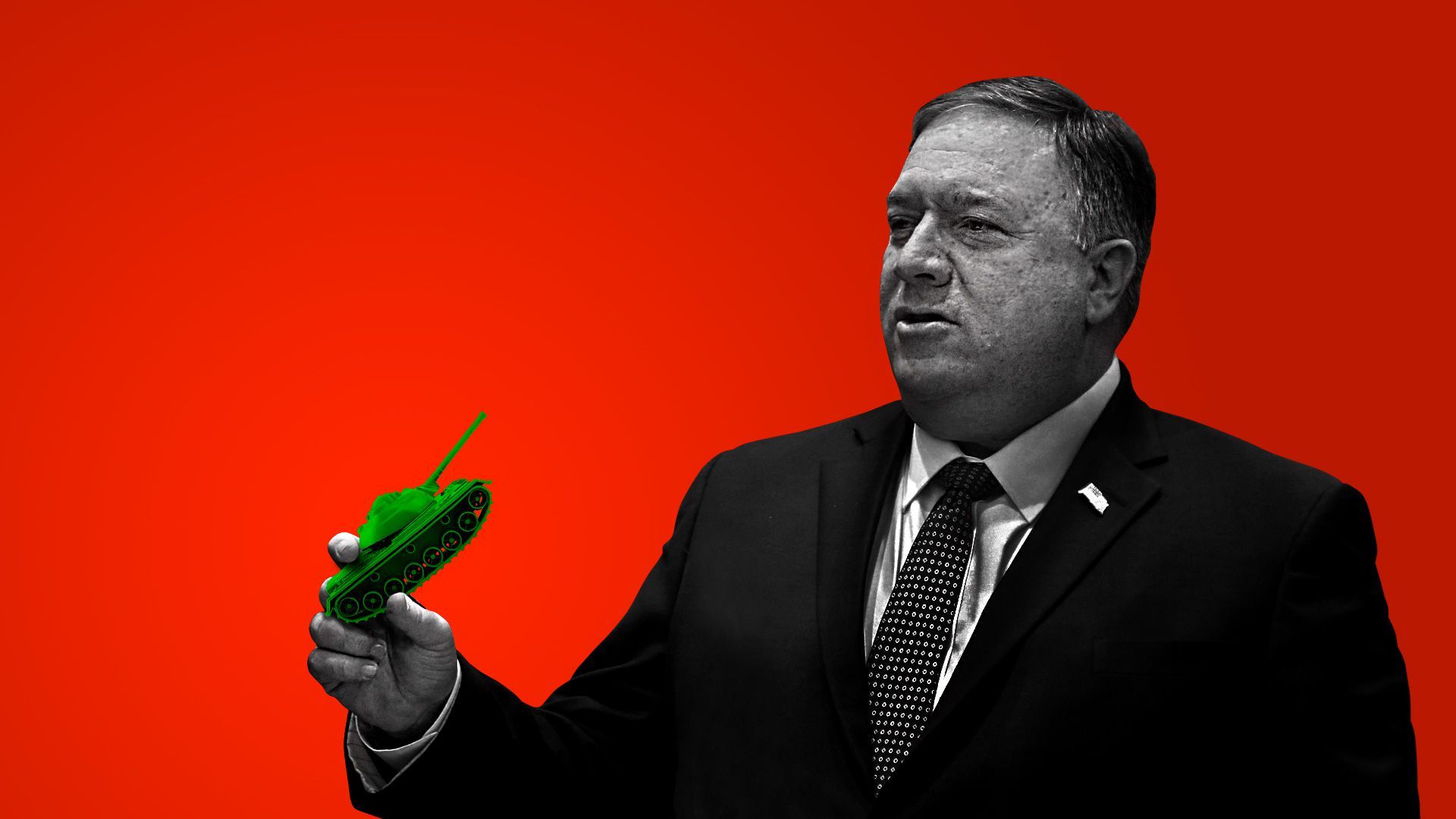 In a closed-door meeting with Iranian-American community leaders last Monday, Secretary of State Mike Pompeo said the Trump administration is "not going to do a military exercise inside Iran" to expedite a regime change, according to three sources who were in the room, including one who took detailed contemporaneous notes and shared them with me.
Pompeo also sought to distance the Trump administration from a controversial Iranian resistance group that has welcomed John Bolton and Rudy Giuliani as speakers in a private capacity.
Behind the scenes: Pompeo met with around 15 Iranian-American community leaders on Monday morning in a conference room at the Renaissance Dallas Hotel. The secretary gave brief opening remarks and then spent most of the session listening and answering questions.
The most provocative question he fielded, according to the sources, was: "If regime change does not occur internally what is the endgame?"
Pompeo replied, "We're careful not to use the language of regime change." He then told the group that the administration would not intervene militarily in Iran.
Another participant asked, "Has the idea of a coup been considered?" Pompeo joked that "Even if we did, would I be telling you guys about it?" and the room broke out in laughter.
Pompeo used euphemisms and diplo-speak to describe the administration's position on Iran.
"Our mission set is to give them the opportunity ... capacity to create opportunity, create that and provide transitional support," he said, per the notes.
"Our best interest is a non-revolutionary set of leaders leading Iran," he added, according to the notes.
Between the lines: Pompeo said the Trump administration would have handled the 2009 Green Movement uprising against the regime very differently than the Obama administration did. But he did not say how.
Pompeo also said there is "no such thing as a moderate inside the Iranian regime anywhere today."
And when asked how he could guarantee that the Trump administration's tough new sanctions wouldn't hurt the people of Iran, he replied: "There are no guarantees."
Pompeo also distanced the administration from the People's Mujahedin of Iran, or MEK (Mujahedin-e Khalq), an anti-regime group that the U.S. once designated as a foreign terrorist organization.
Several people in the room told Pompeo they worried about what message it sent for close Trump allies — National Security Adviser John Bolton and Trump's personal lawyer Rudy Giuliani among them — to appear friendly with the MEK, whom some in the room described as worse than the current regime.
"Let's not beat around the bush," Pompeo replied, according to one source's notes. "Ambassador Bolton spoke at an MEK rally. President Trump and I have not."
"He acknowledged that John Bolton and Rudy Giuliani had connections or ties, whatever you want to call it ... with the MEK, but he did say that he and the president did not," confirmed another person in the room, Texas attorney Michael Payma.
Why this matters: With Trump as president, Bolton as national security adviser and Pompeo as secretary of state — the American people have never had a government so hostile to the Islamic Republic of Iran.
Even though Pompeo made his comments in a relatively private setting — and therefore they cannot be set into stone — it's significant for the secretary of state to tell members of the Iranian diaspora that the Trump administration won't be intervening militarily to overthrow the regime in Tehran.
It's also significant for Pompeo to distance the Trump administration from the MEK organization — given the group's public association with high-profile Trumpworld figures like Giuliani and Bolton.
(The State Department did not respond to requests for comment when we gave them visibility of this reporting.)
Go deeper