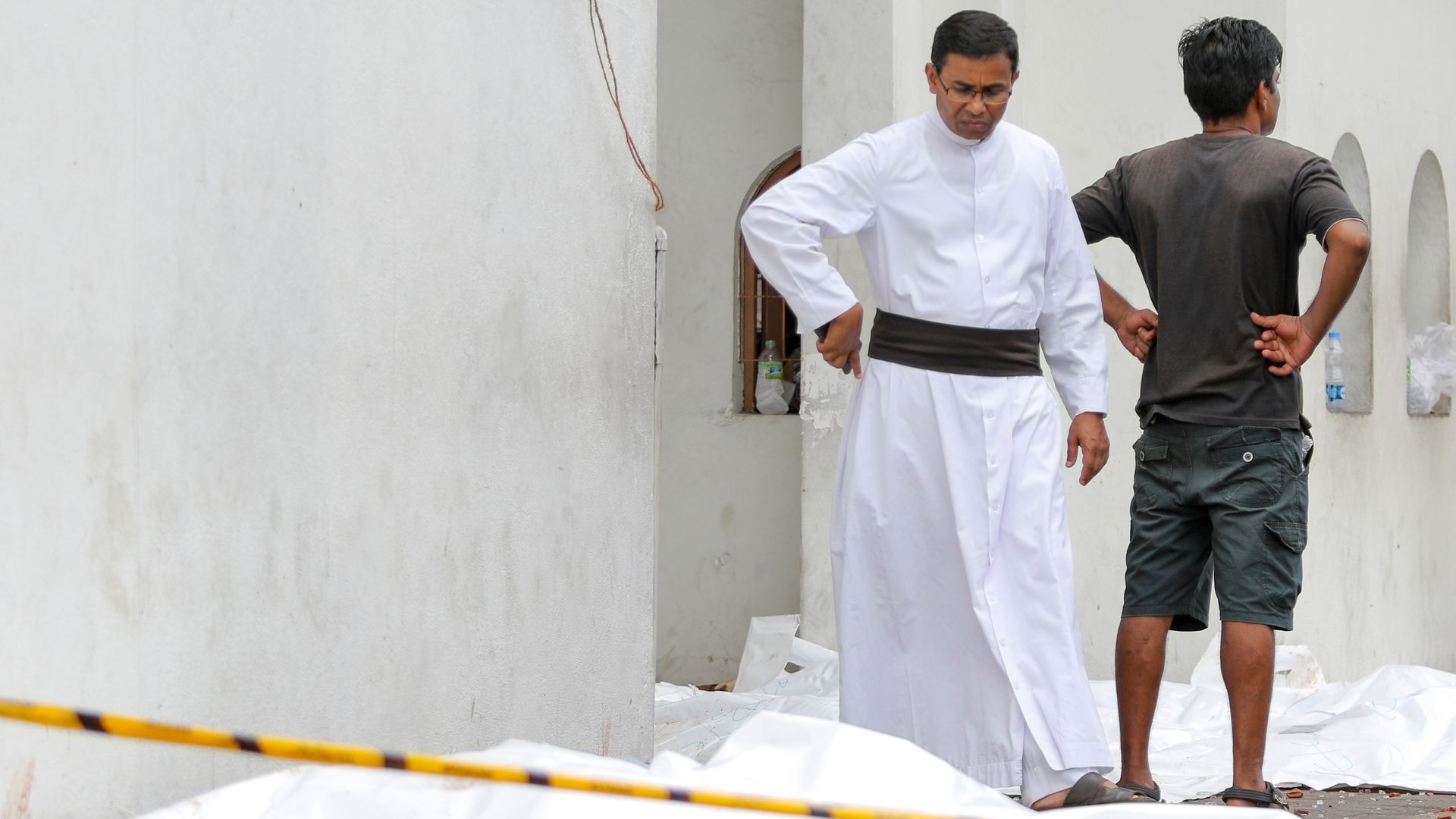 The series of coordinated blasts that struck several Sri Lankan churches and several hotels Easter Sunday has left more than 207 people reported dead and more than 450 injured — making the cluster of terrorist attacks more deadly than both the 2008 Mumbai attacks and the 2002 Bali bombings.
The big picture: The attacks targeting Christian worshippers suggest a new front in the annals of violence in Sri Lanka. Since the end of the bloody civil war in 2009, the country has mainly returned to peace, so the Easter attacks came as a shock.
Details: The attacks took place in the capital city of Colombo, the nearby city of Negambo, and in Batticaloa, across the island on the country's eastern coast.
By the end of day, the government had attributed the blast to suicide bombings and announced the arrests of 13 unnamed suspects.
Between the lines: Sri Lanka's decades-long civil war was driven largely by ethnolinguistic cleavage, with Tamil separatists in the north and east fighting against the Sinhalese-majority government. The pattern of today's Easter Sunday attacks in churches point to yet another growing divide.
In its religious demographics, Sri Lanka is overwhelmingly Buddhist, more than 70% of the country's population of more than 22 million, with around 12% Hindu, just under 10% Muslim, and a little more than 7% Christian.
The country's earlier history of violence pitted ethnic Sinhalese (mainly Buddhist) against Tamil (mainly Hindu), with the small Muslim and Christian minorities not a target.
Tensions have been growing between Buddhists and Muslims, however; last year Buddhist extremists attacked Sri Lankan Muslims.
What to watch: The Sri Lankan government also announced the suspension of several social media platforms, including Facebook, WhatsApp and Instagram. The inability of such prominent services to catch up to and counter the spread of misinformation, especially during times of crisis, continues to be a major challenge for government and civil society.
In South Asia, governments have repeatedly opted to suspend platforms in situations of emergency, sparking difficult debates about freedom of expression, hate speech and misinformation. Look for this to become a growing concern in the region and beyond.
Alyssa Ayres is senior fellow for India, Pakistan, and South Asia at the Council on Foreign Relations. She served as U.S. deputy assistant secretary of state for South Asia from 2010 to 2013.
Go deeper