Easter Sunday explosions kill over 200 in Sri Lanka churches and hotels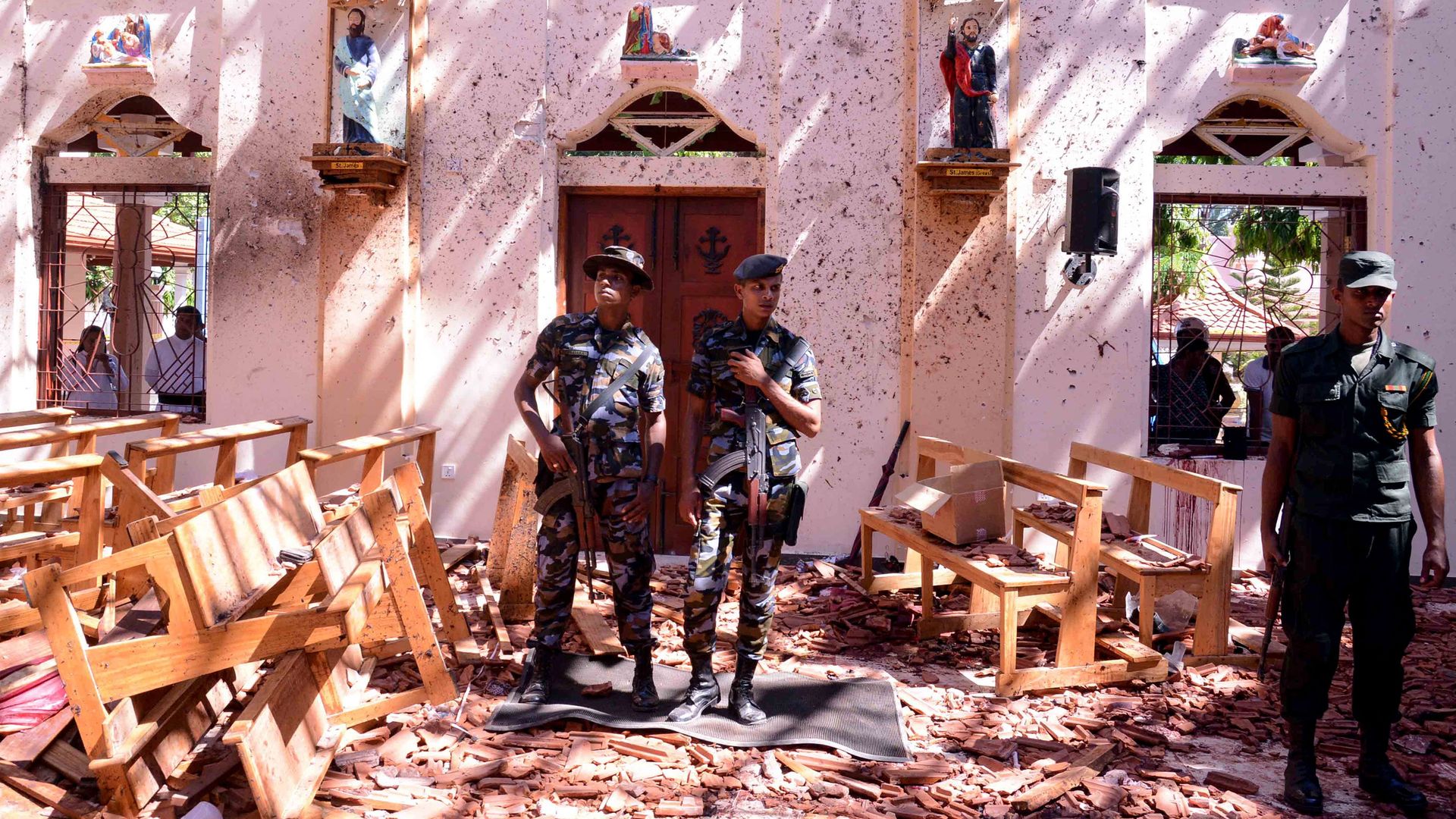 More than 290 people died and 500 more were injured in explosions at churches and hotels frequented by foreign tourists in Sri Lanka on Easter Sunday — which Sri Lanka's Prime Minister Ranil Wickremesinghe described as "cowardly attacks."
The latest: A Sri Lankan government forensic analyst said 7 suicide bombers caused 6 of the blasts, AP and Reuters report. Police arrested 24 suspects by Monday over the attacks, which killed at least 37 foreigners, including several U.S. citizens. Authorities were warned of possible attacks 2 weeks ago, the government said Monday. The U.S. State Department warned plotters planned more attacks.
Details: Authorities were warned of possible "acts of terror" on April 4, said Sri Lanka's Health Minister Rajitha Senaratne, who is responsible for national security and intelligence, at a news conference. The national intelligence chief wrote a letter on April 9 names of a terrorist organization, he said.
"The prime minister was not informed [of] these letters and revelations."
— Health Minister Rajitha Senaratne
The first wave of attacks occurred in quick succession, with churches in Kochchikade, Negombo and Batticaloa targeted during Easter services. In central Colombo, there were blasts at the luxury hotels the Shangri La, the Cinnamon Grand and Kingsbury.
Sri Lankan authorities imposed a curfew in as 2 more blasts were reported in the capital, Colombo. It was lifted Monday morning but brought in again for that night.
An improvised bomb discovered at the main airport in Colombo was defused.
The 7th and 8th blasts in Colombo appear to have happened as the attackers fled police, Sri Lankan MP Harsha de Silva said, citing a press conference. In the first explosion at a smaller hotel near a zoo, 2 people were reported to have died.
Social media use has been temporarily banned in the island nation.
One of the biggest massacre sites was at St. Sebastian's Catholic church in Katuwapitiya, north of Colombo, where 50 people died, a police official told Reuters.
At the conclusion of his Easter address, Pope Francis offered prayers for the victims of the "cruel violence" in Sri Lanka.
The big picture: Religious minorities are protected by the constitution of Sri Lanka, where 70% of the country is Buddhist, 12.6% Hindu, 9.7% Muslim and 7.6% Christian, according to the 2012 census. However, tensions have been a constant of Sri Lankan life, especially after the end of the long-running Sri Lankan civil war in 2009.
The backdrop: Christians reported an increase in violence and discrimination against them last year. The National Christian Evangelical Alliance of Sri Lanka said there were 86 reported incidents against Christians in 2018.
Go deeper