The danger in Tesla's self-driving claims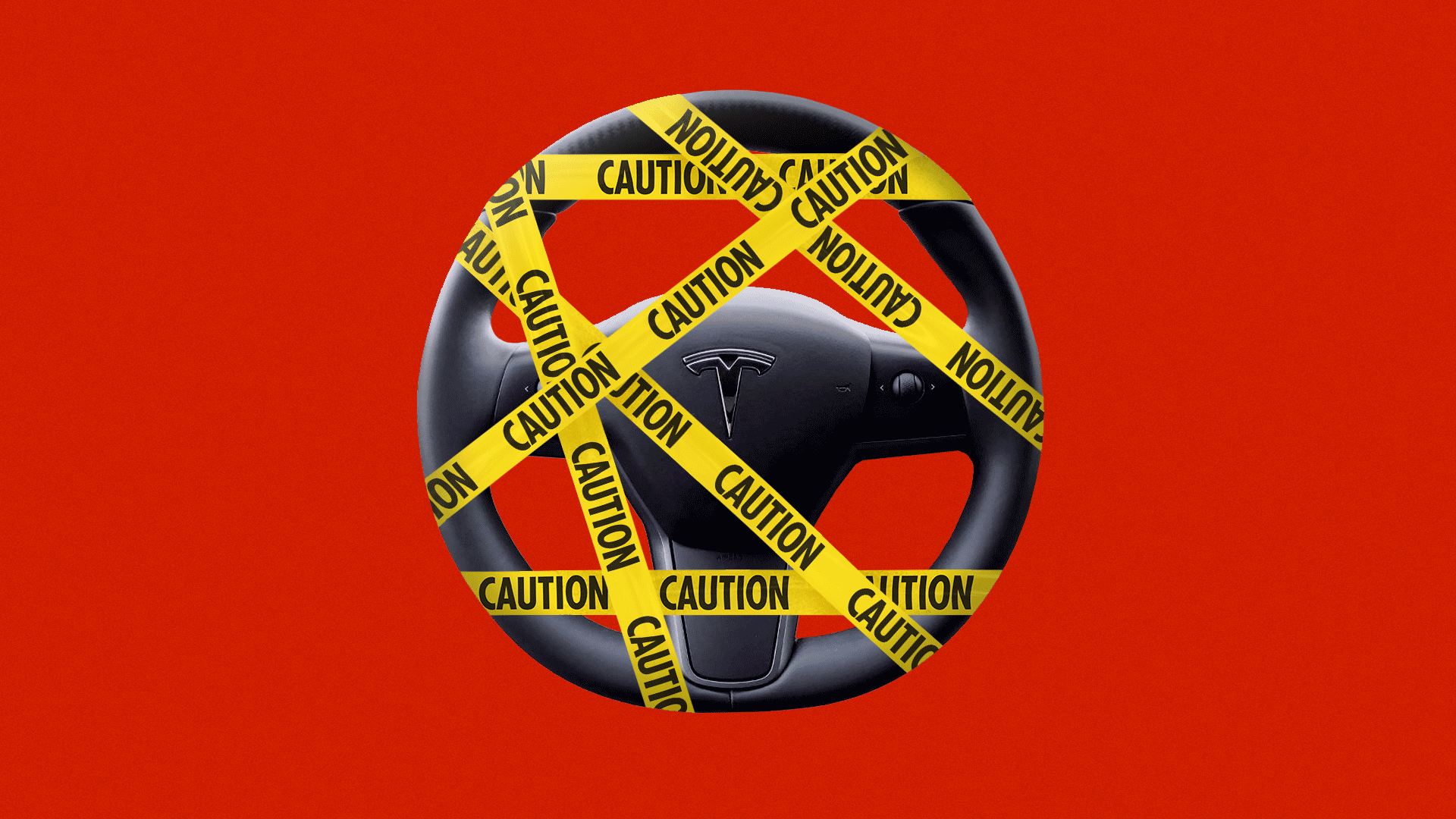 Tesla — whose CEO Elon Musk recently suggested victory in the self-driving car race — plans to pull back the curtain on its Autopilot technology for investors next week.
Why it matters: Many technological and regulatory hurdles remain before automated cars can be deemed ready to replace human drivers. Musk's claim runs the risk of confusing consumers — and frustrating regulators.
What's happening: Tesla is inviting investors to its Palo Alto headquarters Monday for test drives to experience automated features still under development.
My thought bubble: The timing matters — Tesla's first quarter earnings report is expected on Wednesday and the company has a history of touting product news just ahead of poor financial results.
One analyst predicts the company's earnings for the first part of the year could be an "outright disaster."
Details: Tesla declined to comment ahead of the presentation, but Musk himself provided a roadmap in a fascinating podcast interview last week with MIT researcher Lex Fridman.
Tesla will no doubt showcase the arrival of a new proprietary computer chip, 3 years in development, that Musk said is "an order of magnitude" more powerful than the Nvidia processor it replaces.
"We're still exploring the boundaries of its capabilities," he told Fridman.
The chip is now in production on new Teslas and Musk says it can be swapped out on older models, enabling future self-driving features to be added via over-the-air software updates.
"The thing that's really profound ... is that the cars currently being produced, with the hardware currently being produced, [are] capable of full self driving," he told Fridman.
"To me, right now, this seems game, set, match."
Reality check: Adding a powerful computer chip does not mean the cars are ready to drive themselves. Musk says Tesla still has to develop software that extends current highway driving capabilities to city streets, including traffic light recognition, complex intersections and remote parking.
None of this is easy. If it were, Waymo and GM Cruise would be operating driverless taxi services by now.
But Musk says Autopilot software is improving exponentially. "If you buy a Tesla today I believe you are buying an appreciating asset, not a depreciating asset."
Tesla has one big advantage over rivals — the massive amounts of data collected from the more than 400,000 sensor-equipped Tesla vehicles already on the road.
With the hardware now complete, achieving full self-driving capability is "just a simple exercise in mathematics," writes Rahul Sonnad, co-founder and CEO of Tesloop, an independent ride-sharing company that specializes in Teslas.
Yes, but: The potential ambiguity of "full self-driving" capability has other AI experts worried.
"With the current Autopilot, everybody knows they need to pay attention. But if all of a sudden, they put in somebody's brain that these cars can drive themselves, I think that is irresponsible," says Alain Kornhauser, chair of the AV engineering program at Princeton University.
Two federal agencies are already investigating several Tesla accidents to determine whether Autopilot poses "an unreasonable risk to safety" by failing to account for the misuse of the technology.
Meanwhile, some safety advocates have raised questions about regulators' transparency when evaluating Tesla vehicles.
"We saw how Tesla leveraged a past NHTSA analysis that was ultimately shown to be misleading at best, and, at worst, it indicated that Teslas could be less safe than average," says David Friedman, former acting NHTSA administrator who's now VP of advocacy at Consumer Reports.
The bottom line: Despite his confidence, Musk's claims are under scrutiny, not only because Tesla has missed deadlines before but also due to open regulatory questions.
Editor's note: This story and headline was updated to clarify Musk's statements on Tesla's lead (not victory) in self-driving cars.
Go deeper