Automating food from farm to front door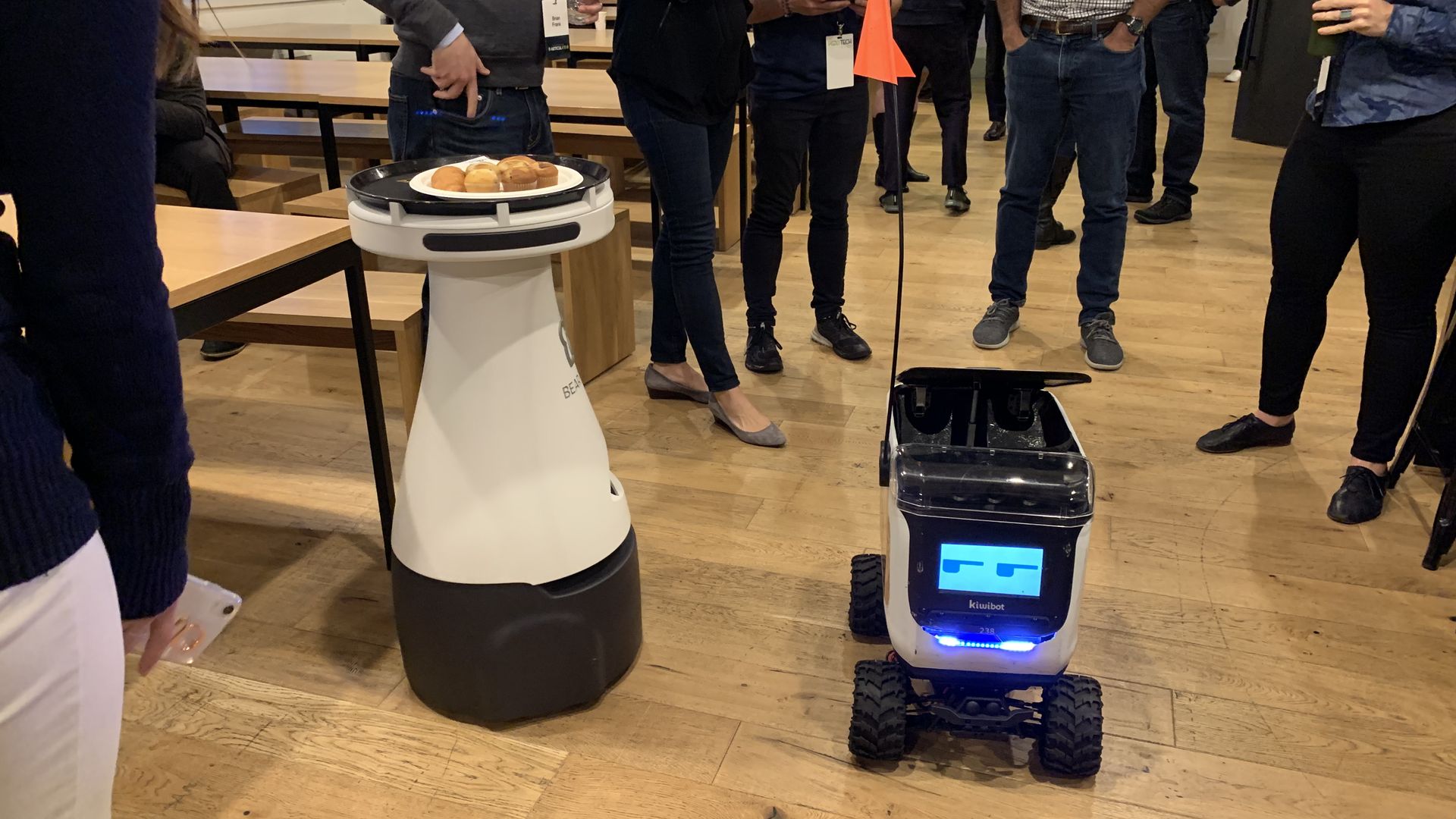 Edging beyond the gimmicky demos of years past, robot startups are mounting a play for the more than $5.7 trillion U.S. food industry, launching their products on farms, in grocery stores and restaurants, and all the way to your front step.
Driving the news: Most bots are still wildly expensive, which has kept them from mass deployment. But they're nudging open the door to the industry, and slowly accustoming people to letting robots take care of their food.
The big picture: In recent years, the food industry has fallen behind as others, like e-commerce players, have rushed to take up robots.
In food, bots are generally able to do just one thing — pick a strawberry, flip a burger — and often need human supervision.
But they can reliably do some of these tasks as well as or better than a person, and faster — without fatigue, complaints or health benefits.
Now, big companies, some spurred by fear of Amazon's sweeping ambitions and robotics prowess, have started to buy them.
At ArticulATE, a conference billing itself as the first-ever food bot event, Trung Nguyen, Albertson's VP of e-commerce, yesterday said his company considered installing robots for years but was stymied by cost.
In October, however, the chain announced that it's testing a robotic system to pack grocery orders.
Kroger and Walmart, too, are installing robots to scan shelves, mop floors, and pack online orders.
In total, $1.2 billion of venture capital flowed into grocery automation last year — about twice the 2017 number.
Robots are popping up across the industry:
For the moment, robots are largely filling a labor gap in the food industry. Fewer employees than ever are willing to work long, greasy shifts in fast-food kitchens, and Nguyen says grocery delivery services are losing their drivers to Uber and Lyft.
"Initially, for us, it's about providing a third hand" for overworked kitchen staff, says David Zito, founder of Miso, whose Flippy works grills at CaliBurger and a deep fryer at Dodger Stadium in L.A.
But, he tells Axios, the kitchen "ends up looking more and more automated over time."
Flippy's next mission is automating pizza-making.
What's next: "The restaurant industry is very conservative, and [tech] adoption is low," said John Ha, CEO of Bear Robotics, which makes roving servers like the one pictured above. But Ha and others hope the industry will jump in all at once, if robots clearly prove their worth — like it did years ago with payment systems.
The bottom line: Despite restaurants' reticence, fast food in particular — where many tasks are designed to be simple and repetitive — is among the industries most likely to be automated, according to McKinsey.
Go deeper