Transcript: Bill Barr answers questions about Mueller report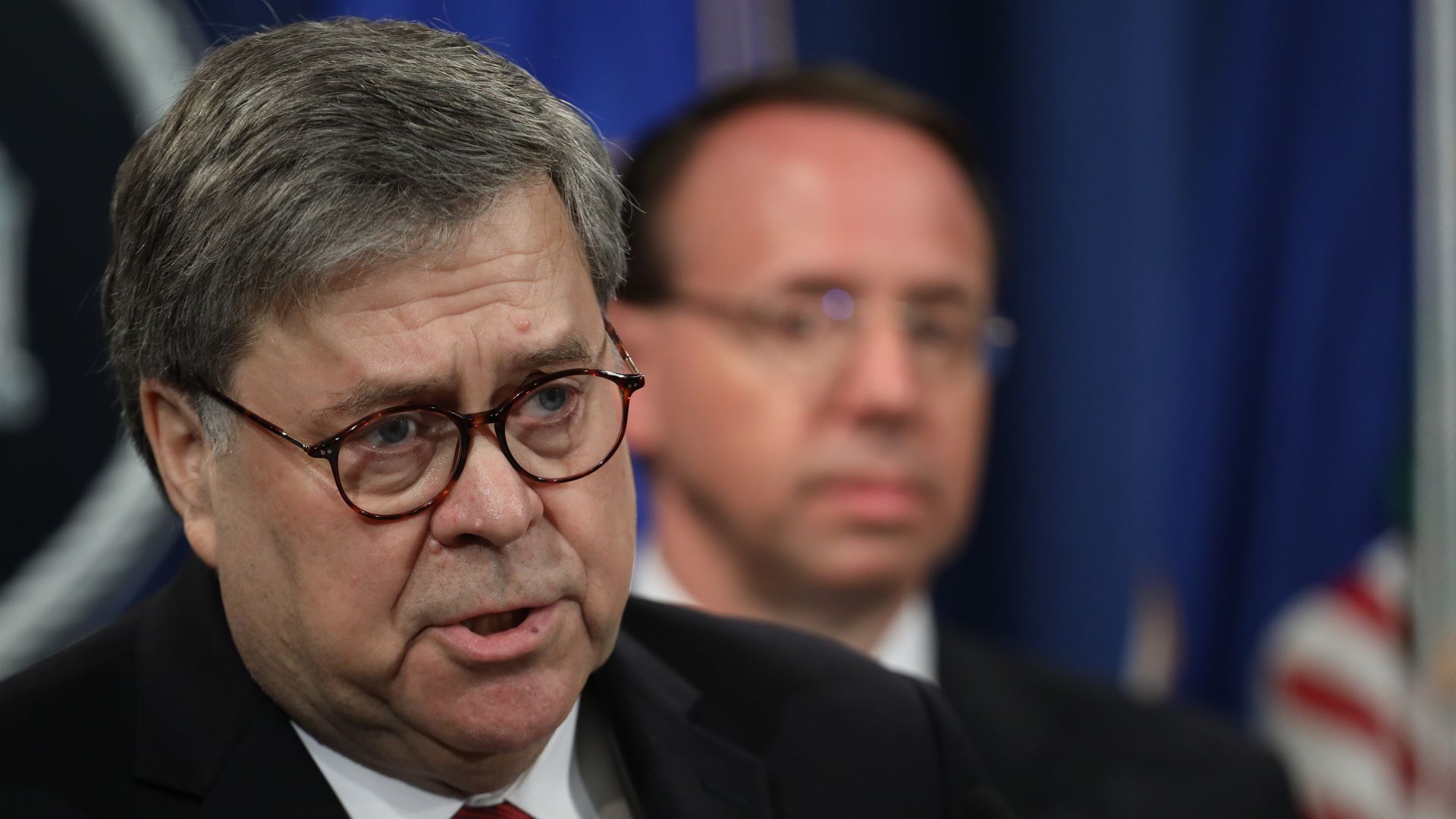 Following his opening remarks about the pending release of special counsel Robert Mueller's report, Attorney General Bill Barr answered questions about his decision not to pursue obstruction of justice charges, along with the DOJ's rationale on the report's public rollout.
Catch up quick: According to Barr, Mueller did not say that an existing legal opinion — which claimed the president cannot be indicted — factored into his decision not to pursue obstruction charges. Barr also said he doesn't object to Mueller publicly testifying before Congress, and that Mueller did not expressly indicate that his intention was to leave the decision to Congress.
Transcript
Reporter: "Mr. Attorney General, we don't have the report in hand. So could you explain for us the special counsel's articulated reason for not reaching a decision on obstruction of justice and if it had anything to do with the department's long-standing guidance on not indicting a sitting president? And you say you disagree with some of his legal theories. What did you disagree with and why?"
Barr: "I would leave it to his description in the report, the special counsel's own articulation of why he did not want to make a determination as to whether or not there was an obstruction offense. But I will say that when we met with him, Deputy Attorney General Rosenstein and I met with him, along with Ed o'Callaghan, who is the principal associate deputy, on March 5th. We specifically asked him about the OLC opinion and whether or not he was taking a position that he would have found a crime but for the existence of the OLC opinion. And he made it very clear several times that that was not his position. He was not saying that but for the OLC opinion, he would have found a crime. He made it clear that he had not made the determination that there was a crime."
Reporter: "Given that, why did you and Mr. Rosenstein feel the need you had to take it to the next step to conclude there was no crime, especially given DOJ policy?"
Barr: "The very prosecutorial function and all our powers as prosecutors, including the power to convene grand juries and compulsory process that's involved there, is for one purpose and one purpose only. It's to determine yes or no, was alleged conduct criminal or not criminal. That is our responsibility and that's why we have the tools we have. And we don't go through this process just to collect information and throw it out to the public. We collect this information. We use that compulsory process for the purpose of making that decision. And because the special counsel did not make that decision, we felt the department had to. That was a decision by me and the deputy attorney general. Yes."
Reporter: "Did the special counsel indicate that he wanted you to make the decision or that it should be left for Congress? And also, how do you respond to criticism you're receiving from congressional Democrats that you're acting more as an attorney for the president rather than as the chief law enforcement officer?"
Barr: "Well, special counsel Mueller did not indicate that his purpose was to leave the decision to Congress. I hope that was not his view, since we don't convene grand juries and conduct criminal investigations for that purpose. He did not -- I didn't talk to him directly about the fact that we were making the decision, but I am told that his reaction to that was that it was my prerogative as attorney general to make that decision."
Reporter: "Is there anything you can share today about your review of the genesis of the Russia investigation and whether assets have been provided to investigate?"
Barr: "Today I'm really focused just on the process of releasing this report."
Reporter: "Democrats have asked for Robert Mueller himself to testify. Robert Mueller remains a Justice Department employee as of this moment. Will you permit him to testify publicly in front of Congress?"
Barr: "I have no objection to Bob Mueller testifying."
Reporter: "A Republican-appointed judge on Tuesday said you have, quote, created an environment that has caused a significant part of the American public to be concerned about these redactions. You cleared the president on obstruction. The president is fundraising off your comments about spying, and here you have remarks that are quite generous to the president, including acknowledging his feelings and emotions. What do you say to people on both sides of the aisle who are concerned you're trying to protect the president?"
Barr: "Actually, the statements about his sincere beliefs are recognized in the report. That there was substantial evidence for that, so I'm not sure what your basis is for saying that I am being generous to the president."
Reporter: "You face an unprecedented situation. It seems like there's a lot of effort to go out of your way to acknowledge..."
Barr: "Is there another precedent for it?"
Reporter: "No..."
Barr: "So unprecedented is an accurate description."
Reporter: "There's a lot of public interest in absence of the public counsel and his team. Why is he not here? This is his report you're talking about today."
Barr: "No, actually. He did for me as the attorney general, he is required under the regulation to provide me with a confidential report. I'm here to discuss my response to that report and my decision, entirely discretionary to make it public, since these reports are not supposed to be made public. That's what I'm here to discuss."
Reporter: "Is it impropriety to come out and what it appears to be spinning the report before the public has a chance to read it?"
Barr: "Thank you very much. Thank you."
Go deeper