Economic predictors are ignoring politics at their peril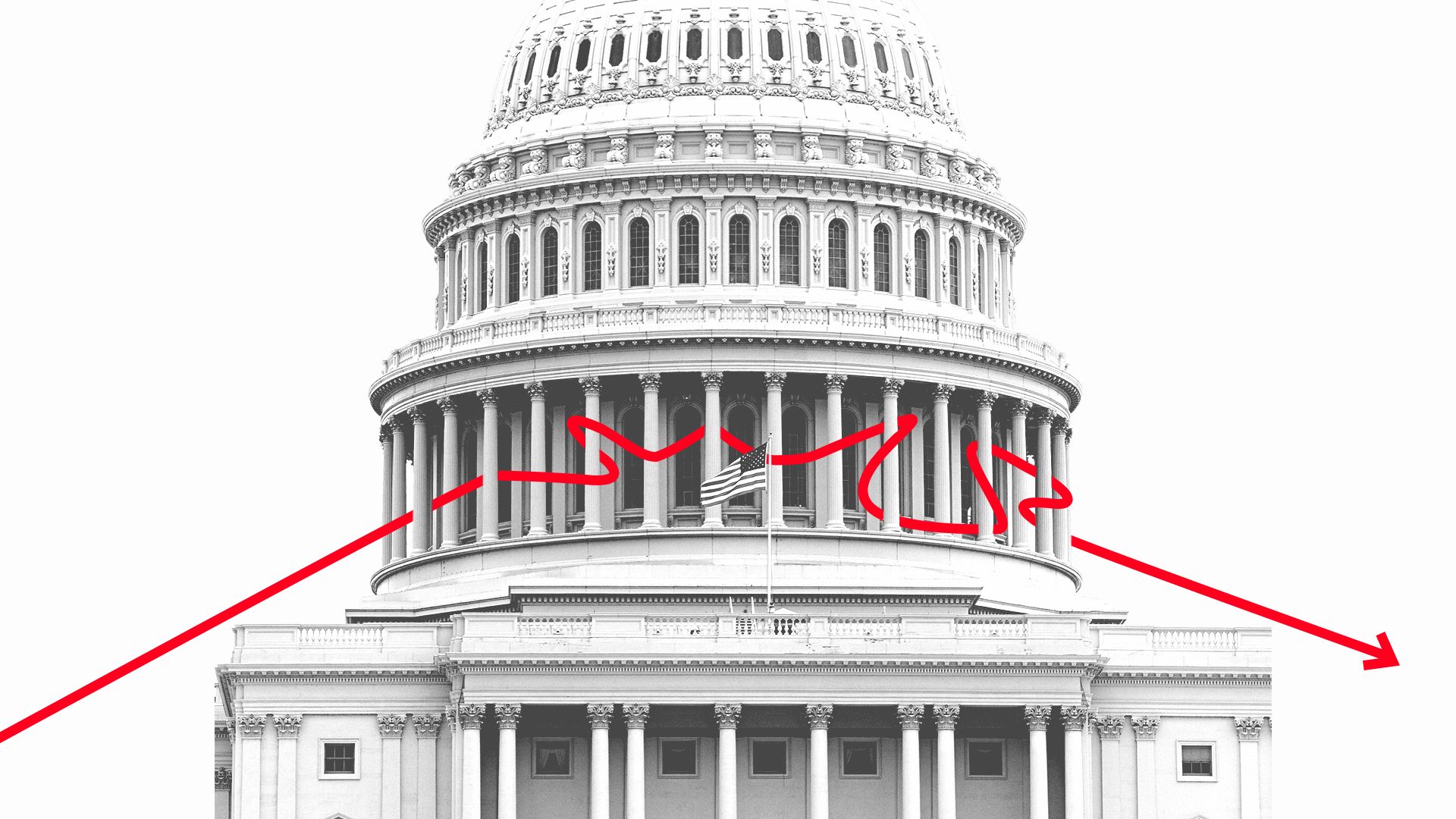 When it comes to making predictions about the world economy, policymakers and asset managers are whiffing because they are failing to account for the increasingly dysfunctional state of global politics.
The big picture: The world's top economic concerns — Brexit, the U.S.-China trade war — are the result of policy decisions rather than unavoidable shocks.
Why it matters: IMF officials, whose forecasts are used by top central bank officials and finance ministers in a majority of the world's countries, can't say how they're incorporating politics into projections.
"We do see that policy uncertainty, and in many cases bad decisions are a root cause for financial distress," IMF financial counselor Tobias Adrian told Axios at the organization's spring meetings last week.
Asked specifically how that's being used in economic outlooks: "It is a risk, and we're looking at it closely."
Questions posed to IMF deputy managing director David Lipton and chief economist Gita Gopinath yielded largely similar answers.
Checking the numbers: A recent Bloomberg analysis found that on average, the IMF's forecasts are off by 2 percentage points — a wide margin given that GDP growth in most countries is in single digits.
Private forecasters don't do much better, according to a 2014 report from the IMF Independent Evaluation Office. It's largely for the same reason.
A much ballyhooed report from multinational bank Standard Chartered predicted by 2030 India would surpass the U.S. in terms of economic size, China would have double its GDP (measured by purchasing power parity), and 7 of the world's 10 largest economies would be current developing countries.
It too ignored politics, even though expected rising stars like Turkey, Russia and Brazil are now in the midst of politically derived economic uncertainty.
"It's very hard to pinpoint political dynamics," Madhur Jha, senior global economist at Standard Chartered, told Axios in January. "So that's something that is a risk and a clear risk but not something we can explicitly take into account when we make projections."
The bottom line: A clear example of the importance of political leadership is the BRICS countries — Brazil, Russia, India, China and South Africa — which ahead of the financial crisis were all seeing GDP growth above 5% annually.
Since then, China and India have had steady leadership with clear policy direction. South Africa and Brazil have deposed sitting presidents, while Russia's president has cost the country billions of dollars in international sanctions.
India and China's economies grew 48% and 79%, respectively, between 2011 and 2018, whereas Brazil, South Africa and Russia's economies shrank by double digits.
Go deeper: The global economy's "delicate moment"
Go deeper