Microsoft's carbon tax move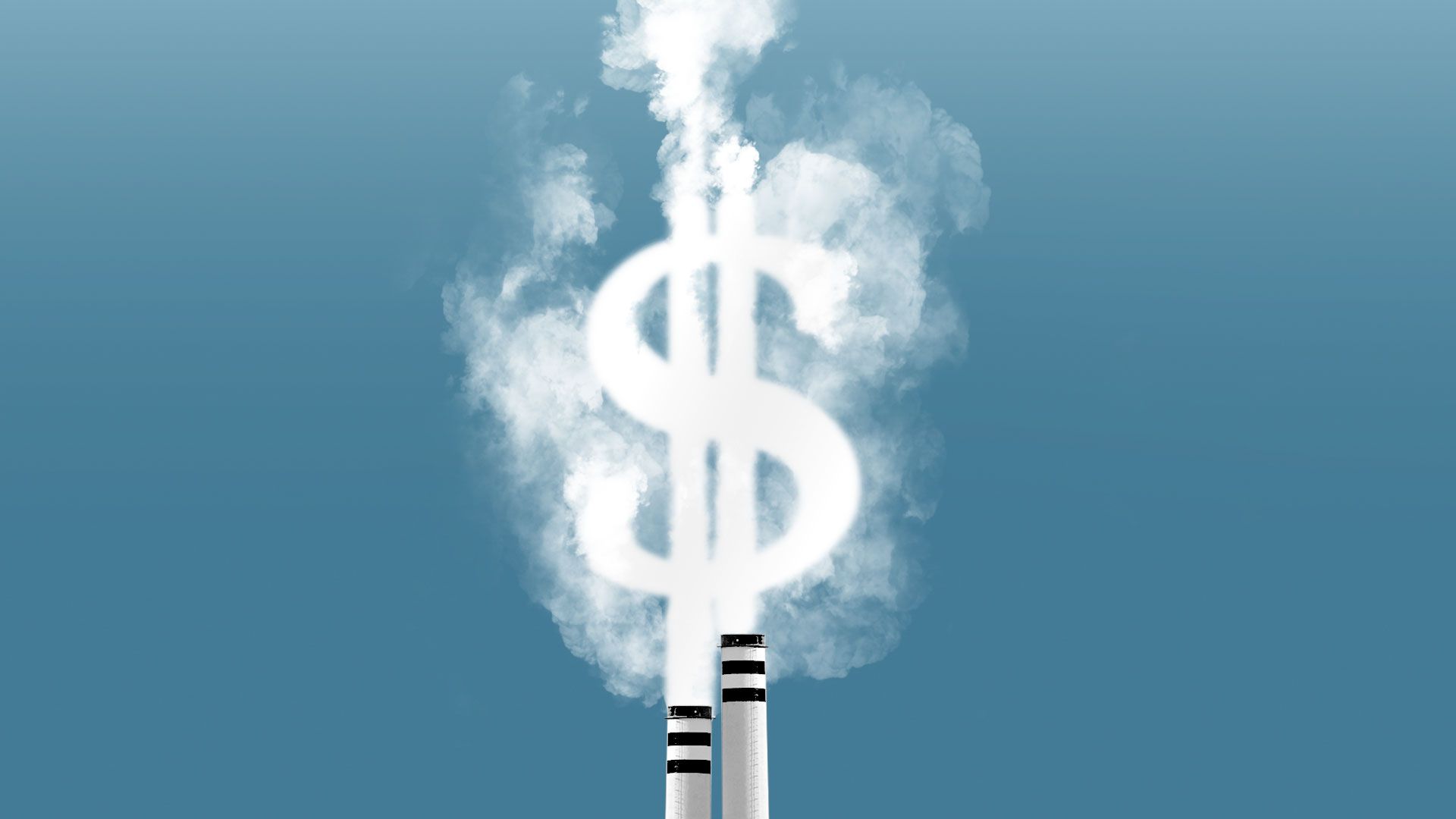 Microsoft is almost doubling its internal carbon tax that helps fund the company's sustainability work and is joining a Big Oil-backed group pushing for a federal emissions fee.
The big picture: For a sense of scale, Microsoft said that last year it collected $20 million from the tax to pay for internal carbon neutrality work and fund grantees of its AI for Earth program.
Driving the news: Those are 2 of several announcements Tuesday that arrive amid scrutiny of Big Tech's carbon footprint and work with oil companies.
What's next: Microsoft President Brad Smith said in a blog post that the company will...
Expand offerings that help customers use AI to boost environmental performance.
Host gigantic environmental datasets on its cloud platform Azure to aid researchers.
Aim to have data centers run on more than 70% renewables by 2023. (Microsoft said it will reach 60% this year.)
Raise its internal carbon fee, launched in 2012, from $8 to $15 per metric ton.
Meanwhile, Microsoft is one of the first Big Tech companies to join the Climate Leadership Council. It includes ExxonMobil BP, Shell and Total, plus other corporate giants outside the oil sector.
It's pushing a plan crafted by GOP elders including Hank Paulson and James Baker that sets an escalating tax beginning at $40-per-ton.
The proposal, going nowhere in Congress right now, would return revenues to the public, cut climate regulations, and shield companies from some lawsuits.
What they're saying: Lucas Joppa, Microsoft's chief environmental officer, said there's huge potential in using AI and other advanced tech to help industries cut emissions.
"There has been this disturbing trend that technological revolutions have essentially paid for the present by borrowing from the future," he said, noting the rise of the fossil fuel economy.
"There needs to be a recognition that this industrial revolution, this kind of AI-enabled revolution, has got to be the first one that breaks that cycle," he told Axios.
By the numbers: The company released new Pricewaterhouse Coopers UK research it commissioned on AI applications in energy, water, farming and transportation.
It finds that AI could add up to $5.2 trillion to the global economy in 2030 and cut global greenhouse gas emissions by 4% by then.
But, but, but: Tech giants are under scrutiny for their huge energy use and business projects with fossil fuel clients.
That includes Microsoft, which is working with Exxon on cloud technology and data aimed at helping boost Permian Basin production.
"The low carbon future that we need to see the world transition to is going to be a transition. There will be a place for fossil fuels for the foreseeable future. We would like to see that need reduced," Joppa said.
Go deeper:
Go deeper