Trump striking out on coal and nuclear energy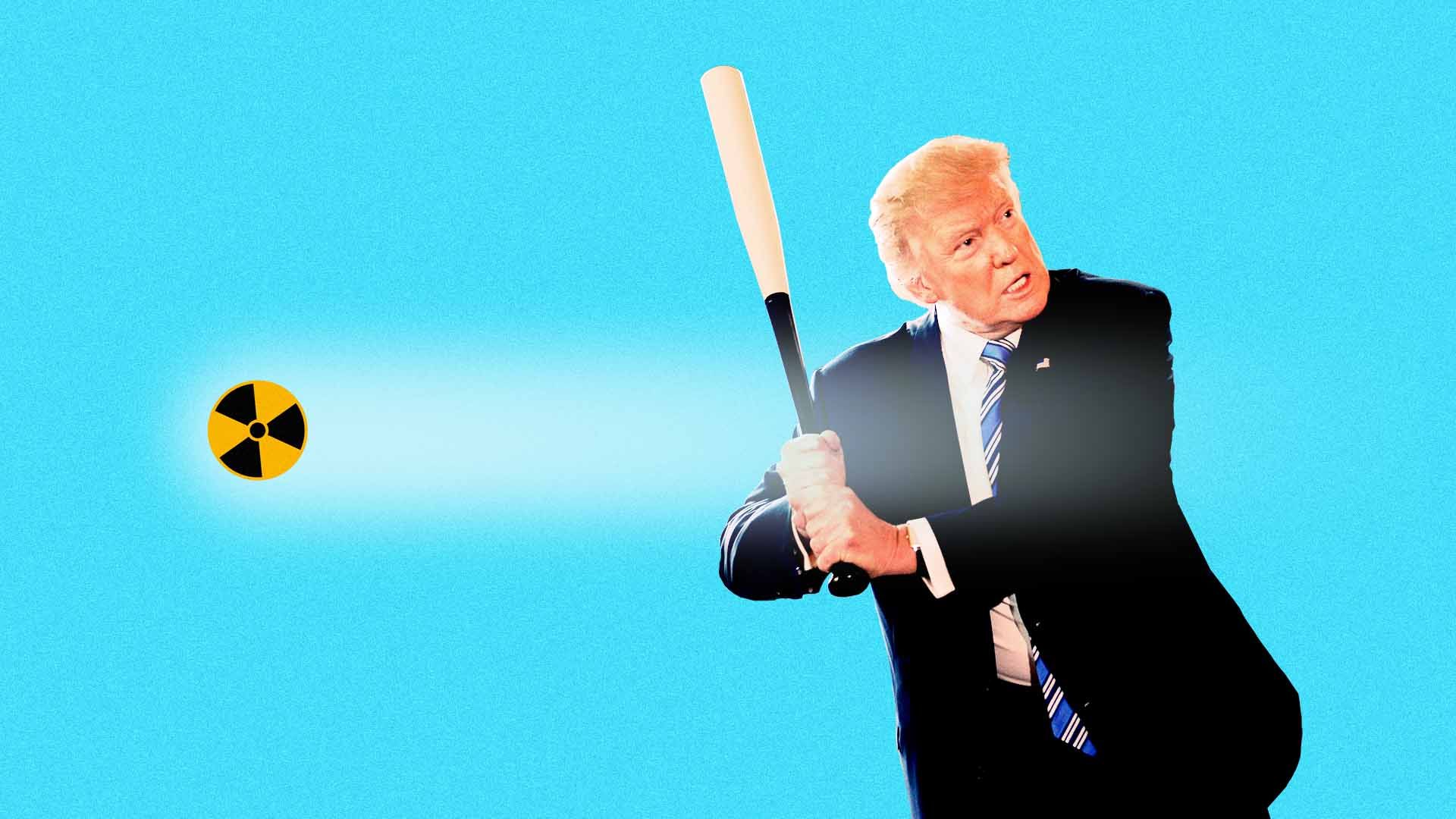 President Trump is coming up empty handed on his promises to bolster America's ailing coal and nuclear power industries.
The big picture: For a president who has aggressively pushed the legal and political boundaries to make good on policy priorities, particularly immigration, the lack of action in this area is striking two years into Trump's administration.
Between the lines: Political and legal issues are at play, according to people familiar with the dynamics.
Trump's positions on immigration appeal to his supporters' emotions more than his positions on coal, and the issue cuts more deeply and widely across the president's conservative base than coal. Nuclear, meanwhile, has never been a top-tier political concern for Trump.
White House officials have successfully argued that any big actions to prop up economically struggling coal and nuclear power plants would be woefully indefensible in court.
Where it stands: It's a messy road to nowhere, for now.
Nuclear power and coal don't share many attributes in common other than they're both economically struggling for similar reasons: competition from cheap natural gas and, to a lesser extent, renewables.
On top of inaction, trade policies under consideration could make matters even worse for the nuclear industry — like new restrictions on uranium they use for fuel. (More on that later.)
For the last year and a half, Energy Secretary Rick Perry has been trying — but failing — to find a way to help the wave of ailing coal and nuclear power plants across the Eastern United States.
He asked the Federal Energy Regulatory Commission, an independent government agency, to take action. He was rejected.
He considered using a little-known law called the Defense Production Act to invoke national security to save certain plants. That's been on ice for months after White House resistance.
More than a year ago, Bankrupt FirstEnergy Solutions asked Perry to keep open certain coal and nuclear plants in the name of national security. Representatives of the firm said they have no updates to share, and an Energy Department spokeswoman didn't have a comment other than to say it's still pending.
"I've thrown a lot of jello over at the wall on this one trying to find some solutions that we can all, or at least a majority of us can get behind to support that," Perry said at an energy conference last month.
The other side: This is a triumph of a diverse and broad set of energy interests — ranging from natural gas to wind — that rallied together to oppose the administration's efforts, arguing any such moves would upend market forces and could increase electricity prices for consumers.
The Trump administration is taking some steps to help nuclear power and coal, such as research investments for new technologies and unprecedented regulatory rollbacks.
A White House official said coal has been buoyed by numerous executive actions the administration has taken and regulations it is repealing, particularly at the Environmental Protection Agency.
The official also pointed to the funding of Energy Department initiatives and laws streamlining permitting processes that president has backed to help nuclear power.
But these steps are just not significant enough to change the prevailing declining direction of either sector, and especially the plants under economic duress.
Meanwhile, the nuclear power industry is now among the long list of sectors concerned about Trump's protectionist trade agenda.
The administration is considering imposing quotas requiring a certain percentage of uranium — the fuel used in nuclear plants — to be sourced domestically in the name of national security.
A coalition of utilities say such a move could hurt the very same economically struggling reactors Trump says he wants to help, pushing them over the edge and forcing them to shut down.
The Commerce Department faced a Sunday (yesterday) deadline to send its recommendation on the matter to Trump. He now has 90 days to decide.
What we're watching: As Trump's reelection campaign picks up, the president could likely raise the issue of saving coal and nuclear plants again, which puts policy experts within the administration in a bind because they've exhausted most options.
"They're totally stuck. I don't know how they're going to fix it," said one person familiar with the dynamics. "The likelihood that Trump comes back to them at some point and says 'do something' is pretty high."
Go deeper:
Go deeper