The Army steps up its pace on self-driving cars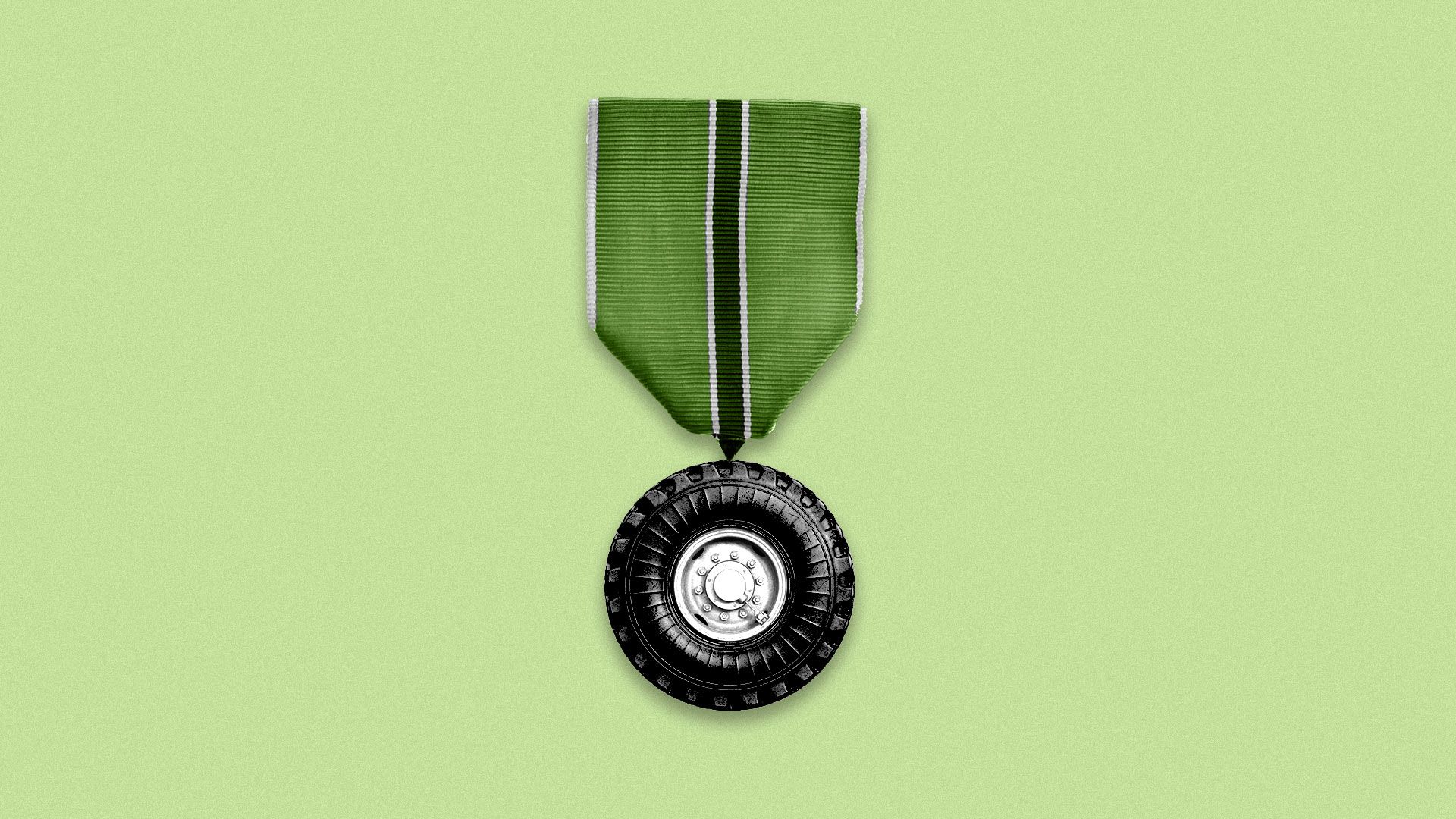 The Army unveiled new automated vehicle technology this week that could be deployed before self-driving cars hit city streets.
Why it matters: More than half of all battlefield casualties occur when soldiers are delivering fuel, food or other supplies in combat zones. AVs could reduce that risk.
What's new: This week at Texas' Fort Bliss, the Army demonstrated the first 10 driverless trucks it is developing for convoys, one of several robot-vehicle projects underway.
The leader-follower platoons would have a pair of drivers in the first truck, followed closely by a half dozen or so unmanned trucks.
60 additional trucks will be deployed at two other U.S. military bases over the next year, giving soldiers an opportunity to work with them and develop tactics and procedures they can transfer to the battlefield.
The big picture: The Pentagon's fiscal 2020 budget proposal includes $3.7 billion in research and development of "unmanned and autonomous technologies," including autonomous weapons and unmanned battle ships.
About $350 million is for the Army's AV research, one DOD source tells Axios — a fraction of what carmakers spend annually.
Fun fact: The Defense Department has been working on AV research for decades, and its 2007 DARPA Urban Challenge launched the careers of many execs who are now racing to bring commercial AVs to market.
Of note: The Army's engineering challenges are different and, in some ways, more difficult...
There are no high-definition maps of war zones.
Roads may not even exist — and if they do, they might be impassable or change from day to day.
If there are road signs, they're often damaged or misleading.
Digital infrastructure in the form of 5G isn't likely to be available or accessible.
The backdrop: The truck platoon deployment is faster than expected, after Army Secretary Mark Esper, impressed by a demonstration, asked last year to push the timetable forward, according to National Defense magazine.
Like other AV developers, the Army wants to start racking up real-world miles to collect data that will make its AVs even better.
The original plan was to put 300 autonomous trucks into service in 2025. To bring the program forward, the Army pared down its original list of 45 requirements for AVs to 15 must-haves, Trucks.com reported.
The plan now is for production to ramp up starting in 2021, per National Defense magazine.
Oshkosh Defense received a $49 million contract in June 2018 to outfit its trucks with autonomy kits. Lockheed Martin is the systems integrator.
What to watch: As part of a broad modernization effort launched in late 2017, a Next-Generation Combat Vehicle team in Michigan is working on an "optionally manned fighting vehicle" to replace the Army's aging workhorse, the Bradley fighting vehicle.
Go deeper: Helping autonomous vehicles develop a "sixth sense"
Go deeper