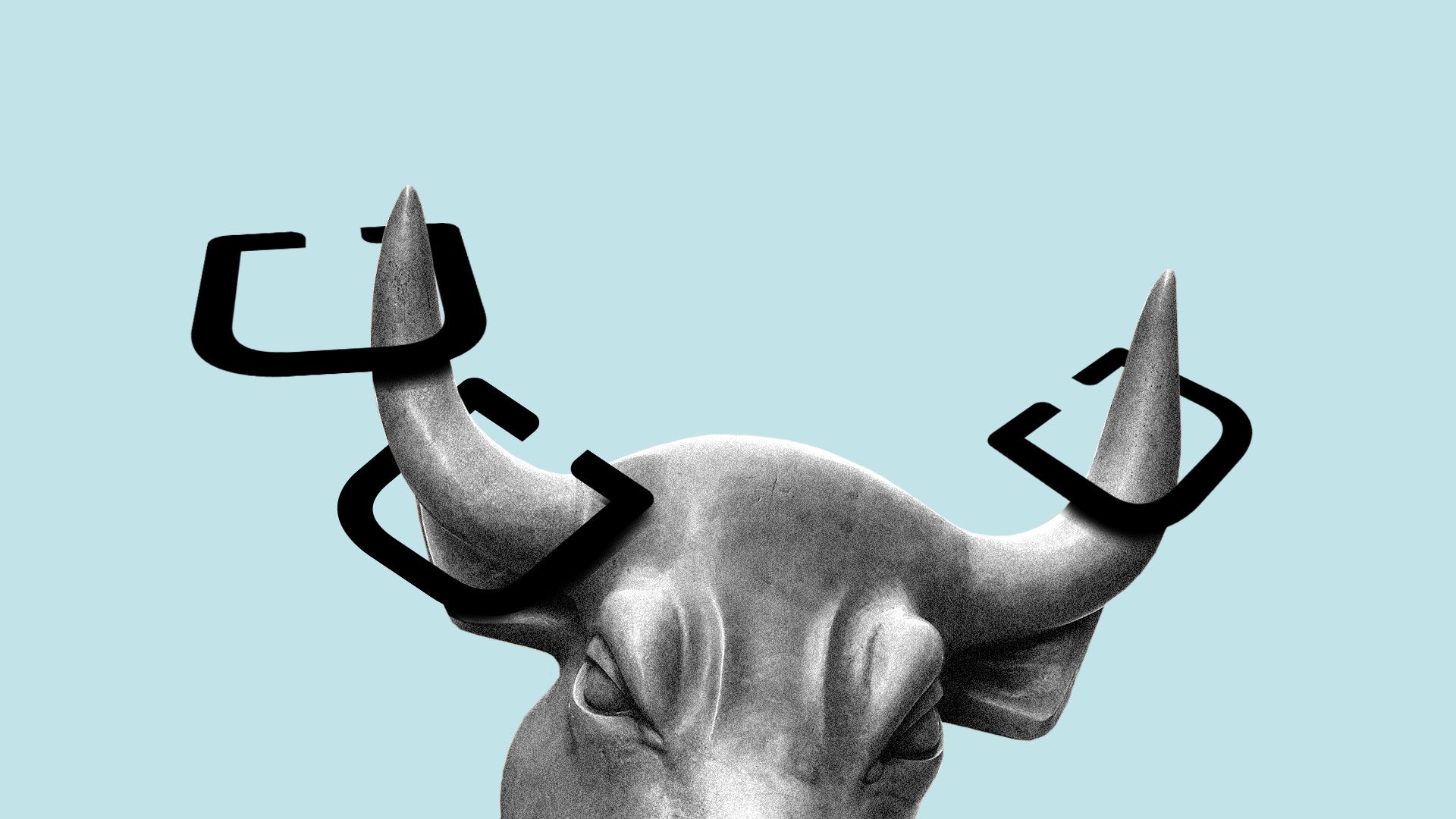 Uber on Thursday filed for its long-awaited IPO, on the heels of a recent listing for smaller ride-hail rival Lyft.
The bottom line: Uber filed to raise $1 billion, but that is said to be a placeholder for actual plans to raise $10 billion. That latter number would be the eighth-largest U.S. IPO of all time.
Uber plans to trade on the New York Stock Exchange under ticker symbol UBER.
We're still a couple of weeks away from getting formal word on share price, but reports are that it plans to seek an initial market valuation of between $90 billion and $100 billion.
If it were to hit that top mark, it would become the 30th most valuable company listed on a U.S. exchange, topping such names as ConocoPhillips and General Electric. It also would be larger than the two Wall Street banks leading its IPO, Morgan Stanley and Goldman Sachs.
There had been talk last year of a $120 billion valuation expectation, but that was coming from bankers trying to win the deal. It was as much a reflection of boisterous salesmanship as it was of Uber's public prospects.
Lyft shares closed today at $61.01, up 1.48% on the day but down over 15% from its IPO price. Lyft's current market cap is around $20.6 billion.
By the numbers:
Uber generated $11.27 billion in 2018 revenue, up 42% from 2017 and 193% from 2016.
$9.2 billion of that 2018 revenue came from ride-share. Uber Eats generated $757 million, while Uber Freight did $125 million in just the fourth quarter.
It was technically profitable in 2018 thanks to divestitures of its Russia and Southeast Asia operations, but had an operating loss of around $3 billion.
It had of $6.4 billion cash on hand as of year-end, and $6.9 billion of long-term debt.
There are a total of 29 banks listed on the IPO, including Morgan Stanley and Goldman.
CEO Dara Khosrowshahi last year earned a base salary of $1 million, plus a $2 million bonus and around $40 million in stock awards.
Uber reports a 15.4% ownership stake in Chinese ride-hail rival Didi Chuxing, a 23.2% stake in Southeast Asia's Grab and a 38% stake in Russia's Yandex Taxi venture. These holdings largely prevent Uber from competing in those markets for the next four years (or six years, in the case of Russia).
Its largest outside shareholder is SoftBank with a 16.3% stake. Other major shareholders include Benchmark (11%), Expa (6%), Saudi Arabia's Public Investment Fund (5.3%), and Alphabet (5.2%). Former CEO Travis Kalanick has an 8.6% position.
Uber will provide qualifying drivers with cash rewards of between $2,500 and $10,000, based primarily on the number of trips driven. Qualifying U.S. drivers also will have the option to buy a limited number of shares in the IPO, without lock-up restrictions.
Risk factors
Uber acknowledges that successful efforts to reclassify its drivers as employees, as opposed to contractors, "would have an adverse effect on our business and financial condition."
Go deeper