Advances made in lymphoma cancer vaccine treatment, study finds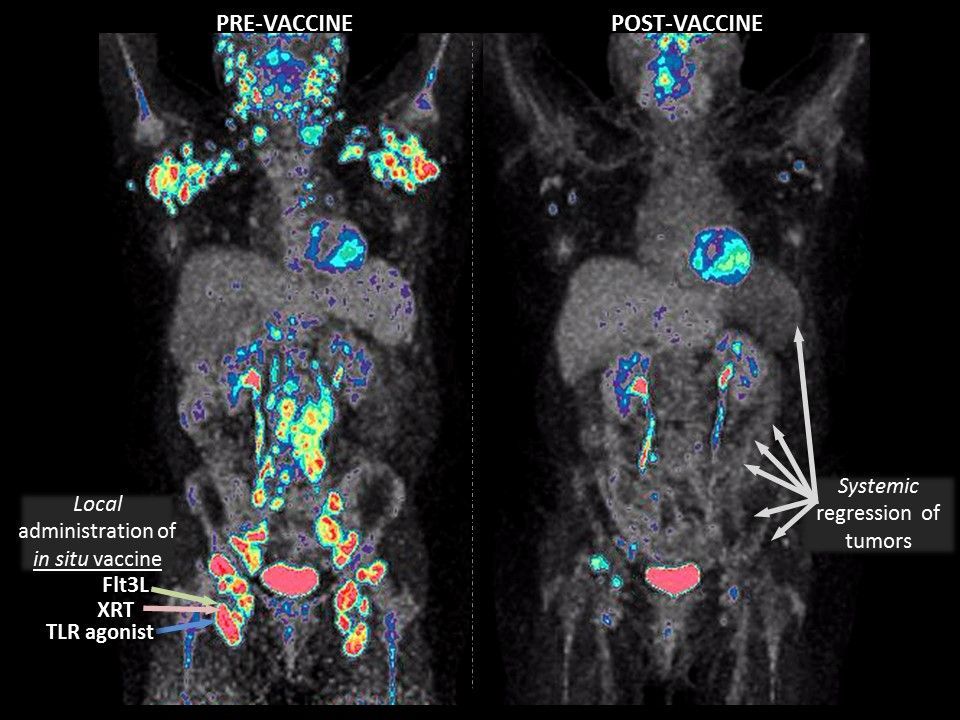 Scientists announced a preliminary success in devising a cancer "vaccine" that was able to help prime the immune system to attack lymphoma cancer tumors in some patients, leading to a period of remission, according to a clinical study of 11 patients published in Nature Medicine Monday.
Why it matters: Indolent non-Hodgkin's lymphomas (iNHLs) tend to be a slow-growing cancer that is incurable with standard therapy and poorly responsive to a newer type of treatment called checkpoint blockade. Scientists have been seeking ways to broaden the response of immunotherapy to more patients, and a therapeutic cancer vaccine is one option that's under consideration.
Background: There are many types of immune cells in the body, with dendritic and T-cells both playing powerful but distinct roles. Dendritic cells detect an infection or cancer cells and alert the T-cells to attack en masse.
But, cancer cells often elude discovery by the immune system for a variety of reasons.
This new type of treatment is designed to force the tumor to expose itself and trigger the immune response.
What they did: The trial, which began in 2013, tested a three-pronged attack as part of the treatment. The tests were done first in animals and then in 11 human patients, most of whom had iNHLs, says study author Joshua Brody, director of the lymphoma immunotherapy program at the Icahn School of Medicine at Mount Sinai Hospital.
The treatment was injected into one of the tumor sites to spur the tumor to make a therapeutic "vaccine" that triggers the immune system.
How it works: Each of the 3 components in the treatment plays an important role, Brody says. Separately, each have shown modest improvements in patient outcomes, but together they show a stronger impact.
The components recruit dendritic cells to the tumor, and help the immune system identify the threat by activating the body's detection system. The ultimate goal is to have T-cells proliferating and spreading throughout the body to kill any cancer cells.
What they found: The mouse trial was robust and successful, while the trial in the human participants showed a strong response in some, but not all, patients.
The "vaccine was dramatically successful in some patients, with partial and complete remissions (of non-injected tumors) lasting for months to years," Brody says.
For non-responders, they found the patients still had developed new T-cells and their tumors had become responsive to a type of treatment called PD1 blockade, prompting a followup trial of the combined therapy.
What they're saying: Several experts who were not part of this study tell Axios it shows some promising results, but also caution that the study was small and only helped some of the patients.
James Rubenstein, professor in residence at UCSF's Department of Medicine, says this offers a roadmap for future research that emphasizes the potential strategic role of dendritic cells in new treatments. "This particular study is promising because of the incorporation of multiple strategies including the successful local recruitment of dendritic cells," he says.
Pavan Reddy, deputy director of the University of Michigan's Comprehensive Care Center, calls it an "exciting" study. But, he adds, "the human studies, while exciting, must be emphasized as preliminary. ... [I]t worked only in a few patients. Furthermore, indolent lymphomas typically progress slowly, so the quality and duration of the responses even from the limited responders will need to be assessed."
What's next: Based on the early success, the research team has already started a new clinical trial for patients with lymphoma, breast cancer and head/neck cancer that adds the fourth component — the PD1 blockade — in the hope of getting that last resistant set of patients to respond.
Go deeper