Indonesia's elections could shape the future of its democratic gains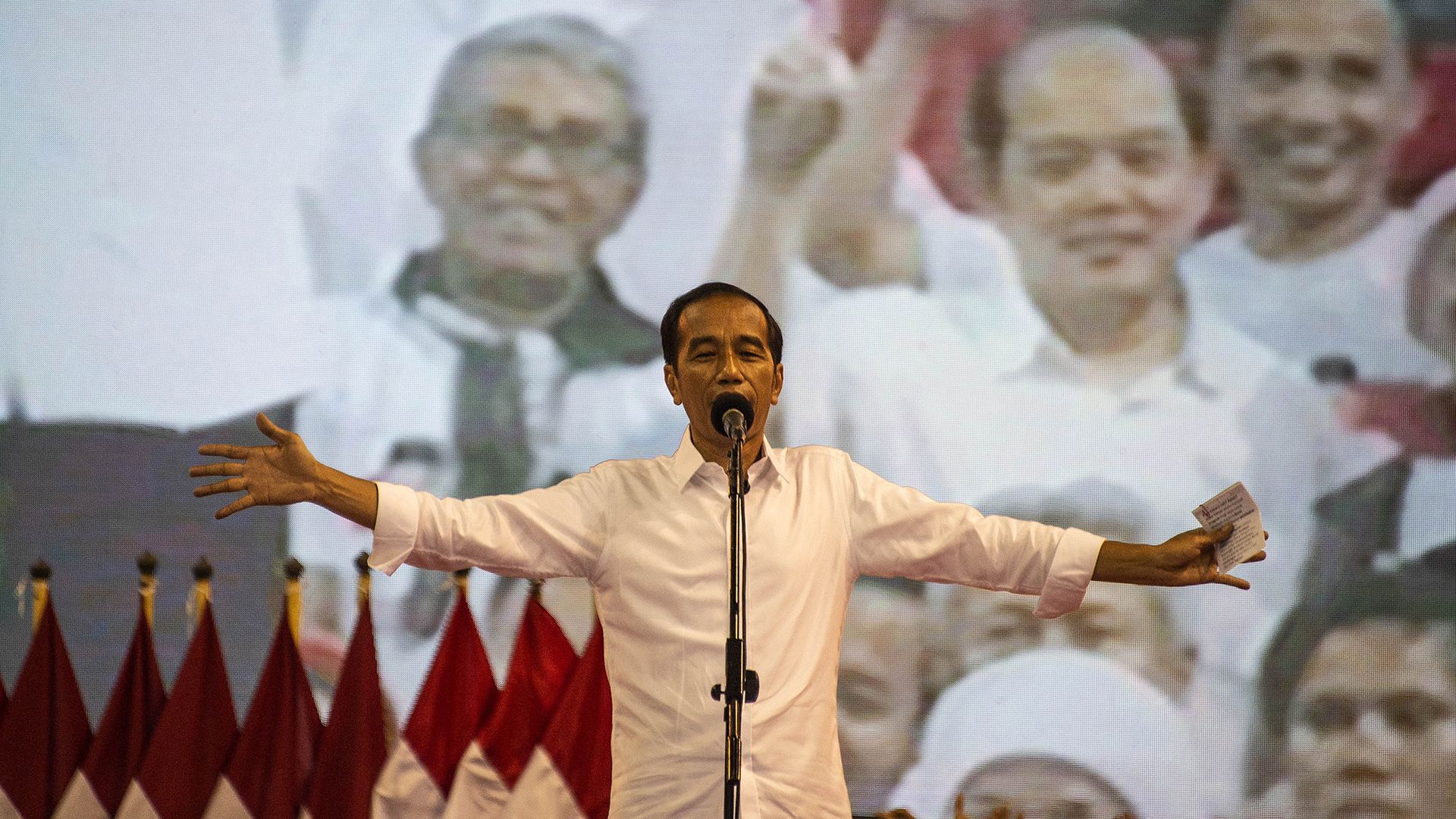 Ahead of Indonesia's elections on April 17, sitting president Joko Widodo has a lead of double digits in many polls over his challenger, Prabowo Subianto.
Why it matters: Until recently, Indonesia has been a model of democratization. Though those gains have slipped under Jokowi — as the incumbent is also known — and Islamist groups have gained some power, Prabowo could pose a greater risk to the country's fragile progress.
Context: Jokowi won a hard-fought race against Prabowo in 2014 and enjoys greater popularity than his rival, despite a mixed record in his first term on critical economic issues.
Prabowo is a skilled speaker, but he struggles to connect with working class voters. His campaign appears to lack the resources it had in the past and hasn't benefited from any dramatic, game-changing events.
Although Prabowo made up ground in the last days of the 2014 race, and undecided voters might still swing his way, his current polling deficit is a steep hill to climb.
Background: Jokowi has rolled out policies that help poorer Indonesians and unveiled plans designed to expand food aid and other social welfare programs.
But his administration has bounced between combating monopolies and embracing statist economics — reforms investors desperately seek — and coddling Indonesia's entrenched business interests.
Widespread graft and patronage also constrain the country's economic potential.
Meanwhile, Islamist groups have gained influence in recent years. They have the staying power to undermine the country's secular traditions and foster growing intolerance. Islamist-linked terror attacks remain a serious threat as well.
The bottom line: If Jokowi cruises to reelection, he might have the political capital to reform the economy, reduce the power of Islamists and fulfill earlier promises to fight corruption, improve the economy and promote human rights.
Joshua Kurlantzick is senior fellow for Southeast Asia at the Council on Foreign Relations.
Go deeper