The snap decision society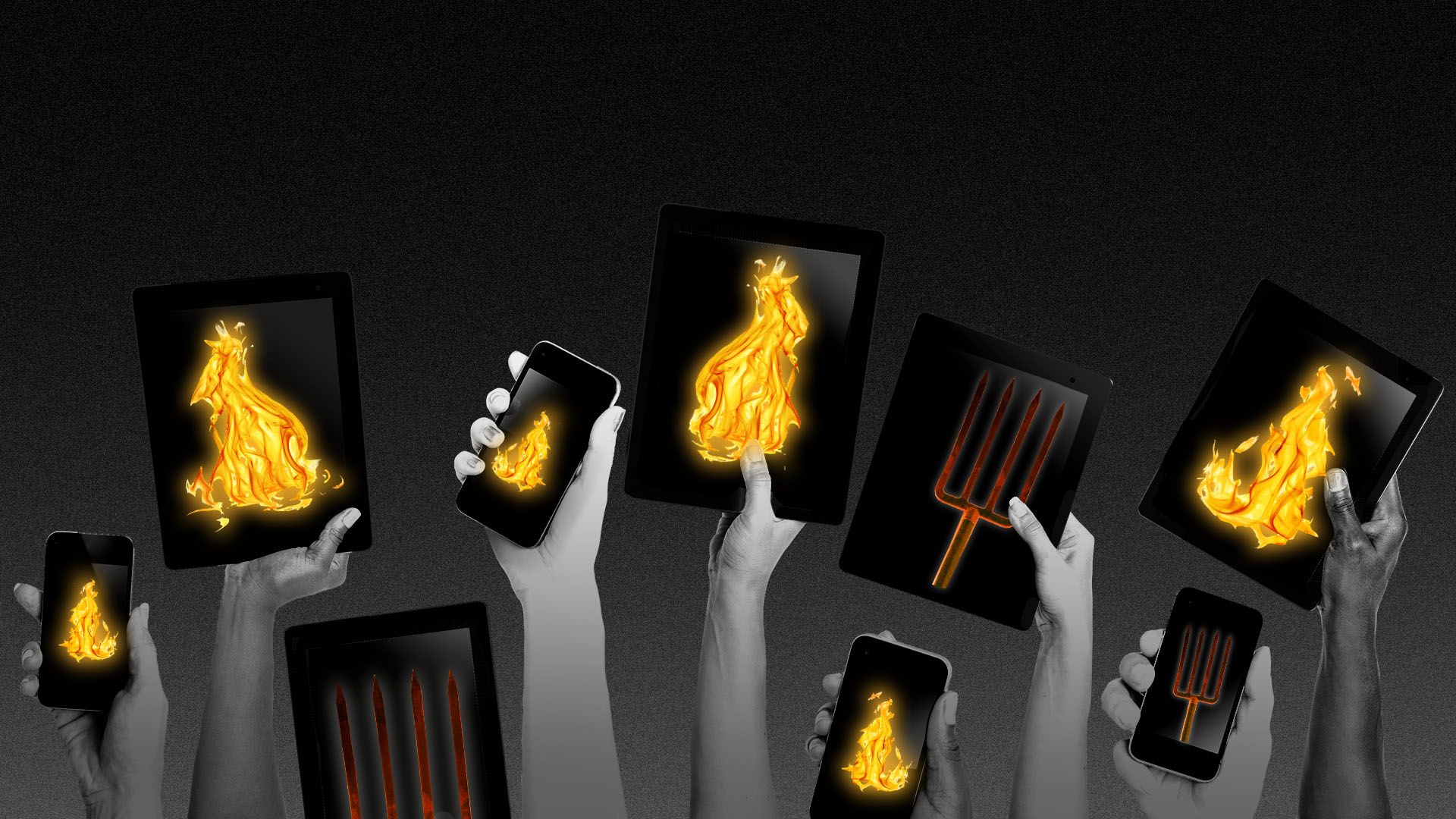 Pervasive partisanship and rapid-fire social media echo chambers have exacerbated our tendency to jump to conclusions — about everything from Joe Biden's behavior to a student's encounter with a Native American man at a rally to the Mueller report.
Why it matters: Making assumptions is an age-old human flaw, but it is being worsened by the challenges of responding to an increasingly complex world at warp speed. Research shows the social media ecosystem can lead to snap judgments, even based on incomplete information, to reinforce emotional identities and ideological positions.
One of the latest examples played out this week when Stephanie Carter, wife of former Defense Secretary Ash Carter, explained a 2015 photo showing former Vice President Joe Biden standing behind her with his hands on her shoulders, appearing to speak into her ear.
Other examples show how easily narratives catch fire online based on incidents that most of us didn't see firsthand:
Viral internet: Everyone has encountered a too-good-to-be-true story on social media, whether it's viral outrage or viral feel good. Most of the people sharing it have no idea whether it's true, and most of them never see the eventual fact checks.
Today's hyper-partisanship plays a big role in the internet's pile-on culture. It's not uncommon for people to follow political cues to save mental energy.
This sort of feedback loop reinforces polarization and, in turn, outrage. There are a few reasons for this, according to Molly Crockett, a psychology professor at Yale University.
This can be empowering for marginalized voices speaking out on injustices such as #MeToo and #BlackLivesMatter. But it can also lead to disproportionate levels of punishment in an ecosystem that promotes the most outrageous content.
"News algorithms on social media select for content that's most likely to draw engagement, and research has shown that strongly emotional content is most likely to be shared — particularly content that evokes moral emotions like outrage. This means the content we encounter online might be disproportionately likely to trigger outrage."
— Molly Crocket, psychology professor at Yale University
Go deeper