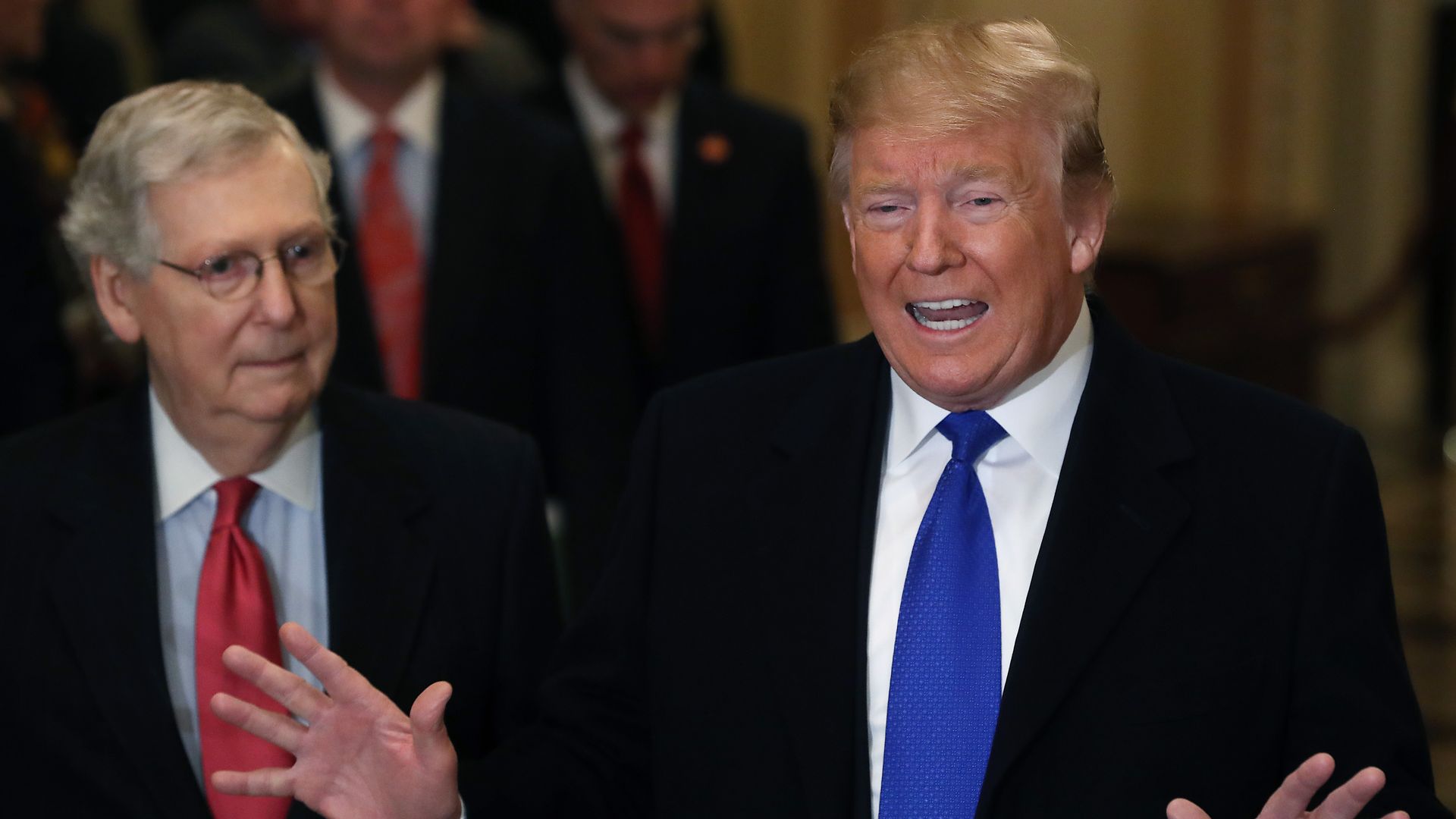 GOP leaders are trying their best to put a lid on President Trump's talk of a new and wonderful health care plan that would define the Republican Party for 2020.
Driving the news: "Not any longer," Senate Majority Leader Mitch McConnell said yesterday when asked whether he and Trump differ on health care.
McConnell said he spoke to Trump Monday and "made it clear to him that we were not going to be doing that in the Senate."
RNC Chair Ronna McDaniel and Trump campaign manager Brad Parscale also "tried to tell the president they could not understand what he was doing," The New York Times reports.
Rhetorically, Trump has kicked the can past 2020, just after pushing his administration to dive back into — and escalate — the legal fight that hurt Republicans so badly in 2018.
"I wanted to delay it myself," Trump said in the Oval Office yesterday, denying that McConnell forced his hand. "I want to put it after the election, because we don't have the House."
Reality check: It's still the Justice Department's position that the courts should strike down the Affordable Care Act. As long as this lawsuit is still active — and that will be a while — it'll be accurate for Democrats to say on the campaign trail that Trump is trying to end protections for pre-existing conditions.
In the short term, Trump's rhetorical punt to 2021 may dampen the intensity of questions about how Republicans would rebuild a new system for individual coverage — questions the party has struggled to answer for the past 9 years.
But in the end, the only good way out is for the Trump administration to lose this case.
Go deeper ... Trump: No GOP healthcare replacement of ACA until after 2020 elections
Go deeper